Again not won: a hallucinatory series continues. Club Brugge smelled a first victory under Scott Parker for 45 minutes, but Charleroi (2-2) did not break even after a red card. The Zebras had taken a double lead and then suffered like beasts. Blauw-zwart can thus tumble out of the top-4 for the first time.
Does Murphy live next door to Scott Parker? You would almost think so. The English coach had played three matches, with a meager two out of nine as a result. Time for a convincing three-pointer, you think. Jan Breydel started with good courage and some notable names in the team: Nusa was allowed to start, and Mechele returned. Fifteen minutes later, that same stadium was completely dumbfounded. Zero to two, Charleroi double ahead. And with those two goals, everything really went wrong. First Badji scored against his ex-team after Heymans kicked a hole in the air, minutes later Mechele ran into his second own goal in eight days. That too. A first victory since October 29 seemed very far away.
Club Brugge had to go all out again, but it had more bad luck than ready-made solutions for the double belt from Charleroi. Vanaken did not give home for a long time, the young Nusa was physically blown away and did not know his day. It must be said: Charleroi also played a strong match. Fluk combinations, a good organization: Mazzu at its best. The search for a connection goal became a real cavalry procession for blue-black. Until minute 45. Lang tried to reach the back line and was knocked down by Marcq. The ball was already gone, but Lardot didn't hesitate: penalty. The Dutch flank player put himself behind the ball and aimed it in the left corner. Halftime 1-2: Club had a lifeline again. And for Charleroi, that goal could not have come at a worse time.
Boukamir on the emergency brake
That also applied to Club's equalizer. The team from Bruges smelled blood and had come out of the dressing room like lions, with Skov Olsen replacing the pale Nusa. And the Dane needed four minutes to score. Vanaken stabbed Skov Olsen in the street, who aimed the 2-2 between Koffi's legs. Jan Breydel bounced back and lived again, while Charleroi now began to doubt. Especially Lang became a real scourge on the left. The visitors suffered but were able to regroup. This caused the Bruges attack waves to subside somewhat again. Descotte even threatened with a low slider. On the other hand, Yaremchuk headed narrowly wide. His goal really doesn't seem to be given to him.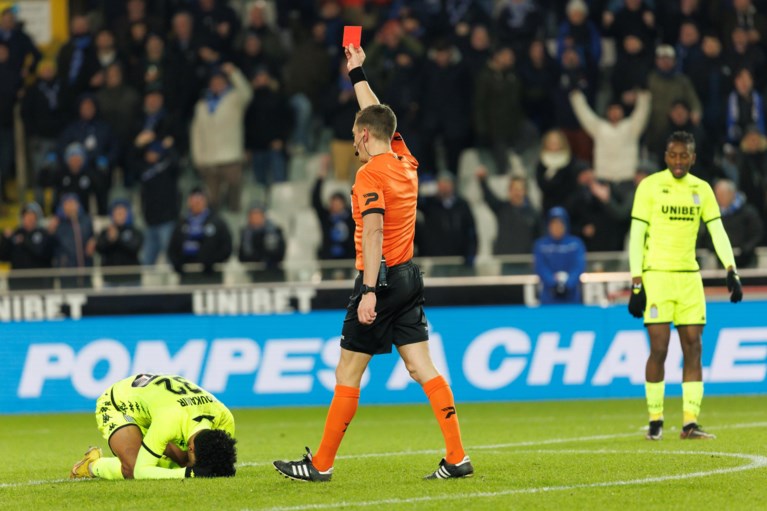 Just under 20 minutes before the end, Club could smell the victory even more. Vanaken had the running Skov Olsen in the snot again, but Boukamir pulled the emergency brake just outside the box. A clear red card that the defender took without much protest. Charleroi also started kicking after the break: both Nkuba and Van Cleemput torpedoed Lang and got yellow. The Zebras had to be careful not to end up with nine. Parker threw Jutgla and Sowah into battle as trump cards, but that one big chance did not materialize for a long time. Club got four minutes of extra time, and Koffi made it 3-2 from Lang with an incredible save. Charleroi suffered like beasts, but took home a deserved point. And club? That could not win again, and with a victory by Ghent, it can tumble out of the top-4 for the first time this season.