With the final week approaching, the Vuelta a España is approaching its boiling point. Remco Evenepoel still has a nice margin, but there are undoubtedly many exciting days to come. "Primoz Roglic will still play all or nothing and then it will be up or down for Evenepoel," emphasizes Thijs Zonneveld in De Tribune.
Watch out for Roglic and Jumbo-Visma

After a grueling weekend over the Sierra de la Pandera and the Sierra Nevada, Remco Evenepoel still has a 1'34" lead over Primoz Roglic.
"I think it will still be a bit of an edge," says Thijs Zonneveld (AD), who follows the Vuelta from Indonesia.
"Evenepoel goes into the final week as a favorite, but without that annoying crash he would have been much more confident. He and the team minimized the damage, but it is clear that he has been more vulnerable in recent days."
"After Saturday's finish at the Sierra de la Pandera, he got off the bike in pain and you saw how he had to relieve his right leg. Of course they don't want him to appear vulnerable, but it is clear that he was in pain."
Without that crash, Evenepoel would have entered the final week even more confidently.
The riders will be presented with the final week from tomorrow, but it is "easier" on paper than in previous years: "The toughest trials have certainly already been passed", Zonneveld continues. "There aren't really many rides where you can lose a lot of time."
"On paper Saturday's stage is the most dangerous, but if the competition wants to take a shot at the overall victory, they have to try something earlier."
It is clear that the biggest competitor will be Primoz Roglic: "Jumbo-Visma will certainly try again. Roglic already has 3 final victories on his record, he is not worried about a podium place."
"After his heavy crash in the Tour, this is certainly not the best Roglic, but he is mentally strong and he has the experience. That makes him dangerous and he will certainly play all or nothing. Then it is also for Evenepoel it or not. underneath."
"What about Movistar? That's not exactly where the great tactical brains are behind the wheel", Zonneveld laughs.
"Enric Mas undoubtedly hopes that Alejandro Valverde will sacrifice himself one day, but he rarely if ever does. He certainly never does something like that wholeheartedly."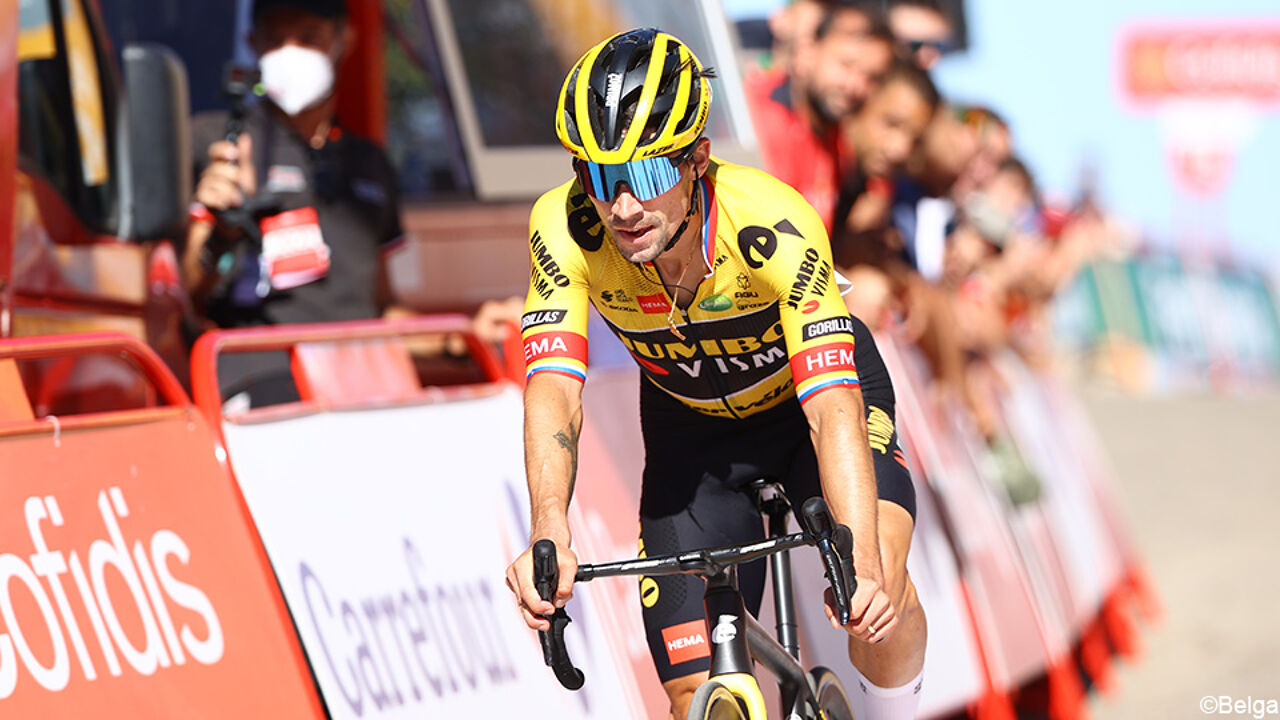 Can Roglic still turn the tables in the final week?
Evenepoel metamorphosis and the strong team

After his retirement from last year in the Giro, some already doubted Remco Evenepoel's abilities as a round rider. He seems to be pushing those doubts with his own hands in this Vuelta. A metamorphosis that impresses Zonneveld.
"It is very clever how he has dealt with his weaknesses. In last year's Giro he clearly had problems with the descents and the steep climbs and he started working hard on that. In this Vuelta he is one of the better descenders and rode away from the competition on the steep climbs."
"His learning curve is phenomenal and is the hallmark of the really great stars. It's an art to screen your weaknesses and be able to quickly erase them."
The winner of Liège-Bastogne-Liège earlier this year also seems calmer: "He does not behave strangely and he does not give strange interviews. It all seems under control and that of course comes with age."
"We may also all forget how young he was when he broke through. As a young guy, it's not a bad thing to go wrong. It is just magnified with him because he is so very good."
He doesn't behave strangely and he doesn't give weird interviews, Evenepoel seems to have it all under control.
In addition to Remco Evenepoel himself, his team also makes a good impression: "In the first week it looked a bit shaky now and then, but in the meantime they are doing perfectly even after Julian Alaphilippe has retired."
"Jumbo-Visma may be just a bit stronger, but it doesn't make much difference. Evenepoel's team is quite strong and must be good enough to repel attacks from the competition in the mid-mountains."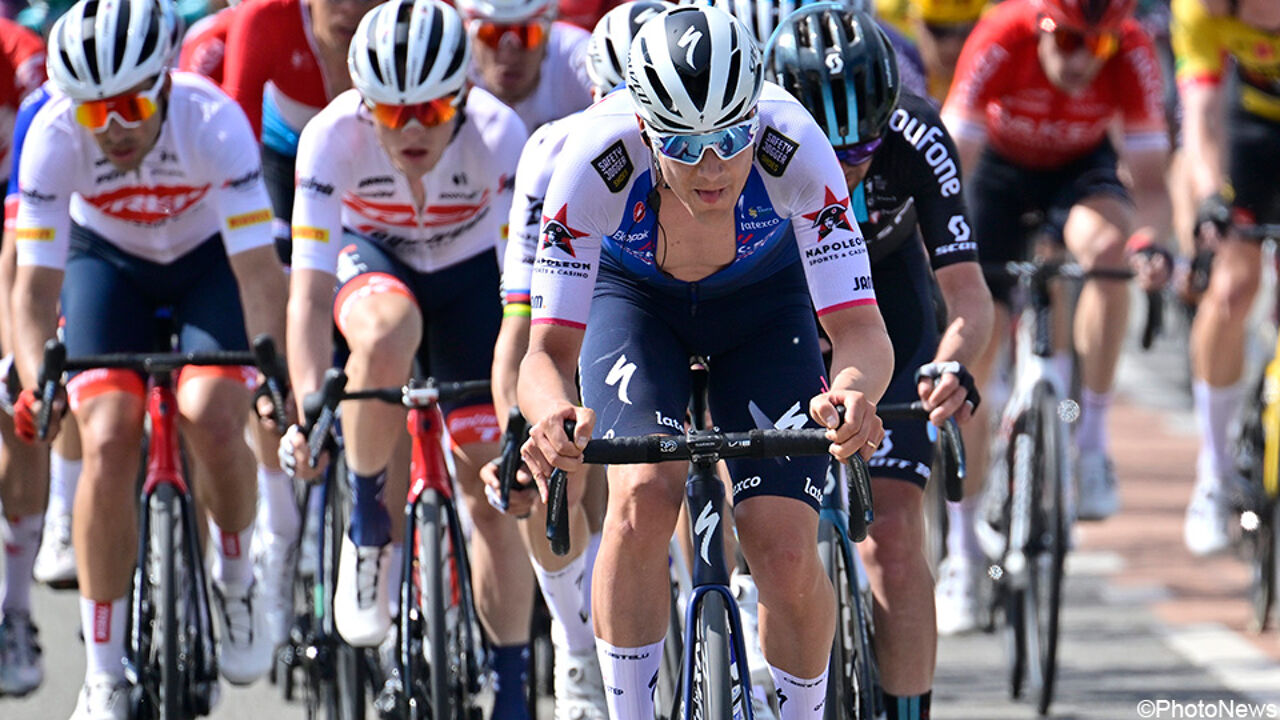 Louis Vervaeke also has a very important week ahead of him.
First the final week in this Vuelta, of course, but De Tribune also looked at what awaits Evenepoel in the coming seasons.
Thijs Zonneveld would keep Remco Evenepoel away from the Tour for at least another year: "At the moment I wouldn't do it yet. It will last at least another 10 years and it is a matter of not burning it up."
"Evenepoel is an extremely great talent. He wants everything fast, but maybe slow him down and see how he can get the most out of his career. It might be wiser to send him to the Giro again next year. The Tour is really very different from the Vuelta."
Listen to the entire episode of De Tribune

| rit | datum | type rit | start-finish | total | winner | unfortunately |
| --- | --- | --- | --- | --- | --- | --- |
| 1 | | | Utrecht – Utrecht | 23,3 km | VAT | Sunk |
| 2 | | | 's-Hertogenbosch – Utrecht | 175,1 km | Bennett | Teunissen |
| 3 | | | Breda – Breda | 193,2 km | Bennett | Affine |
| 4 | | | Vitoria-Gasteiz – Laguardia | 152,5 km | Roglic | Roglic |
| 5 | | | Irun – Bilbao | 187,2 km | Soler | Molard |
| 6 | | | Bilbao – Pico Jano | 181,2 km | Vine | Evenepoel |
| 7 | | | Camargo – Cistierna | 190 km | branded | Evenepoel |
| 8 | | | Pola de Laviana – Colláu Fancuaya | 153,4 km | Vine | Evenepoel |
| 9 | | | Villaviciosa – Les Praeres | 171,4 km | Meintjes | Evenepoel |
| 10 | | | Elche-Alicante | 30,9 km | Evenepoel | Evenepoel |
| 11 | | | Alhama de Murcia – Cabo de Gata | 191,2 km | Groves | Evenepoel |
| 12 | | | Salobrena – Penas Blancas | 192,7 km | Carapaz | Evenepoel |
| 13 | | | Ronda – Montilla | 168,4 km | Pedersen | Evenepoel |
| 14 | | | Montoro – Sierra de la Pandera | 160,3 km | Carapaz | Evenepoel |
| 15 | | | Martos – Sierra Nevada | 152,6 km | Arensman | Evenepoel |
| 16 | | | Sanlucar de Barrameda – Tomares | 189,4 km | | |
| 17 | | | Aracena – Tentudía Monastery | 162,3 km | | |
| 18 | | | Trujillo – Alto de Piornal | 192 km | | |
| 19 | | | Talavera of the Queen – Talavera of the Queen | 138,3 km | | |
| 20 | | | Moralzarzal – Port of Navacerrada | 181 km | | |
| 21 | | | The Roses of Madrid – Madrid | 96,7 km | | |