Gregorio Paltrinieri kisses his biceps. © APA / afp / OLI SCARFF
Gregorio Paltrinieri won the gold medal in the 1,500 meter freestyle at the swimming world championships in Budapest on Saturday and thus fought back in an impressive manner. But other Azzurri also had reason to celebrate.
25. June 2022
From: dl
Paltrinieri won the 1,500 meters with a new World Championship record (14:32.80 minutes) in a superior manner ahead of the American Robert "Bobby" Finke (14:36.70) and the German Florian Wellbrock (14:36.74). The 28-year-old was even on course for a world record until shortly before the end, before the man from Capri ran out of breath in the last few meters.
Nevertheless, it was an outstanding performance by Paltrinieri, who had been disappointed after fourth place over 800 meters. "Some sayings afterwards didn't suit me at all. Now I've proved to myself that I'm not old-fashioned," explained Paltrinieri, who is affectionately known as "Greg", in an interview after his 5th World Championship title.
More gold medals for Italy
Italy picked up another gold medal in Budapest on Saturday. The synchronized swimmers Giorgio Minisini and Lucrezia Ruggiero won the mixed competition in a superior manner ahead of the Japanese Tomoka and Yotaro Sato. In the team competition, on the other hand, the women from the Ukraine won ahead of Italy and Spain.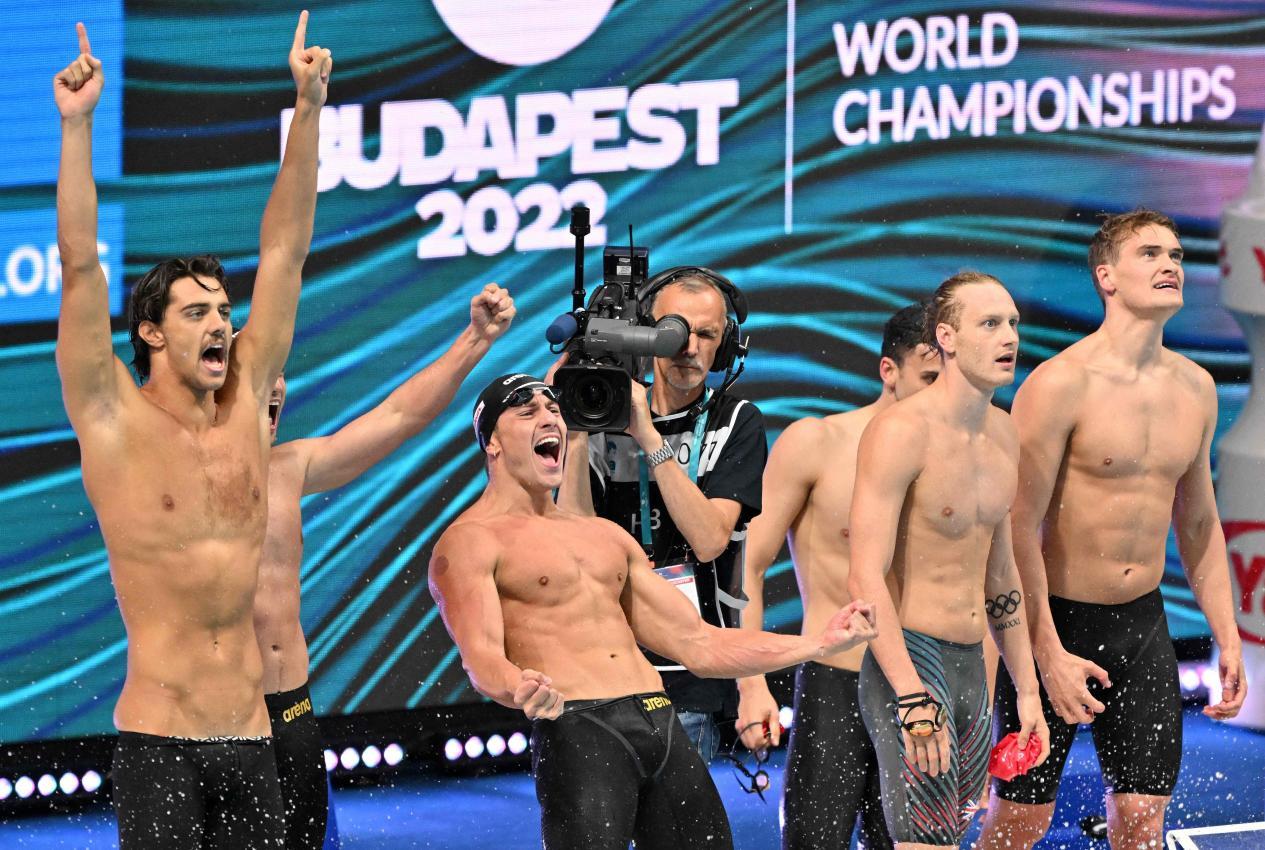 Italy also won gold in the 4x100m relay. © APA / afp / FRANCOIS-XAVIER MARIT
Italy also won a medal in the 50m backstroke. 100m world champion Thomas Ceccon took bronze. Gold went to the American Hunter Armstrong. In the evening, the Azzurri struck again in Budapest. The 4x100m relay consisting of Thomas Ceccon, Nicolo Martinenghi, Federico Burdisso and Alessandro Miressi won gold in 3:27.51 minutes. This means that Italy won a total of 10 medals (5 of them gold) at the World Championships in Budapest – more than ever before.
recommendations