After soccer, Baseball is coming to the NFT gaming platform Sorare.
Major League Baseball (MLB) and MLB Players have announcement have signed a partnership with Sorare to launch the first free NFT game based on Major League Baseball to be released this summer.
An NFT game that will appeal to many baseball fans in the United States, France and around the world.
As with the football blockchain game, The goal of the MLB Sorare game is for fans to create the best NFT team representing Major League Baseball players.
An NFT Baseball game that should also allow fans to connect more with baseball's star athletes.
Nicolas Juliaco-founder and CEO of Sorare, said:
"The bond between Americans and baseball is enduring. And baseball has always been on the cutting edge of new technology and innovation, so we're proud that MLB and MLBPA have chosen Sorare to bring an NFT MLB game to fans around the world.

MLB has been at the forefront of interactive games for decades, while baseball has some of the oldest and most established forms of sports memorabilia. Together they show how much fans want to own and be a part of the game. Today, as digital engagement and technology evolve for a new generation, our partnership will help a new and broader fanbase connect. to the American pastime. »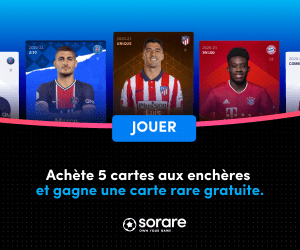 Tony Clark, Executive Director of the Major League Baseball Players Association, commented:
"Sorare has built a new baseball gaming experience that will inspire fans to collect player NFTs, create winning lineups, and compete against baseball fans around the world.

We are very excited about our partnership and the effect Sorare's first foray into North American sports will have on the growth of our game globally. »
Following his fundraising of 680 million dollarsthe French Sorare thus accelerates its international development and in particular in the United States thanks to this new NFT game centered on this very popular sport that is Baseball.
Last March, Sorare also signed a partnership with Major League Soccer (MLS).
If you want to know more about Sorare: Click here.
Follow Crypto Tips on Telegram, Facebook et Twitter.
READ ALSO: