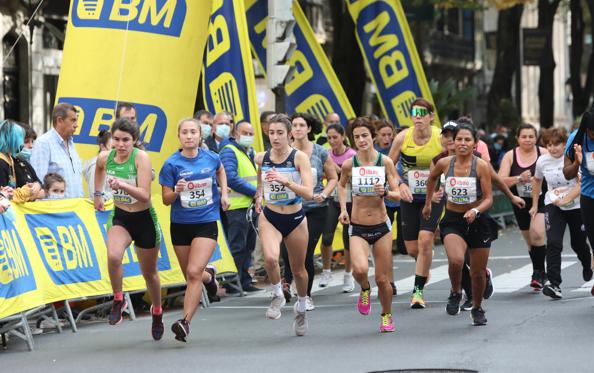 Participants of all ages and many fans came to enjoy the show and color the main artery of Bilbao
After a year of absence due to the stoppage caused by the pandemic, Gran Vía once again hosted another edition of the Bilbao International Mile, a test sponsored by EL CORREO. It wasn't just another date. It was already the fifteenth, an outstanding number, and also the first after the Covid-19 crisis. The event, as usual throughout its history, brought together numerous athletes of all ages and, also, a crowd of curious people who came to enjoy a magnificent athletic show. For yet another year, the Bilbao event, which is held near the Palacio de la Diputación, brought together some of the best runners on the world scene, such as Adel Mechaal, -fifth ranked in the 1,500 meters at the Tokyo Games- or Saúl Ordóñez , in male category. And names like those of Natalia Rodríguez, Marta Pérez or Elena Loyo, in the female category. But also young athletes who dream of one day emulating their referents.
This XV edition of the International Mile of Bilbao caused many curious people to come to enjoy the show. As the hours passed, more and more curious people were approaching the fence to find a good place from which to enjoy the show that was to come. The Gran Vía was taking on color and atmosphere, that reminiscent of what was experienced in previous editions.
.