Weinfelden

"It doesn't feel that cold at all": In the new cryotherapy center, athletes can relax at minus 170 degrees
David Strupler has set up a cryotherapy center in Weinfelden. Athletes relax in the nitrogen chamber at extremely low temperatures.
Stephanie Egger is used to injuries and tough fights. She is the only Swiss mixed martial arts fighter (MMA) who competes in the Ultimate Fighting Championship (UFC). At the beginning of October she won her first fight on this tour in Las Vegas. "I slipped so into MMA. I started judo at a young age, later ju-jitsu and kickboxing were added, "says the Uzwilerin, who has been focusing on professional sport since this year.
"In MMA, all of these martial arts come together and I can make better use of my strengths."
She often trains in the Buddy Gym in St.Gallen, but also twice a week in Weinfelden with Thai boxing coach David Strupler. There the 33-year-old gets the strength, coordination and technique she needs for standing combat in training – and recently also the necessary regeneration after hard training. And in a very special way. In a cold room where it can get up to 170 degrees.
Liquid nitrogen is extremely cold

Liquid nitrogen is used in the cooling chamber for what is known as cryotherapy. This is sprayed onto the athletes as ice-cold steam. "In this chamber temperatures down to minus 170 degrees are possible," says Strupler. He was allowed to try out such a system in Konstanz and then decided to install one in Weinfelden and join the masseuse Gäm Facchi Sports and recreation center to open.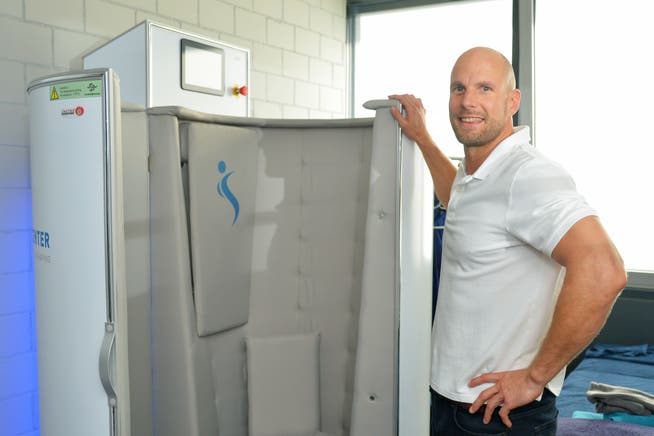 Strupler raves about the results of the cold therapies. "Because of the enormous cold, the body goes into a kind of emergency. In other words, it stimulates the metabolism, the brain releases endorphins and inflammations heal much faster, "says the 37-year-old.
Cold triggers euphoria
Stephanie Egger climbs into the chamber, Strupler closes the door and starts the three-minute therapy. The clock counts down, the temperature display falls and falls, a new surge of nitrogen hisses into the chamber again and again. Stephanie Egger moves inside the chamber the whole time, her head is looking out, despite the cold she smiles. Strupler supervises the whole thing, speaks to her.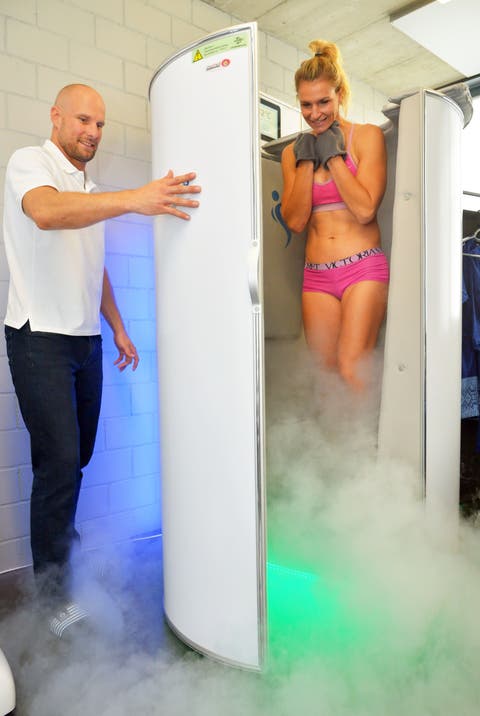 "I could stop the procedure immediately at any time. Stephanie can also simply open the chamber door or press the emergency stop button. "
When Egger climbs out of the chamber after three minutes in the freezing cold, she is euphoric. «I am really happy and completely relaxed after this cold bath. After such therapy, I always sleep very well and the next day I am as recovered as I would otherwise only be after two to three days, "she says. This is also an advantage for training, as she can get started again the next day.
"By the way, it doesn't feel that cold, otherwise I'm more of a Gfröhrli."
However, areas on her body that she bruised or inflamed remained significantly colder than others for longer. "They heal so much faster, I can feel that well."
Therapy not only for athletes
For competitive athletes, the therapy brings faster regeneration and healing of injuries. But Strupler also treats less sporty people with cold therapy. "People with sleep problems can use it for weight loss or in addition to other therapies for depression," says Strupler. The system is also often used for beauty therapies, for example for skin tightening. "The therapy is nothing for people with a pacemaker or cold allergy. But otherwise there are hardly any side effects. "
A therapy session of a few minutes with David Strupler costs 57 francs. "If several people come by at the same time, it'll be cheaper. Above all, it takes a lot of energy at the beginning to cool down the entire system. "