On September 28, the VICTOR 2022 brand conference was held in Nanjing. As a window into the industry's cutting-edge trends, the well-known badminton sports brand VICTOR has the theme of "Innovation·Future" at this brand conference. The badminton equipment released on the spot is equipped with more innovative technologies and is also more widely adopted. In order to continuously regenerate materials, the badminton sport is more "green". Badminton World Federation President Larsson also congratulated VICTOR (Victor) as the official equipment sponsor of the 2022-2024 Tangyu Cup/Sudirman Cup and expressed his appreciation for VICTOR's professionalism and badminton sports. The contributions made in the development process are highly recognized.
Deeply cultivate technology, product innovation, and empower the future of badminton
Profession brings unlimited innovation, and innovation has always been the lifeline of VICTOR. VICTOR has been deeply involved in the professional field of badminton for a long time, and has never stopped in professional technological innovation. In recent years, the FREECORE suspension core handle, built-in midsole and E-TPU material have been continuously introduced. New technological innovations such as supercritical nitrogen foaming and free-rebirth environmentally friendly materials have been tested by the market. The masterpieces equipped with these technologies such as Black Gold Falcon, JS-12 II, Yu 9X, VG1, P9200 II, and competition series T-shirts have also been used by VICTOR such as Polly/Lahayu, Dai Ziying, Antonsen, Ashan/Hendra, etc. (Victor) Selected by stars and performed well in major competitions at home and abroad.
New technology is optimized in detail polishing and innovation in scientific design. VICTOR has re-evolved the suspension core technology, adding a power ring at the front end of the artificial handle, which can make the hand feel more solid when hitting the ball. In addition, SRS high-elastic reincarnation middle tube is a breakthrough in middle tube innovation, and the recovery effect of high T-number materials is enhanced to further stimulate the elastic potential of the middle tube.
As we all know, under the new concept of healthy life, new consumer groups are pursuing a rapid increase in quality and environmentally friendly products, and brands continue to increase their environmental protection technology. The use of supercritical nitrogen foaming technology not only brings the trend of lightweight badminton shoes, but also makes the sneaker technology green, safe and environmentally friendly. At the same time, the VICTOR competition series clothing also uses "freedom·rebirth" environmentally friendly degradable materials, which are fashionable and sustainable. In addition, VICTOR has also applied the environmental protection concept more widely to new products this season.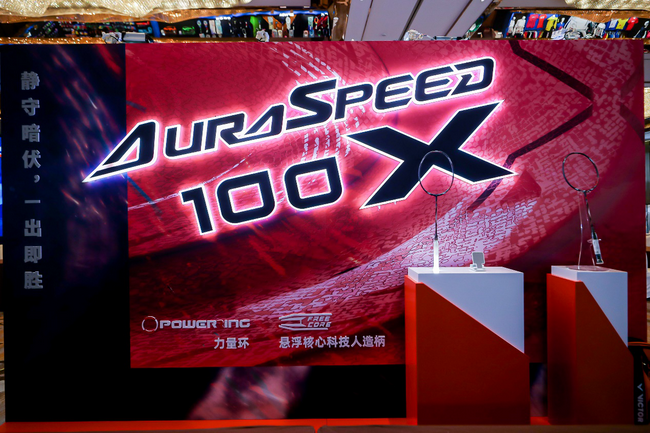 Focus on majors, sponsor competitions, and master professional discourse
On the professional track, VICTOR has always been strong, from sponsoring the China Open and the Danish Open to being the official equipment sponsor of the three major team competitions Sudirman Cup, Thomas Cup and Uber Cup this year , VICTOR (Victor) shows the tension of the professional badminton brand. Badminton World Federation President Larsson welcomed VICTOR's sponsorship via video, "For any sport, brand innovation is very important because there are brands like VICTOR's investment. High-tech research and development costs are the basis for the development of badminton equipment today.····· In the next 4 years, VICTOR will become a partner of the World Badminton Federation's major team events. We can expect a high level of Badminton tournament."
In China, VICTOR, as the sponsor of the 10th National Games, provided a series of products and services such as venue equipment, game balls, stringing team, etc. in the badminton event that just ended, helping the game to be a complete success.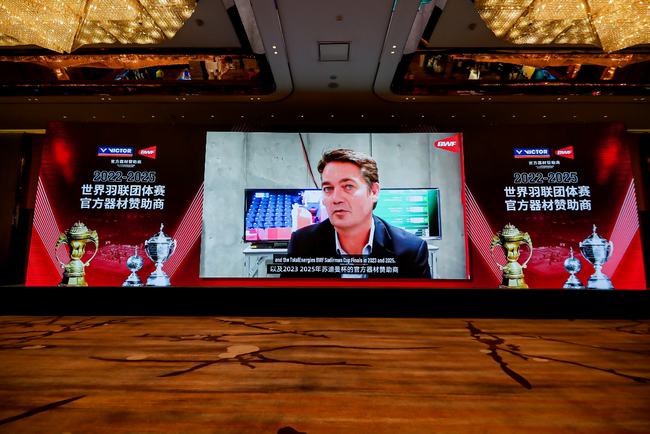 Hand in hand with the champion star, victory is in hand, victory means the future
In addition to sponsoring important events, VICTOR also supports the rapid development of badminton by sponsoring strong players and teams.
VICTOR has world champions such as Polly/Rahayu, world champion Hendra/Ashan, world number one Dai Ziying, popular men's singles Antonsen and other stars. Among them, Polly/Rahayu won the Tokyo Women's Doubles gold medal and won 4 Olympic records: Indonesia's first pair of Olympic women's doubles gold medalists, the oldest gold medalist in Olympic badminton history, and the first pair to win Olympic gold medals. The non-seeded women's doubles team and helped the Indonesian team achieve the gold medal record in 5 Olympic badminton events.
In China, VICTOR has long sponsored Jiangsu Victor team, Hubei team, Shanghai team, Guangxi team, Guizhou team, Heilongjiang team and other provincial and municipal teams. Among them, the Hubei team Jiangsu Victor team won the women's team championship and runner-up in the 14th National Games badminton competition, and has an advantage in many individual events such as men's singles and women's singles and women's doubles.
As the equipment sponsor of the Chinese Paralympic Badminton Team, VICTOR has long supported the Chinese Paralympic Badminton Team's dream game, providing players with a full set of equipment support, helping it win 5 golds, 3 silvers and 2 bronzes in Tokyo, ranking it among the best Top of the badminton medal list. It is worth mentioning that Yang Qiuxia, the Chinese para badminton team, won the first Paralympic badminton gold medal, setting a record.
In the future, more stars will join VICTOR to join forces to create a more diverse and attractive badminton ecology.
Dimensional breaks the wall, unlocks tide energy, and creates a new sports fashion
In terms of cross-border integration, VICTOR has no shortage of actions, from Transformers, Iron Man to Dragon Ball and HelloKitty, breaking down barriers, shortening the cognitive link between the brand and the pan-badminton crowd, and adding weight to the brand. VICTOR is cooperating with cartoon IP Peanut Comics/PEANUTS this time, and based on VICTOR's product power, to create a Snoopy joint series of products, including rackets, sneakers, casual shoes, backpacks and easy and beautiful The clothing that meets the needs of young golfers in multiple scenes such as outdoor leisure on the court.
In addition, VICTOR (Victor) launched a fun peripheral with the image of world champions Polly, Hendra and other stars as an extension-"Victory V Team" Badminton Block Blind Box. Come to a new badminton experience.
Ingenuity and shape, tools to carry Tao. By continuously polishing products, extending R&D to diversified fields, and enriching and reconstructing the future ecology of the industry, VICTOR is becoming the best choice for badminton consumers by virtue of its multi-dimensional brand value.
.