This old woman, arrested in April 2022, was in charge of radicalizing the 'fallera de Cullera'
María's case breaks norms, trends and is very unique, but in the most terrible sense of the word. This valencian woman monopolizes several paragraphs of the last report of the International Observatory for Terrorism Studies (OIET) that analyzes the 2022 data and is that María gathers four conditions that make it peculiar in the eyes of those who persecute and analyze jihadist-type terrorists: first of all, it is women; in second, I was 72 years old when she was arrested in April 2022 in San Antonio de Benageber; He was also dedicated to indoctrination and finally, it was radicalizing agent known as the 'fallera de Cullera'.
The arrest of this elderly woman has drawn the attention of the authors of this report in particular and, furthermore, has once again refuted the fact that there is no single profile jihadist, but the characteristics of the people arrested related to this terrorism is heterogeneous. However, it is noted that a woman over 70 years of age had not been detained before.
Maria's advanced age contrasts with that of youngest person arrested in 2022 for its relationship with Islamic terrorism: a 15 year old who was arrested in Algete (Madrid) in June 2022. This young man began consuming jihadist propaganda when he was barely 12 years old and at the time of his arrest, they found on his electronic devices "the largest collection of propaganda material of Daesh intervened".
Women recruit for jihadism
The four characteristics that we talked about at the beginning of this article create a especially striking combination. Her condition as a woman is already a woman in itself since, as explained in the report, the female gender representation in jihadist activities "is considerably lower than that of men". In fact, of the 46 arrested last year, only four were women although this data represents a rebound compared to previous years. So much so that in 2021 no related women were arrested with jihadism in Spain.
The oldest person arrested last year for his relationship with jihadism was 72 years old. The youngest, just 15
In the case of women in jihadism they share a common trait and that is that they play a very active role in attracting new followers to the cause. They are mainly dedicated to creation and dissemination of propaganda content and act as a catalyst in the radicalization of others. As is the case of the jihadist retiree. This woman had worked as a radicalizing agent of the 24-year-old girl, Cristina Amparo BG who was arrested in the Valencian town of Cullera on November 13, 2020. This young woman had donated 5,000 euros to Daesh, participating in its financing and intended to travel to the city of Idlib in Syria, to marry a mujahidin whom he had met through social networks.
The nickname of fallera comes to her because, before her conversion into an Islamic extremist, the young woman combined her professional life as a cook with belonging, in a playful and social way, to a fault of the coastal town in which it was enrolled for more than a decade.
The arrest of this young woman shocked the entire town of spoon. Cristina was sentenced to five years in prison for financing terrorism.
In the case of Maria, the septuagenarian of San Antonio de Benagéber, the investigators concluded that she herself had self-radicalized years ago -possibly consuming propaganda content on the Internet or through contacts, the most common ways-, which he had subsequently dedicated himself to making work of proselytism and indoctrination both online and physical.
Operations against jihadism in Spain
From the report carried out by the International Observatory of Studies on Terrorism it is extracted that during 2022 a total of 27 operations against jihadism in national territory that resulted in 46 arrests. It is the highest number since 2017, a trend that was broken in 2019 when 32 operations were carried out resulting in 58 arrested individuals.
He mediterranean arc is the one that brings together the largest number of interventions against jihadism, being Catalonia the one that has registered the most. In the case of the Valencian Community were youres the operations that were carried out: two in Valencia and one in Alicante.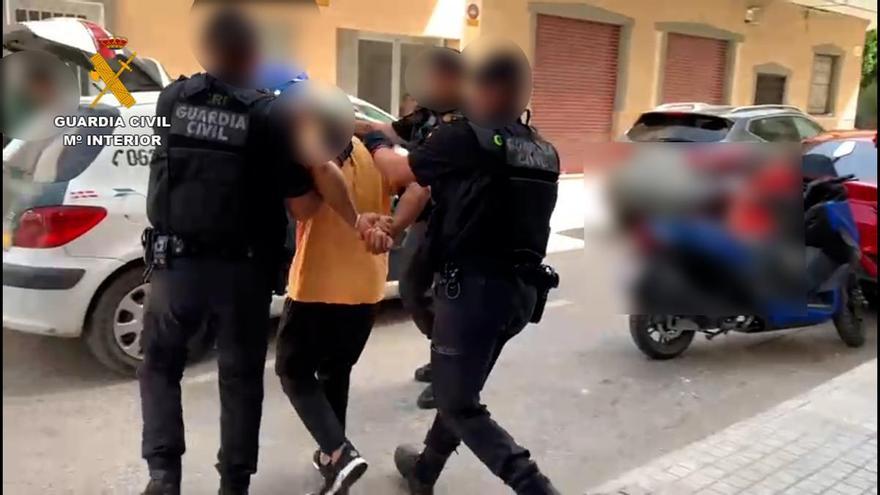 It was precisely in the province of Alicante where a man was arrested in June of last year. 41 year old man from Elche who planned to travel to Syria after committing a terrorist act.
The man, caught by the Civil Guard in collaboration with the National Intelligence Center (CNI), he maintained contact with the perpetrators of other jihadist-inspired attacks.
2023-05-02 12:48:14
#72yearold #Valencian #woman #arrested #relationship #terrorism