Ahn Se-young in the women's singles and Seo Seung-jae and Chae Yoo-jeong in the mixed doubles finals
Women's doubles Kim So-young (right)-Gong Hee-yong Joe
[로이터=연합뉴스]
(Seoul = Yonhap News) Reporter Hong Gyu-bin = The Korean badminton team confirmed its first championship in six years at the Jeonyeong Open, the most prestigious competition.
The national team took both tickets to the final in the women's doubles semifinals held in Birmingham, England on the 18th (local time).
Team Kim So-young and Gong Hee-yong defeated Jang Shu-xian and Jeong-wi (China) 2-0 (21-14 25-23) in the semifinals, and Lee So-hee and Baek Ha-na also defeated the Indian team in the opposite bracket.
As the Taegeuk Warriors face off in the finals, the national team has reserved both the gold and silver medals in the women's doubles.
It is the first gold medal in all events in six years since the women's doubles Jang Ye-na and Lee So-hee in 2017.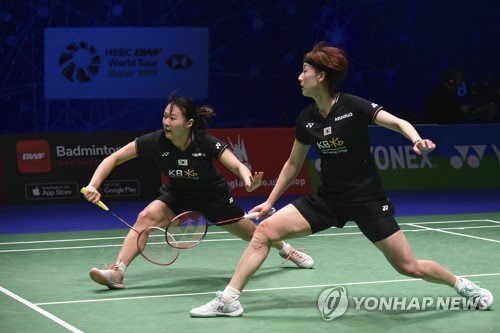 Women's Doubles Lee So-hee (right) – Baek Ha-na-jo
[AP=연합뉴스]
She has also delivered victories in the women's singles and mixed doubles.
Ahn Se-young, world number 2, won 2-1 (17-21 21-19 24-22) after a fierce battle with world number 3 Dai Ziying (Taiwan).
Ahn Se-young, who was frustrated on the threshold of winning last year after losing to her "nemesis" Yamaguchi Akane (Japan), challenges her revenge after a year.
The opponent in the finals is Chen Yufei (China), who came up after defeating Yamaguchi in the semifinals.
World No. 4 Chen Yu-Fei has been strong enough to outperform Ahn Se-young with a record of 8 wins and 2 losses.
He is also the party who eliminated Ahn Se-young, who first participated in the 2020 Jeonyeong Open, in the round of 32.
However, Ahn Se-young succeeded in breaking the bad relationship once in the semifinals of the Malaysia Open in January, the most recent match.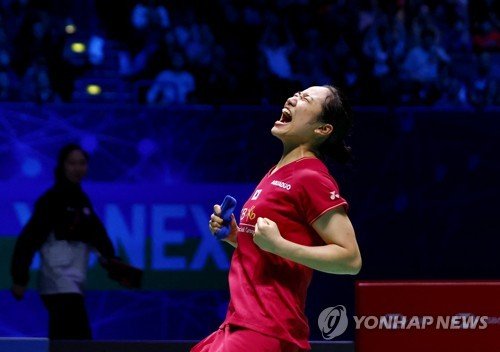 Ahn Se-young is delighted to advance to the finals
[로이터=연합뉴스]
In the semifinals of the mixed doubles, Seo Seung-jae and Chae Yoo-jung beat Kim Won-ho and Jeong Na-eun 2-0 (21-14 28-26). Their opponents in the final are Zheng Siwei and Huang Yachong of China.
In the case of women's singles and mixed doubles, Soo-hyeon Bang in 1996 and Dong-moon Kim and Gyeong-min Ra in 2004 were the last to win.
The World Badminton Federation (BWF) World Tour Super 1000 World Tour Jeonyeong Open started in 1899 and is the oldest and most prestigious badminton tournament in the world.
South Korea won the gold medal every year from 1985 to 2000, except for one. However, in the 2000s, as European and Southeast Asian countries stepped up, its position declined.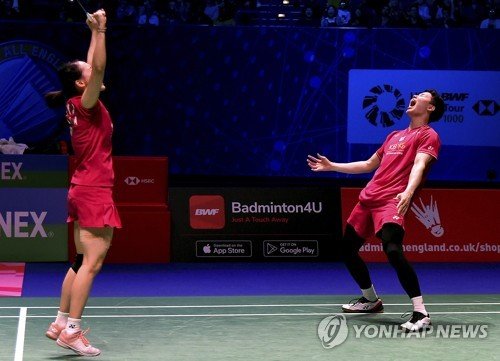 Mixed doubles Seo Seung-jae (right) and Chae Yoo-jeong
[AP=연합뉴스]
(end)
[이 시각 많이 본 기사]
▶For reporting, KakaoTalk okjebo
▶ Download the Yonhap News app right now~