Al-Hilal will be in the semifinals of the Club World Cup. the amount of El Amloud put Wydad ahead against a Al-Hilal who did not stop trying at all times. So much so that his equalizer came in the 90th minute and from the penalty spot, being transformed by Cannon. Finally, penalties decided the match. The Saudi Arabian team will face Flamengo in their next tie.
And the first to strike were the Wydad, although offside. great play by Hassouni, who left his mark seated, but his ball to the far post found his teammate in advance. The Wydad not only won in the stands, but also wanted to do it on the pitch.
But not much else happened. Wydad controlled the game, created the chances, set the pace for the match, while Al-Hilal was just waiting for their moment to find the goal defended by tagnaouti. Something that changed with the arrival of the second half.
Great chance for Al-Hilal in the first minutes of the second half but the shot was cleared right on the goal line. Shortly after, Al-Albulayhi He starred in the clearest of the match but his header was stopped by a very brave Tagnouti.
Amloud opens the scoring with a great header: Wydad puts the lead against Al-Hilal (1-0=
A goal that was about to be matched in the 70th minute of the game. Al-Hilal shot but Farhane He managed to get the ball out on the goal line. A clearance that was heavily protested by the Saudi Arabian team, who understood that the defender had touched the ball with his hand.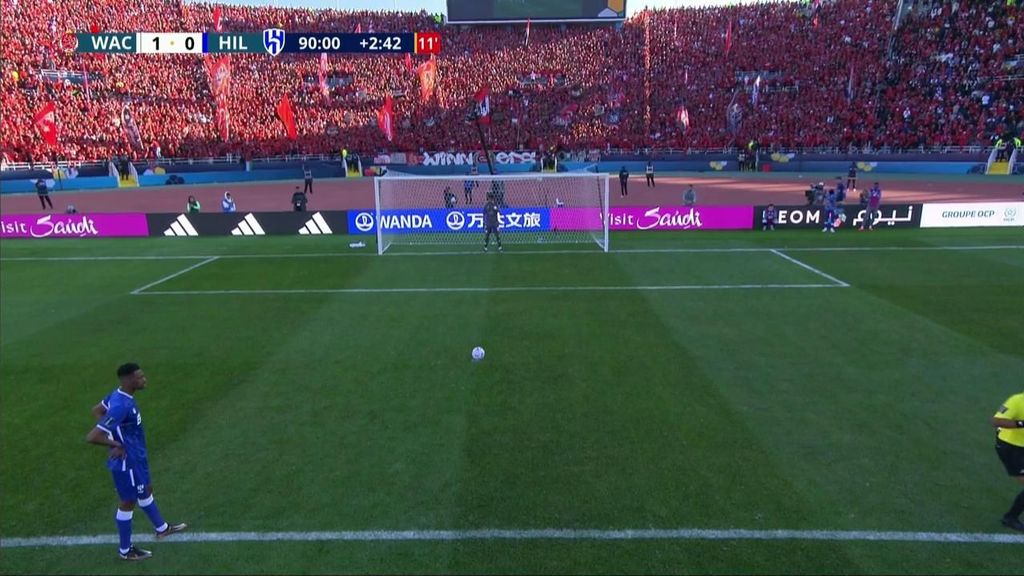 Kanno does not fail from eleven meters: draw Al-Hilal from a penalty in the last minute (1-1)
A penalty that he did point out in the 90th minute of the game. Clear hand from a Wydad defender and Kanno didn't fail to put the tie on the scoreboard. A result with which we went to extra time. But not much more happened and in overtime the fatigue of both teams was noticeable. It was on penalties, after the ruling of Attiat-Allah, when the pass to the semifinals of Al-Hilal was certified.