undefeated, Sport and Drowned face off this Wednesday night (1), at 6 pm, on Ilha do Retiro, in an early game of 8th round of the Pernambuco Championship. Leader, Leão has 13 points and seeks to consolidate first place. Owl occupies the 5th position and has seven points added.
For the match, Sport will not have midfielder Ronaldo Henrique available. He left the lawn injured against Retro and is handed over to the medical department. Triggered before Fênix, Pedro Martins should win an opportunity among the starters. On the other hand, Igor Cariús, who suffered a head clash against the Camaragibe club and also left the duel early, trained normally and will be responsible for the left side.
Streaming
The match will be broadcast on the 'Nosso Futebol' channel, in streaming, and on the 'One Football' app.
Probable lineups
Sport
Renan; Eduardo, Thyere, Sabino and Igor Cariús; Fabinho, Pedro Martins and Jorginho; Edinho, Juba and Vagner Love. Technician: Enderson Moreira.
drowned
Railson; Rafael Olioza, Guilherme Almeida, Danilo Santos and Daniel Nazaré; Caetano, Roberto, João Vítor and Valdeir; Venicius and Herbert. Technician: Evandro Guimarães.
Who whistles?
The referee responsible for conducting the match will be Rodrigo José Pereira de Lima. He will be assisted by Clóvis Amaral and Daniele de Andrade Felipe.
See too
Italian Cup
Inter beats Atalanta and reaches the Coppa Italia semi-finals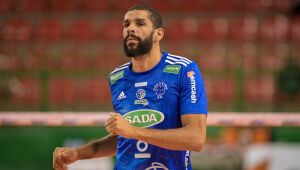 Wallace is suspended by Cruzeiro after making a post about shooting Lula