Brazil and Serbia will have to take Switzerland into account in group G. Breel Embolo made the difference with an emotionally charged goal against Cameroon. The striker scored against the country where he was born. Cameroon will have to pick up points against Brazil to keep its World Cup chances intact.
Switzerland – Cameroon in a nutshell

Key moment: Cameroon entered the dressing room with a preponderance of chances, but faced a deficit after barely three minutes in the second half. A free combination in midfield ended with Embolo, who could barely miss.
Man of the match: Yann Sommer was of crucial importance for the Swiss with five saves, especially in the first half, so that his compatriots only needed one goal after the break.
Statistics: Thanks to his assist on Embolo, Shaqiri sharpens his statistics on championships. Of Switzerland's 24 goals in the last four European and World Cups, he was involved in half with eight goals and four assists.
Cameroon number of times close to opener

Group G's first match opened with a mediocre first half. Switzerland tried to claim the ball and combined to get to the goal.
Cameroon stood firm and time and time again found space behind the Swiss defense. Mbeumo opened the sprint debates, but fired at Sommer. Toko Ekambi's rebound went way over. Five minutes later, Choupo-Moting shot Sommer again, but from offside.
Sommer had to intervene again on the half hour mark. Former Antwerp player Martin Hongla infiltrated and bumped a ball towards the far post. Difficult, but so is Yann Sommer. A few minutes later, Widmer had to
clearing a good cross, in front of Toko Ekambi.
On the other side, Switzerland did not get past the Cameroonian hedgehog position. The best chance was for Akanji, just before the break. He was able to put his head against a corner, but aimed past the far post. Good try, but no more than that.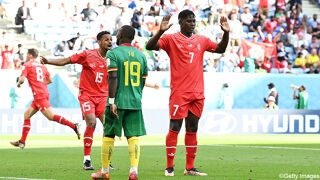 Lid on the nose

After the break, Switzerland immediately grabbed the opponent by the throat. Over midfield, a too easy combination flowed through Xhaka and Freuler to Shaqiri. Nice infiltration, and the well dropped Breel Embolo couldn't miss anymore.
Born in Cameroon, Embolo refused to celebrate after his goal.
After that it was up to Cameroon to make the match, but not much succeeded. A strong Sommer prevailed in the air, on the often mediocre crosses of the Cameroonians. Choupo-Moting pressed on along the back line, but the goalkeeper of Switzerland was also there.
Switzerland almost doubled the lead. A shot from Xhaka was well taken by Onana, a good cross from substitute Rieder was turned away, Seferovic in turn missed the chance of 2-0 after poor finishing.
It is a tough group, with Brazil and Serbia. Switzerland is doing a good job with these first three points. Cameroon must chase after probably the most feasible group game.
Rigoberto Song (national coach Cameroon): "We are disappointed with the result. We obviously wanted more, but at this level, football depends on details. We didn't pay attention for a moment and Switzerland was able to score. The next games will now be decisive for my young team. Everything remains possible. My players deserve congratulations, but I also have to ask them to stay focused from start to finish."
Murat Yakin (Switzerland coach): "I had told Breel (Mbolo) before the game that he could be friendly to Cameroon until the start, but that they are the opponent during the game. In football you get stories like that. He has completed his assignment. I am very happy with his performance."
Seferovic leaves 2-0

Xhaka docks and finds Onana