only remain 365 days for the ceremony opening of the Santiago 2023 Parapan American Gamesthe largest Paralympic mega-sports event organized by the country and that promises to change high performance and disability culture forever.
The competition, to be held between on November 17 and 26 of the following year, will take place in the Metropolitan Region in 14 venues. The National Stadium Park will be the epicenter of the contest together with the Paralympic Sports Center. In addition, there will be action in the CEO of Ñuñoa, Lo Espejo, Peñalolén, Isla de Maipo and Pudahuel.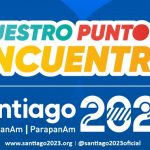 "In one year the Parapan American Games will begin. It is the opportunity for Chile to enjoy the maximum inclusive event in the Americas and we are working to make this an event that transforms the lives of people with disabilities"said Gianna Cunazza, executive director of Santiago 2023.
will be 1,927 athletes those who will convene in Santiago to participate in 17 sports and 18 disciplines: wheelchair basketball, boccia, blind football, CP (cerebral palsy) football, goal ball, judo, wheelchair rugby, wheelchair tennis and Para sport shooting. There will also be the Para versions of: athletics, badminton, cycling (track and road), swimming, powerlifting, taekwondo, table tennis and archery.
All disciplines, except PC football, will qualify for the Paralympic Games Paris 2024 directly or through scoring in the world rankings.
All disciplines and their venues for Santiago 2023
Wheelchair Basketball: Sports Center 1, National Stadium
Bowl: Community Sports Center, Lo Espejo
Football for the blind: Paralympic Sports Center, National Stadium
PC Soccer: South Sports Center, National Stadium
Golbol: Paralympic Sports Center, National Stadium
Judo: Contact Sports Center, National Stadium
Athletics: Mario Recordon Athletic Center
Badminton: Olympic Training Center, Ñuñoa
Cycling track: Velodrome, Peñalolén Park
Cycling route: Streets of Isla de Maipo
Swimming: Aquatic Center, National Stadium
Powerlifting: South Sports Center, National Stadium
Taekwondo: Contact Sports Center, National Stadium
Table tennis: Olympic Training Center, Ñuñoa
Archery: Archery Center, Peñalolén Park
Wheelchair Rugby: Collective Sports Center, National Stadium
Wheelchair tennis: Sports Center of the Rackets, National Stadium
Shooting For sports: Shooting range, Pudahuel