tennis">
Jannik Sinner wants to reach the quarterfinals. © APA / afp / SEBASTIEN BOZON
Jannik Sinner, 20 years old, against Carlos Alcaraz, 19 years old: If tennis fans could have wished for a round of 16 in Wimbledon, then it would have been exactly this.
July 03, 2022
From: leo
When the two best tennis teenagers in the world meet, a big hype is guaranteed. There is quick talk of the future of tennis or the start of a new rivalry that will shape the sport for years to come. It may be a bit exaggerated at times, but these empty phrases apply one hundred percent to the duel between Sinner and Alcaraz. Here the young South Tyrolean, who has two Grand Slam quarterfinals, among other things, there the incredible Spaniard, who has already won two Masters 1000 titles in the current season.
Based on recent results, the man from Murcia, who only conceded six games to Oscar Otte in the third round, is the favorite to start the race. However, Sinner is not without a chance, his performance against John Isner was too convincing for that. Before the eagerly awaited match, the two opponents spoke highly of each other. "The game will be extremely difficult, especially from a physical point of view, because I'm expecting a lot of long rallies," said Sinner at the press conference. "I'll approach the match calmly, as always give everything and have fun." Sextner also spoke about the relationship with Alcaraz, which was "excellent". "We are friends, we joke and speak a mix of Spanish and Italian. But of course each of us wants to win the match."
Alcaraz has the edge
"Jannik plays incredible tennis, also here on grass," says Alcaraz. The games against Sinner are always extremely difficult, but also exactly those that he likes. "We are two of the youngest players in the main draw and arguably the ones with the greatest talent. My relationship with Jannik is very good, we often trained together," said the world number 7, who won the only duel at ATP level last year at the Masters in Paris 7: 6 and 7: 5. Alcaraz – comparable to Sinner – has hardly appeared on grass so far.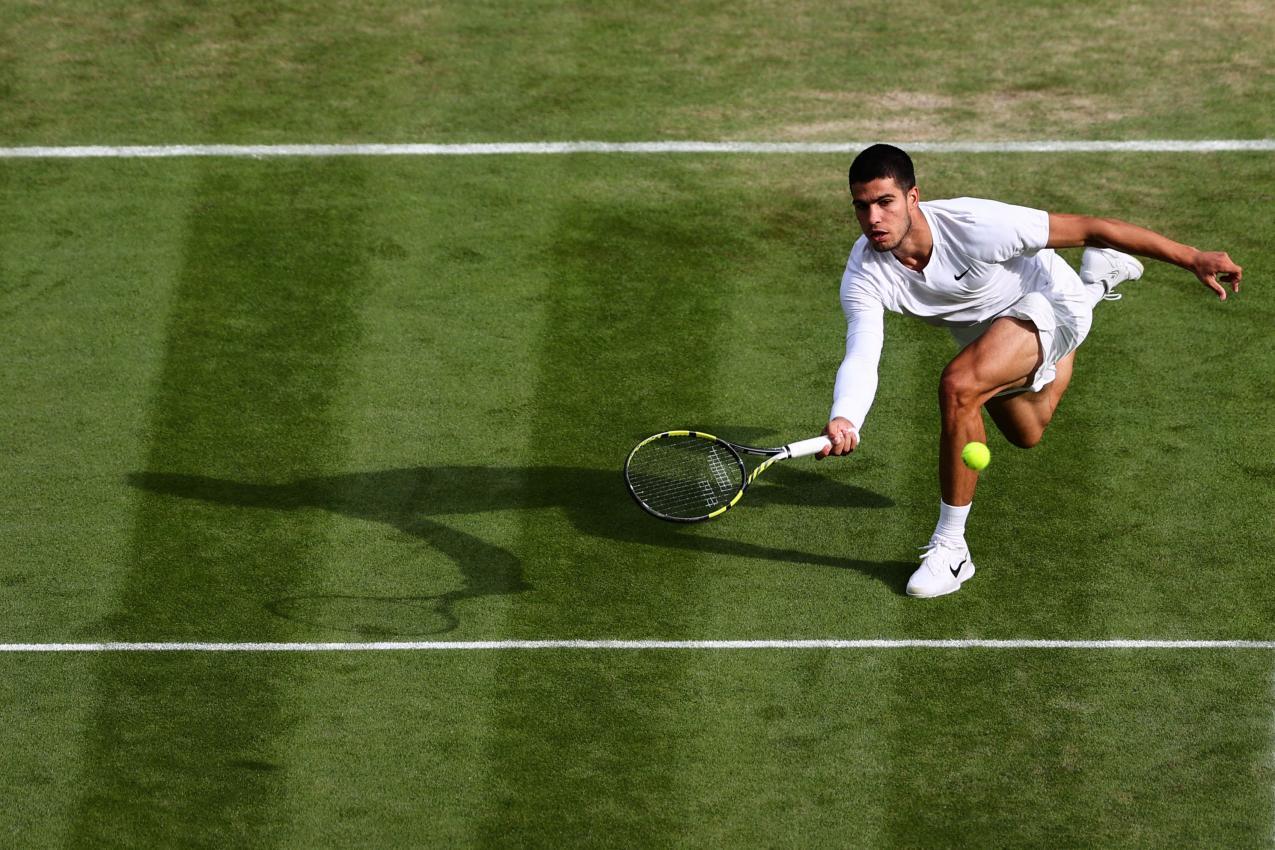 Carlos Alcaraz confronts Sinner. © APA / afp / ADRIAN DENNIS
The youngest round of 16 pairing since 2008, when Kei Nishikori and Juan Martin Del Potro faced each other at the US Open in New York, is fighting on Center Court at around 4 p.m. for a place in the quarterfinals. Novak Djokovic would most likely be waiting there, who is going into the match against the Dutch high-flyer Tim van Rijthoven (ATP 104) as the big favorite.
recommendations