Sports spaces, overcrowding of disciplines, stimuli and motivation for children, These are just some of the ideas that three athletes from Guayaquil put on the table with the desire that the practices of physical activities increase in the city and the country. It's like the marcher Johana Ordonez, la canoista Angie Avegno y Adriana Espinosa de los Monterosof archery, share, based on their experiences during their training process, what could help the sport expand both in the branch of high performance and for the common citizen in the recreational field.
They, who have shone nationally and internationally, They agree that another fundamental factor for sport to improve is education, that is, that both sports activities and the knowledge acquired in schools and colleges are presented as the ideal mix to train an athlete as a whole.
ANGGIE AVEGNO: "YOU HAVE TO MAKE KNOW MANY DISCIPLINES"
Anggie Avegno, Guayaquil canoeist who has achieved several international titles, is of the opinion that the main thing to promote the sport is that people know it. "The first step to improve the sport is to make it known; going to schools and colleges, telling children and young people about what sport is and what it means. Visit the students and show them the disciplines that are not known, like mine, which is canoeing. That and tell them how proud you feel to represent your city, your province or your country", explains the national athlete confidently.
But the 26-year-old from Guayaquil goes further and is convinced that the technical part is essential to not leave loose ends and cover even the regulations of the various sports. "There are disciplines that are not known, neither the technique, the results, the way of keeping the scores; This is because not all sports are the same", says Anggie, at the same time that she exclaims with joy: "I would happily give talks for the massification of canoeing, which is my specialty". Likewise, she has no doubt that other Ecuadorian athletes would do the same in their respective sports.
It is necessary to visit children and young people in order to show them sports that are not so well known, thus expanding the options for them.
Angie Avegno
She is emphatic in saying that a good way to encourage young people to the practice of sports is the implementation of scholarships for outstanding athletes, but not only that, that there are "small competitions" so that they feel the pride of competing and, in the best of cases, "winning".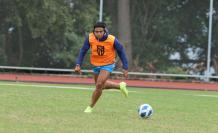 Jefferson Montero: "They put a lot of controversy into what I said about Damián Díaz"
Read more
"By receiving an incentive during a competition, whether it is a medal, nutrition things, a basic basket, they motivate the child and that is fundamental", he adds.
Avegno also considers it important that educational establishments have a curriculum in which the history of the Ecuadorian sport.
JOHANA ORDÓÑEZ: "IT IS NECESSARY TO PROMOTE TALENT"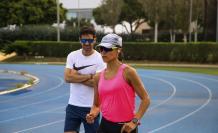 Johana Ordóñez, the disagreement of the Bolivarian Games 2022
Read more
The Guayaquil marcher Johana Ordóñez is convinced that "communication" is key to promoting sport in Ecuador, especially among the main public and private institutions. "We must have good communication bases between all the public and private institutions that are in charge of sports and thus absorb the best ideas from everyone, to create a good environment in Ecuadorian sports."
For the tricolor athlete, this is a starting point to draw various plans, in order to motivate people from childhood in the practice of various disciplines, although for this the economic part is also necessary and to do it in a general way in the country. "Schools should focus on promoting sports in Ecuador, but there we depend a lot on the contribution and financing of the State and private companies, but it is a good idea to have social projects. Just as there are in education, let there be in sport. Both things undoubtedly go hand in hand," says the 34-year-old marcher.
If we want to promote sport, we must open our stages and give people who want to play sports an opportunity, because it is synonymous with health.
Johana Ordonez
Ordóñez, multiple medalist in international competitions, he believes it is necessary to open sports venues so that ordinary citizens have access to them and can use them recreationally. "If we want to promote sport, we must open our venues and give people who want to play sports an opportunity," says Johana, who is emphatic when she says that "we need infrastructure and that it is not limited."
Ordóñez agrees to promote the disciplines that have given glory to the country, but also to explore new fields, where the "potential figures".
ADRIANA ESPINOSA DE LOS MONTEROS: "TRAINING AND TEACHING IS FUNDAMENTAL"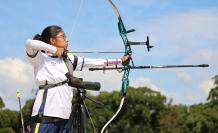 Adriana Espinoza de los Monteros falls and is eliminated from Tokyo
Read more
Adriana Espinosa de los Monteros, Ecuadorian representative in archery, maintains that the first step for the generation of new athletes is massification.
"I think that what is needed is to massify the sport, have access to more sports venues. We in Guayaquil have only one setting for archery practice, which is my discipline. But it's not just about having a stage and that's it, but having more training in schools, making it known that sport is not only soccer, volleyball or basketball, but also others", proposes the international medal winner.
Adriana regrets that due to a lack of communication, many talented people, especially young people, are unable to develop their skills in a sport in which they had potential. "There are boys with a lot of talent, but due to ignorance they arrive late to the sport ", explains the athlete, who participated in the 2022 Tokyo Olympics.
It is a matter of giving the public access to all sports, because if they feel they have the skills and want to practice some, it is important that they do so.
adriana espinosa
Espinosa also sees the fact that due to lack of support, the dreams of many athletes end as counterproductive. "It is a problem that in Latin America the university student is not supported or to the person who practices a sport at a high level and works. Sometimes for reasons beyond their control, they have to leave the activity".
Espinosa considers that access to information is another aspect that must be worked on. "It's a matter of giving the public access to and knowledge of all sports, because if they feel they have the skills and want to practice one, it's important that they do so." He also believes that it is key to "create scenarios in which it is possible to carry out various disciplines. That these fields are so versatile that you can adapt them and create schedules for each sport", he concludes.