It is the first time that two Spaniards have won the same year the most coveted and tacky trophy in the world of poker, "rapper from the Bronx." For the Madrilenian Adrian Mateos, 27, is already his fourth bracelet. For the Barcelona woman Leo Margets, 38, is the first, although just before the pandemic she was second and in 2009 rose to fame for achieving the title of 'Last Woman Standing' at the main tournament in Las Vegas. It was a huge boost to her career, but now she is much more than 'the last woman standing'. In 2021, in fact, she was the only champion in a men's world. It was the first among almost two thousand
participants and won more than 330,000 euros. Mateos approached three million, but in his case the prohibitive registration was financed by various 'investors'. He does not reveal what percentage he was wearing, "but it is less than what people think."
Since we are talking about dirty money, it should be noted that the Treasury (all, in theory) shares the prize with Leo, one of the few professionals who sacrifices the tax disadvantages of being Spanish to live in his country. Adrián, who lives in London, is one of many emigrants: «I couldn't play at higher levels because from Spain you can't because of the regulations. I cannot do my job in Spain. Nor do they allow me to compensate for the losses and gains of several years, like those who work in the stock markets, which is the closest thing to us.
The money that comes in and goes out is often talked about, but few know what their job consists of. «I have studied like a beast, I gave a crazy cane ", assures Margets, that emphasizes that, in spite of everything, the results could not have arrived and that the bracelet" is an anecdote. "You can only be prepared to maximize when you hit a hot streak," he insists, something that extends outside of the game: "In the business world and in everything in life you are not aware of how much chance intervenes. But since uncertainty makes us nervous and we don't know how to manage it, people prefer to think that they control everything. There is another variable, which is luck in the form of 'timing', a good streak. When a company 'blows it', there is an unpredictable factor, which does not detract from your merit, you just have to know it and try to take advantage of it ».
Mateos also experienced the pandemic "almost like a sabbatical year of concentration», Since he could not go out or play live. «The best way to take advantage of the time was to work. In the movies or the series I understand that it is more morbid to teach the gruesome part than to 'geeks' studying on the computer. People like salsa and temptation.
What the two members of the Winamax team they are clear is that they could no longer have a normal job. "I'm not going back into the system or crazy," exclaims Margets. "My mother is a civil servant," adds Mateos, "and no matter how well she does it, she earns the same." It doesn't matter if you try harder. I would be frustrated if my performance did not affect my salary.
A field in which they see possibilities and where they have already made some investments are cryptocurrenciesAlthough they do not consider themselves experts and trust friends who have been able to dedicate more time to them. "It could be another job for at least another eight hours a day. You can't cover everything, "says Mateos.
Work capacity and other skills
Leo is an emotional person and Adrián is much colder, she never liked card games and he 'gives everything', but it is clear that they have something in common. What qualities do you need to be successful at poker? «Intelligence is not so decisive", Adrián maintains," except as a barrier to entry, as a minimum. " "Instead, you have to be very strong mentally, but what makes the difference is your work. Poker is very ungrateful at first, but if you put in the hours and are responsible, you end up winning. The problem is when nine of us sit at the table and seven think they are better. It is very easy to make excuses and complain, to say that you have no luck.
«I do not know any great player who is not aware of the luck he has had, but only mediocre people complain that they are very few lucky, "adds Leo. "Needed almost opposite qualitiesLike being very cold and at the same time very empathetic, it is complicated, because gathering those characteristics in the same person in a natural way is not easy. You also have to know how to manage risks and resilience is true, because in the end it frustrates you when things don't work out. You have to have perseverance and discipline.
Above all, it is difficult to gauge luck in live games. "It's easier on the internet, because you have programs that tell you if you are winning, if the statistics are good or bad, and you can measure better, but when you play live everyone is great, and that is terrible", summarizes Mateos. «In the end, it is too easy to justify even the bad plays, because your brain plays tricks on you, it wants you to be at ease, not for you to learn», aporta Margets.
On the other hand, there are characteristics that may seem bad, but can also be used in favor: «I am very logical and very practical, but I also have the emotional part, that for a long time I tried to kill, thinking that it was fatal to me. It's funny, because a few years ago, in a seminar we did with the Winamax team, they told me: What are you doing? Don't kill it, take advantage of it ».
Of course, the two winners in Las Vegas also have their weaknesses. Leo admits to a problem in managing the peanut butter, but most of all, the two consider themselves a disaster in routine and bureaucratic managements, in the paperwork. "I am able to do things that people consider difficult, but then with other basic things I get stuck," she confesses. "Everything that I'm not passionate about costs me a lot," admits Adrián.
Family
Having a partner who understands the player's life is not easy. Is it even more complicated have children? "It is true that I have seen players who have dropped in level, because you have other very great motivations", responds Adrián Mateos, "but of the world top 50, I consider that 40 percent are parents. It is not so difficult". "We can work from home 'online', we can travel when we choose … In fact, many travel with the family."
And is it difficult to be a son? Do players still hide their trade from the family? "My father is my number one fan", says Mateos. "I was helped by the recognition achieved in 2009 by the general press and society," admits Margets. "I really emphasize that it would have been the same Leo if it had not been the success of 2009. I am not an idiot. I understand that it was an important step. And now my parents are proud and happy, with the bib, but it would also be the same if they had kicked me out of the tournament in 50th place ».
It was not always so easy: "It's normal. You have to put yourself in the shoes of your parents. When I told them that I wanted to go to London to live, at first they freaked out with colors, "confesses Adrián. «I left the race for a dream. It went well for me and now it is different, but it is normal that they were afraid. "I started playing when I was working in sports marketing and just in 2009, when I was putting many more hours into poker, Las Vegas came along. It was a lot easier to accept. He was older and had already finished his degree, "says Leo.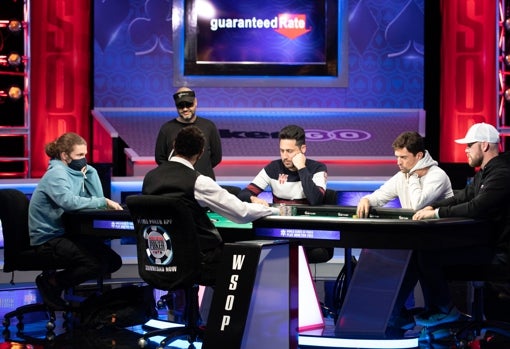 Leo also looks back to compare himself as a player and, without going too far, sees how much he has improved. «My self from the 2018 final had nothing to do with it. This time I was much calmer, like when you have your homework done and you know that everything is done on your part. Since I know what I do, I know that results may not come. At poker effort does not equate to short-term results».
How long will all this last? Leo Margets answers for both: «The hunger to be competitive will tell. I have not considered it. There is nothing that can stop me now, except noticing that I no longer have that hunger that naturally allows me to dedicate so many hours to studying. The day I don't have that desire as a stimulus, I'm going to be left behind and I'm not going to like it ».
.