Laprida defeated Universitario 3-0 as a visitor, with goals from Darío Moreta in the first stage, Francisco Mayorga and Nicolás Galván in the complement.
The Monday holiday was used to play soccer. University was local in Diadema and received Laprida. Those led by "Pepe" Alvino came out to be the protagonist from the start, pressing up, having possession of the ball and disturbing with centers from the sides.
The home team, led by Diego Robledo, crouched down to get out of the counterattack and try to hurt a visiting team that was well stopped.
Laprida warned in several stopped balls but failed in the definition. Also a bit of a strong leg and some yellow cards, not much more than that in the first few minutes. Until an action came where Rivas quickly takes a free kick, with precision from below in three quarters of the court enabling Contreras, the side raised his head and enabled the far post for Moreta to define almost below the arc, it was a goal for the visit and the result was more like the process of the game.
As the minutes went by, the "Green" team continued to manage the game, but without much depth, University continued betting on the counter but without being able to specify a risk on the opposite goal. So they went to rest, with a victory by the minimum for Laprida.
The complement continued with the same trend, Laprida with the ball and Universirario stopped to play against. But at 21 minutes, Silva achieved a great filtered pass for Mayorga to go hand in hand with the goalkeeper and define a stick to put the 2-0.
The meeting seemed already defined, because the place had no answer. The technicians moved the bench to look for fresh legs but nothing seemed to change. Nicolas Silva appeared on the scene again, to enable the newly entered Nicolás Galván, the striker finished off entering the crescent of the area and shouted the third for Laprida.
Olguín also had it in a great run, which could have stretched the advantage even more, but the goalkeeper saved Universitario. There was no time for more and Maximiliano Selg lowered the blind to the party at Km 27. It was a victory for those led by José Alvino. On the side of the team led tactically by Diego Robledo, they left with little flavor, thinking that they have not been able to stand out this season.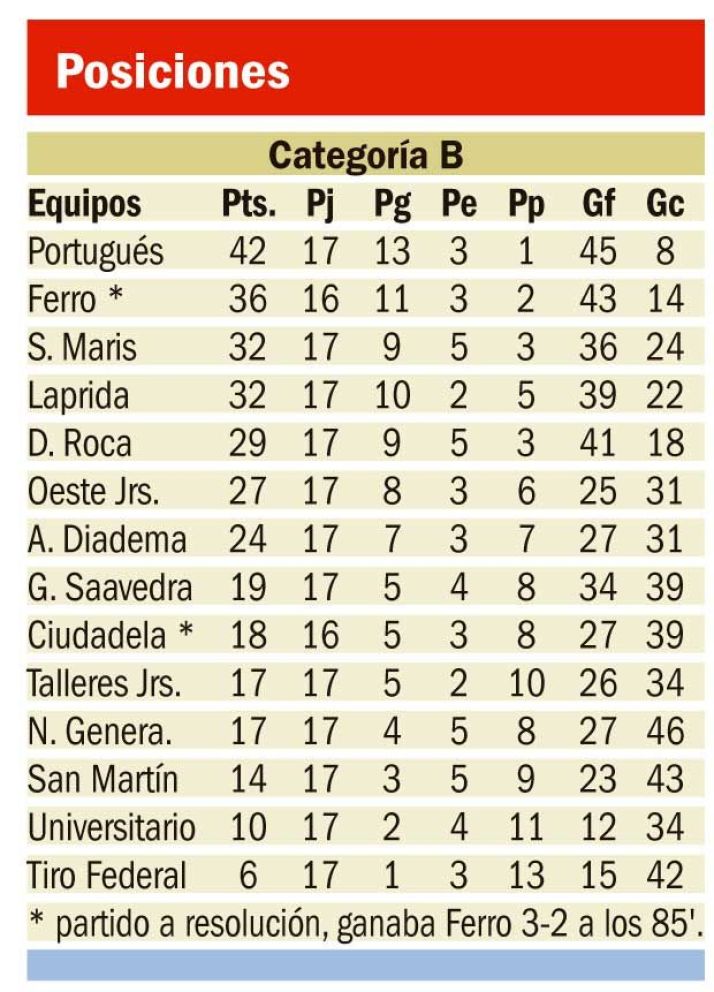 Summary B
17th date
Saturday
G. Saavedra 1 – Federal Shot 1
A. Headband 1 – D. Rock 1
Stella Maris 0 – D. Portuguese 0
West Jrs. 3 – N. Generation 2
Workshops 2 – Ferro 3
Yesterday
San Martín 3 – Citadel 8
University 0 – Laprida 3
Next date (18th)
Federal Shot vs. San Martin
Citadel vs. Workshops Jrs.
Iron vs. West Jrs.
N. Generation vs. academic
Laprida vs. Stella Maris