Verstappen started from pole position and easily repelled both of Hamilton's attempts to get to the front with an earlier pit stop. At the circuit in Zandvoort, where Formula 1 returned after 36 years, he scored his seventh triumph of the season in a stormy atmosphere in front of 70,000 fans.
"As you can hear, it's unbelievable," the Verstappen pointed to the enthusiastic stands. "The expectations were huge, but it is not easy to fulfill them. That's why I'm glad that I succeeded and I still got to the top of the championship," he added.
Seven-time world champion Hamilton missed the chance to claim his jubilee 100th career victory. The thirty-six-year-old Briton loses three points to Verstappen after thirteen races of the season in second place.
Hamilton tried the so-called undercut for the first time in the 21st lap, but Verstappen immediately reacted and kept ahead of the Mercedes driver. Thanks to that, Bottas got into the lead, but it lasted only ten laps on the worn tires at the head.
After that, Verstappen and Hamilton got in front of him without any problems, who timed the second pit stop for the 40th round. However, even this time, the 23-year-old Red Bull pilot took first place with a quick response.
The third man of the Dutch Grand Prix, Valtteri Bottas, takes a shower on the podium with the champagne of the home winner Max Verstappen.
Benoit Tessier, Reuters
"We felt a chance, but we timed it wrong. We also didn't expect Verstappen to drive for a hard set of tires, but that's just the way it is," said Mercedes boss Toto Wolff. "I drove at full throttle from start to finish, but Red Bull was too good today," Hamilton added.
The conclusion was revived by a minor controversy between Bottas, who, despite a ban from the team management, took Hamilton time for the fastest lap. The British driver had to go to the pits for the third time, regained the bonus point in the last lap and reached the finish line with a loss of 21 seconds to Verstappen.
"I didn't try to ride the fastest lap," said Bottas, who was also defended by Wolff. "We saw on the screens that he was slowing down. But to be sure, we still called him to do it over the radio," said the head of Mercedes.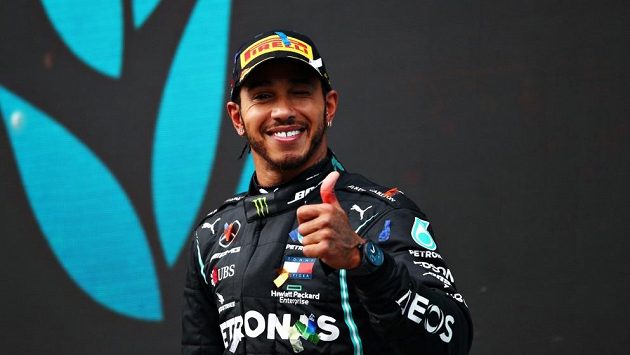 Formula 1 2021: Calendar, results, standings, overview of drivers and stables
Dutch Grand Prix, Formula 1 World Championship race in Zandvoort:
1. Verstappen (Niz./Red Bull) 1:30:05,395
2. Hamilton (Brit./Mercedes) -20,932
3. Bottas (Fin./Mercedes) -56.460
4. Gasly (Fr./Alpha Tauri)
5. Leclerc (Mon./Ferrari)
6. Alonso (Šp./Alpine)
7. Sainz (Šp./Ferrari)
8. Pérez (Mex./Red Bull)
9. Ocon (Fr./Alpine)
10. Norris (Brit./McLaren) all -1 round.
Fastest lap:
Hamilton.
MS standings (after 13 of 22 races):
1. Verstappen 224,5 b.
2. Hamilton 221,5
3. Bottas 123
4. Norris 114
5. Pérez 108
6. Leclerc 92
7. Sainz 89,5
8. Gasly 66
9. Ricciardo (Austr./McLaren) 56
10. Alonso 46.
Constructors' Cup:
1. Mercedes 344,5
2. Red Bull 332,5
3. Ferrari 181,5
4. McLaren 170
5. Alpine 90
6. Alpha Tauri 84
7. Aston Martin 53
8. Williams 20
9. Alfa Romeo 3.
.