Greysia Polii (right) and Apriyani Rahayu (left) with the prize car.
SportFEAT.COM – The Indonesian women's doubles, Greysia Polii/Apriyani Rahayu, became the focus of the Malaysian media after receiving a luxurious car prize.
The success of the Indonesian women's doubles, Greysia Polii/Apriyani Rahayu in winning the gold medal, seems to have a long-lasting effect.
As is known, Greysia / Apriyani successfully won the gold medal at the 2020 Tokyo Olympics.
The victory is also a separate history for the world of badminton in the country.
Greysia/Apriyani became the first Indonesian women's doubles pair to successfully bring home an Olympic gold medal.
Also Read: Sudirman Cup 2021 – Malaysia Lame, Women's Singles Number Becomes the Weakest Point
No doubt, this rare moment was immediately greeted with joy by all the people of the country.
At its peak, many companies or individuals and even the government appreciate the achievements of Greysia/Apriyani.
They competed to give prizes or bonuses to the world number six pair.
The government, for example, poured a total of Rp. 11 billion for Greysia/Apriyani as a form of appreciation.
Greysia/Apriyani are also known to have received a gift in the form of a luxury house by a businessman named Lukas Buntoro.
Recently, Indonesia's best women's doubles were again presented with a special gift.
Read also: Thomas Cup 2020 – Not strong enough to be the backbone of Malaysia, Lee Zii Jia needs this figure
Malaysian foreign media Harian Metro, even specifically discussed the prize given by one of Indonesia's leading car dealers, Honda Prospect Motor (HPM).
In its report, Harian Metro stated that Greysia was awarded the latest Honda City Hatchbak RS car from HPM.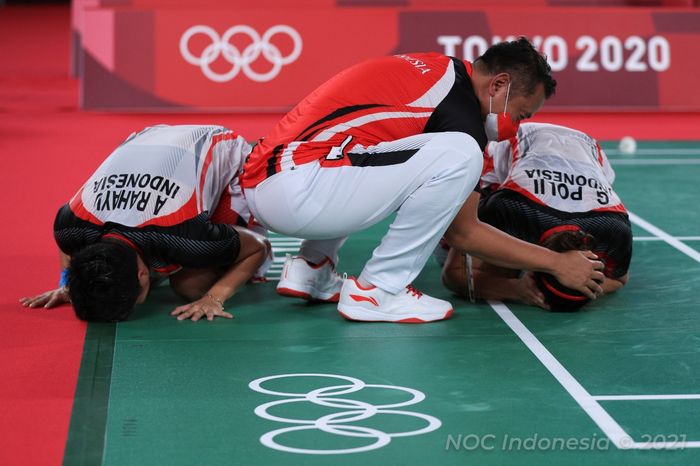 NOC INDONESIA
Greysia Polii (far right), Coach Eng Hian (center) and Apriyani Rahayu celebrate winning the women's doubles gold medal for Indonesia at the Tokyo 2020 Olympics, Monday (2/8/2021).
The car is estimated to be in the range of Rp. 289 million
"Among the most valuable gifts received by the two players was a Honda City Hatchback RS car donated by Honda Prospect Motor (HPM), the sole agent for the Honda car brand in the country," wrote Harian Metro.
"The price of a car in the Indonesian market starts from IDR 289 million (RM85,000)," the statement added.
In the release they received, HPM deliberately gave this type of car because it was in accordance with the Greysia/Apriyani character.
"According to HPM, they chose the City Hatchback RS as the model to be given because of its 'sporty' character in accordance with the fighting spirit of the players," the statement read.
"The model was launched in Indonesia since last March."
HPM provides two car colors that are given to Greysia-Apriyani, namely red and white which represent the Red and White national flag.
Featured Videos
PROMOTED CONTENT
.