Mayfield and Allen, notable in their debuts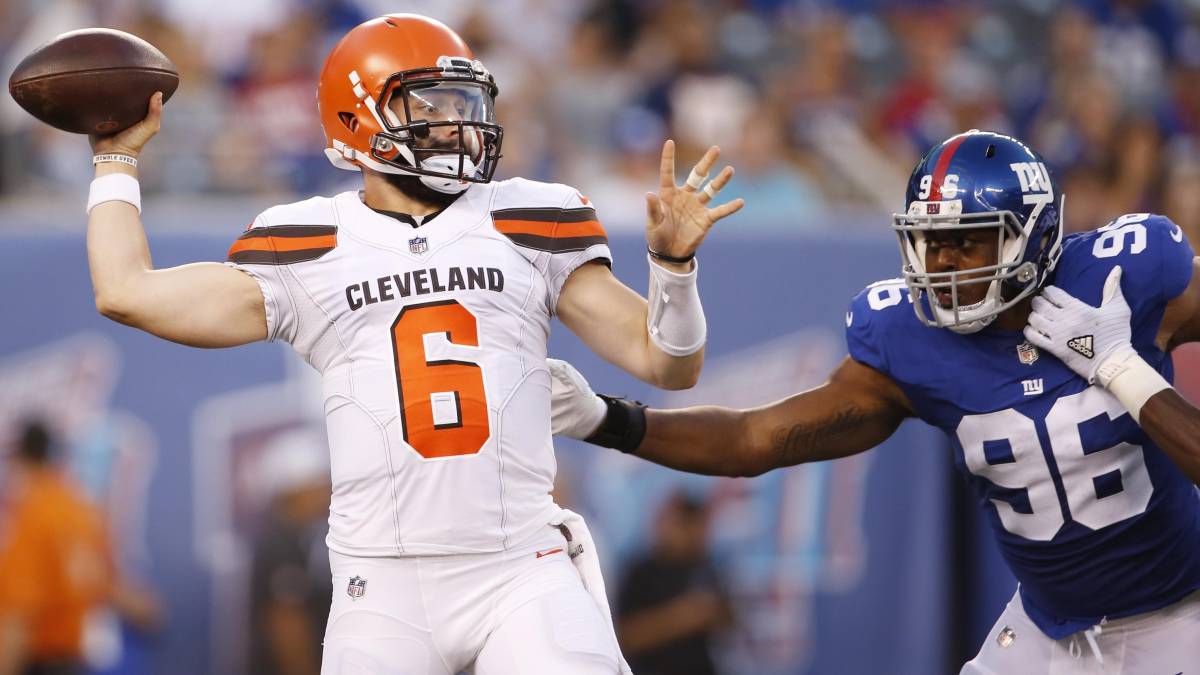 Five quarterbacks were drafted in the first round of the 2018 Draft and four of them made their debut in the first week of the preseason. These are my impressions:
Baker Mayfield (Browns)
He completed 11 of 20 for 212 yards, with two touchdowns and a 125.4 rating. Sixteen of his submissions were made from Shotgun, including his second scoring pass of the game against the Giants.
In third down and four yards to advance, with 13:48 in the fourth quarter clock, Mayfield made perfect use of the Giants' man-to-man coverage and completed a slant with Antonio Calloway, who broke a tackle and ran away without being touched until the diagonals, in a play of 54 yards.
Mayfield had a solid debut in the NFL and at the moment showed that the Browns were not wrong to recruit him with the first overall selection of the Draft. The ownership, however, belongs to Tyrod Taylor.
Sam Darnold (Jets)
He completed 13 of 18 (72.2%) for 96 yards, with a touchdown and no interceptions. It basically operated from the Shotgun, but except one of their shipments, they were all short, between 5 and 10 yards.
It's a good idea for the Jets, give the rookie plays fast reading and little by little "let go" greater volume of the playbook.
Josh McCown only threw a pass and Teddy Bridgewater looked very good (7 of 8 and a touchdown), so the race for ownership in New York is still open.
Josh Allen (Bills)
He completed 9 of 19 for 116 yards, with a touchdown at the end of the game and a rating of 84.5. He played the entire second half of the game against the Carolina Panthers. He showed that he can make plays with the feet when the play is broken: he had three breaks for 29 yards, including one of 13 for first and 10.
But, in one of those plays in which he was in trouble, instead of taking a catch, he threw a pass that bounced in the hands of a defensive. Allen was lucky that he was not intercepted.
In general his performance was very good, but he must work more in the deep pass, as he failed his two attempts of more than 25 yards and missed a receiver who was alone, in a play that should have finished in six points for Buffalo. His numbers must have been better because they let him drop two hands.
Josh Rosen (Cardinals)
He completed 6 of 13 for 41 yards, without touchdowns or interceptions. His stats sheet should have included an interception, but Desmond King let go of the ball, when he had a free hand to take him to the diagonals.
With 1:07 to play in the second period, Rosen took too much time and the Cardinals were punished for game delay. Not everything was bad for Rosen.
The USC rookie had a couple of good sends, including a 21-yard run to the band, where only the receiver could catch the ball. The boy did not show anything that could worry the veteran Sam Bradford.
Lamar Jackson (Ravens)
He completed 7 of 18 for 119 yards, no touchdown or interceptions. Jackson again showed his skills as a runner.
In third down and five, inside the Rams' 10-yard line, the Louisville rookie found no wide receiver and immediately started a nine-yarder run to the diagonals, knocking off at least three defenders.
Jackson ran a couple of times in RPO (run-pass-option) plays and finished with 5 runs and 21 yards.
His receivers released two passes, but also the Rams defense dropped a safe interception. He missed a couple of long passes, one of which could have been a touchdown.
His performance was mediocre (his pass of greater yardage was a screen) and at the moment Joe Flacco has nothing to worry about.
Leave a comment