Lukas Jutkiewicz: Birmingham boss Garry Monk says striker deserves his rewards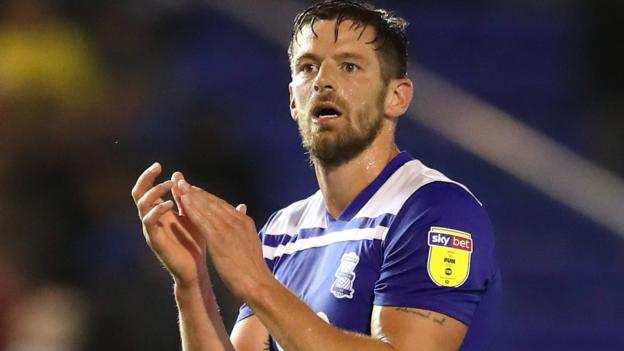 In-form striker Lukas Jutkiewicz of Birmingham City is earning his most recent run of success, Blues boss Garry Monk says.
The 29-year-old scored eight goals in seven games – including seven at St Andrews – and five times in October to earn him the title of World Champion of the Month.
According to Monk, the tall striker has more than just the goal.
"It's just a reward for him, because it's not just the final product, but also the goals he scored," Monk told BBC World Cup.
Jukey in the box
September 29: 2 – Blues 2 Ipswich Town 2
October 6th: 3 – Blues 3 Rotherham United 1
October 23: 1 – Blues 2 Reading 1
October 27: 1 – Blues 3 Sheffield Wednesday 1
"I'm happy for him, as well as everyone in the club, it's absolutely deserved, and since he's here, he's been at a high level for a long time.
"You could say that he won because he scored x goals, but looking at his all-round contribution, it's more than just goals.
"There is a huge demand for all players, especially in his position, but his strengths are coming to the fore, it's Jukey's professionalism and character.
"He is not the most vocal guy, but he leads by example, when he speaks, he speaks with intelligence and experience."
Jutkiewicz was a success when Gary Rowett first brought him from Burnley to St. Andrews, first on loan in 2016, earning the best record of his season of 12 goals.
However, in the confusion that followed Rowett's departure, he got lost and remained unsuccessful under Gianfranco Zola, Harry Redknapp and the more defensive-minded Steve Cotterill, who all played with just one striker.
Jutkiewicz has scored the four goals he scored in his last goal of the season. Now Jutkiewicz has reached the top form to bring the Blues to 13 points out of 15 possible points in October and to earn him a prize as well as a manager of the month's nomination for Monk.
Rewriting the records
Lukas Jutkiewicz's current race at St. Andrews with seven goals in four games is the best home game for any Birmingham City striker since Kevin Phillips (November-December 2008).
Another home goal at Hull City on Saturday, and he would be able to keep up with Gary McSheffrey (who scored goals in five consecutive league games from October to December 2006).
Jutkiewicz has scored 13 goals in 27 games since taking over Garry Monk, nine this season – and 84 in his entire career.
However, he has never scored more than 12 goals in a single season, although he has done so three times – Motherwell in the Scottish Prime Minister in 2009/10, Coventry City and Middlesbrough in 2011/12, and again in Gary Rowett's Blues a year 2016 -17.
analysis
Richard Wilford, BBC World Cup correspondent in Birmingham
Like many of the current blues squads, Lukas Jutkiewicz has experienced some turbulent waters since arriving at the club. Too often as a frustrated viewer during the time of Zola, Redknapp and Cotterill in St. Andrews, he has developed positively under Garry Monk and his staff.
This season, he was constantly involved in the championship and encouraged to focus on his strengths, and Jutkiewicz's growing partnership with Che Adams was an important part of the club, which has so far exceeded expectations.
Unobtrusive, totally dedicated and thoroughly good a professional, this award will be very popular throughout Bluescamp.
Leave a comment