England vs. India: hosts win second test by innings and 159 runs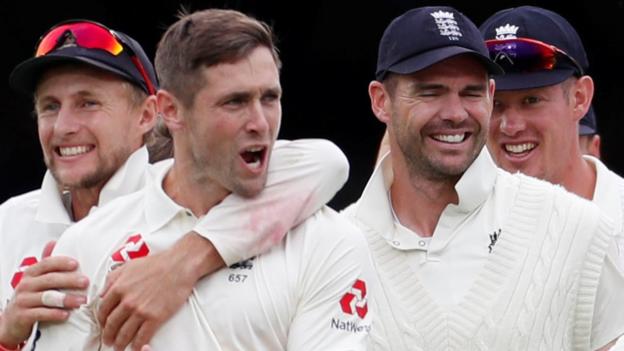 Second Specsavers Test, Lord's Day Four of Five
India 107 & 130: Ashwin 33 *, Anderson 4-23, Wide 4-44
England 396-7 Dec: Woakes 137 *, Bairstow 93, Hardik 3-66
England wins by innings & 159 runs
Scorecard
England completed a devastating innings and 159-run victory over India at Lord's to take a 2-0 lead into production.
James Anderson took 4-23 to finish with nine wickets in the match, and Stuart Broad shone with 4-44 as India were thrown for 130.
The hosts had declared at 396-7, with Chris Woakes ending at 137, before Anderson reduced India to 17-2.
Rain delayed the game twice, but India lost wickets regularly and Woakes took the last shot to secure a strong win.
England enjoyed the better bowling conditions in the match but India produced two bad punching performances.
Ravichandran Ashwin and Hardik Pandya's 55-member partnership for the seventh wicket was India's only real position in the innings, and the tourists never looked comfortable under the gray sky at Lord's.
Only once did a team come back to overcome a 2-0 deficit to win a test series – and that was an Australia side that included Donald Bradman in the 1936-37 Ashes.
The third test of the series with five games starts on Saturday in Trent Bridge.
Concern for India
Almost nothing went to India in this test.
They lost the throw and were thrown away for 107 after being put into rocking conditions in the first innings before England was beaten in the best weather of the match.
After Edgbaston's competitiveness, this was a disappointment for India, unable to withstand their English bowlers with their batsmen, and the decision to play Wrist Mauler Kuldeep Yadav over closer Umesh Yadav did not work.
There is also concern for India over the fitness of Captain Virat Kohli, who has been treated for back pain for much of the morning session.
There are still questions about England's top-order – they fought against 89-4 on Saturday – but Woakes's all-round performance is a promising sign for the hosts.
They will also gain confidence if they win the test in two match days after the first day has washed out and two of the last three days have been interrupted by rain.
Anderson shines in the dark
Anderson leaves Lord, who has taken the most wickets against India in Tests, with 99 wickets in 24 matches.
He immediately found movement and took his 100th wicket at Lord & # 39; s with an angled ship that took the inside edge of Murali Vijay's bat to leave India 0-1.
KL Rahul was reversed in a similar fashion, fixed by Anderson at the crease before Broad's afternoon spell interrupted the middle order to make her 61-6.
Anderson returned in the evening with light rain and rolled Kuldeep around a duck before he raided Mohammad Shami lbw to marginalize England.
He now has 553 Test wickets and is only 10 behind Australia's Glenn McGrath record for most wickets taken by a Seamer in Test Cricket.
The broad spell entertains the crowd
In a terrible afternoon spell, Broad ran through India's middle order to bring England into supremacy.
Cheteshwar Pujara, patiently playing for his 17, was knocked out by Broad before England changed tactics to stop Kohli.
With the India captain hindered by his back, Broad forced him onto the back foot and held him playing and missed out on Stump before Kohli tipped the ball to his hip and Ollie Pope caught on a deep, short leg was taken.
Wide barely hit on his next delivery, as he staked Dinesh Karthik lbw, to appeal as the ball clattered into the wicketkeeper on Knieroll, but the hat-trick ball swung the leg side for four-byes.
It was a collapse, preceded by Ajinkya Rahane, who threw away his wicket after a quiet post-lunch session with a loose shot at Broad's broad ball.
India seemed to have learned little from their first innings performance – and they are now heading to Trent Bridge, where England has won six of its last eight tests.
We had the best conditions – the view of the players
Stuart Broad speaks to Test Match Special: "We had the best conditions, but we used a lot of skills to make the most of it, we were lucky, but like Jimmy [Anderson] swung it was amazing in the first innings. "
England captain Joe Root speaks with TMS: "We still had to take advantage of the conditions – the seam group was excellent.
"[Chris Woakes' century] shows how important it is to strike deep. I'm so moaning for Chris; he fit in wonderfully. It's amazing what confidence this type of spell can give you, and also to beat Jonny in the way he did. "
India's captain Virat Kohli on Sky Sports: "I'm not very proud of our way of playing, the credit has to go to England, and if a team plays that way, they deserve to be on the winning side, and we deserve to lose this game."
What did the pandit make of it?
Ex-England captain Michael Vaughan on TMS: "India has all the problems, and England's seaming cones are up there with the best we've ever seen of them.
"It was very impressive of the bowling section, but there are still question marks on batting, but I can not help but feel that it will win nothing but an England series.
"An Indian team with Kohli had problems, if they could do without him I'd be really scared for them in the last three stages, I really hope he's fit – it's the world's number one test against England under English conditions We need a competitive match and a close series. "
Leave a comment