Athletic against Inter Milan, of the International Champions Cup: alignments, day, hour, news and TV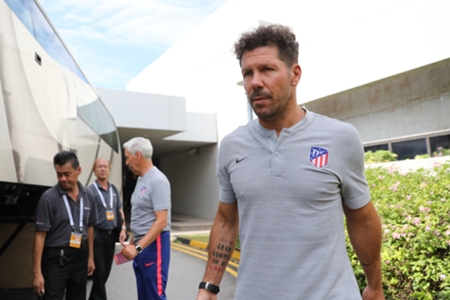 Diego Pablo Simeone will count for the first time in the preseason with all his staff in the last test before the European Super Cup Atletico Madrid closes the preseason and the International Champions Cup measuring Inter Milan in the Metropolitan Wanda, last test before the European Supercup that will face Real Madrid in the first official title of the European season.
All news from Atlético de Madrid
CONVOCATORIADiego Pablo Simeone has summoned 24 players for the match, including the latest signings, Santiago Arias and Nikola Kalinic, in addition to the world champions.
The list is as follows: Adam, Oblak; Godín, Filipe Luis, Arias, Savic, Juanfran, Lucas Hernández, Giménez, Montero; Thomas, Koke, Saul Ñíguez, Lemar, Rodrigo, Gelson Martins, Vitolo Olabe; Griezmann, Kalinic, Correa, Diego Costa, Borja G. and Joaquín.
PROBABLE ALIGNMENT Atlético de Madrid could line up with: Oblak; Juanfran, Godín, Savic, Filipe Luis; Rodri, Koke, Saúl Ñíguez, Lemar; Diego Costa, Griezmann. The article follows below
INJURED AND SANCTIONED Diego Pablo Simeone has available to all his squad, including the World Cup finalists, Thomas Lemar, Lucas Hernández and Antoine Griezmann, as well as Nikola Kalinic, brand new rojiblanco signing.
PARTY HOURS AND WHERE TO SEE IT AT TV Atlético de Madrid and Inter Milan play this Saturday, August 11 at 9:00 pm Spanish time (8:00 pm in the Canary Islands, 4:00 pm in Argentina, 3:00 pm in Chile) , 14:00 in Colombia and Mexico) and will be seen in Spain at Bein Sports.
     .
Leave a comment