Peter Vandenbempt's analysis in a nutshell:

A millimeter sprint with the three of us

We had never seen this in our football. We were presented with a scenario that could only be fiction, totally unbelievable.
The football gods took a sardonic pleasure in swinging those poor footballers and those suffering supporters between the most extreme emotions.
It was already a punishment, almost a quarter of a century ago, that they entered the last match day with 3 candidates. This time they even had a chance to win the title in added time. The 3 teams ran a millimeter sprint.
After that crazy World Cup final between Argentina and France, that match had to be in a straitjacket. This denouement was even crazier.
Sport is terribly brutal. The ultimate euphoria and the deepest disappointment are barely an inch apart. One flight of stairs made all the difference.
That's why we love this sport so much, for all its ugliness on and off the field.
(continue reading below the Instagram post)
Would someone have yelled "don't shoot, Toby"?

And it's Toby Alderweireld once again who has decided the championship: at that time and in that way.
Alderweireld is a child of the city, he has the cathedral on his arm and Scheldt water flows through his veins.
Anyone who didn't like Antwerp can't help but give it to Toby Alderweireld.
I spontaneously thought of Vincent Kompany's big bang at Manchester City in the English title match against Leicester.
Would someone have yelled "don't shoot, Toby"? I don't think so, but he has stepped into the history books.
(scroll down for more)
Antwerp will not have to wait that long

Sports are unrelenting. Only one can be the best.
In an ideal world we would have awarded 3 titles to 3 beautiful and well deserved champions.
Antwerp did not bring that frivolous and adventurous football of Racing Genk. The title is one of collectivity and solidarity.
Antwerp never gives up and always keeps fighting. It plays football in the image of his trainer Mark van Bommel: from organization.
Each champion rests on its central axis. Jean Butez is arguably the best goalkeeper in the league. For Toby Alderweireld we are short of censers, all superlatives are in place. He is the key figure of Antwerp.
From the winter break there was suddenly Arthur Vermeeren, the discovery of the season. And in the front you obviously have Vincent Janssen, a worker and a goalscorer. He is the coat rack on which the team is hung.
Antwerp did not have the highest quality or broadest core. Van Bommel has managed it wonderfully. Just think of the antics of Nainggolan, the balor Michael Frey and the many injuries.
Sometimes the flush was wafer-thin for Mark van Bommel. Also yesterday we wondered, "Who else can he bring in?"
It's not a great idea to send a central defender forward in the closing minutes, but they had trained for it. That's unique. Cheers!
And I don't think Antwerp fans will have to wait that long again for a new prize.
In an ideal world we would have awarded 3 titles.
Harder than last season for Union

Yesterday Union happened which it had benefited from at Antwerp. In football, a goal can always be scored as long as the ball is rolling. Even if the opponent actually does nothing.
Union didn't play well enough to distance himself. The season has gone on a few games too long. The players were – very understandably – on their gums.
It had been rooting for a few games. And yesterday Union played without two strong players: Senne Lynen was suspended and Teddy Teuma was injured.
And then they conceded a goal on a cross. They had already knocked out a million this season.
This missed title must hit Union harder than last year. It's a scar that may fade, but it won't go away.
Union did a great job, but they can't put anything on the shelf as a memory.
What they do get is the football lover's unbounded appreciation for that great club, that great performance and those great supporters.
Genk would have been the best champion

In Genk, the disappointment is possibly even greater. The team stranded two minutes from the title.
They can not blame themselves much in Genk. Except they shouldn't have sold Paul Onuachu. I also think they won the championship with him, but we know that story.
It finally depended on one ball. And of a few moments when Genk was disadvantaged by the referee and the VAR. Also yesterday.
I can't explain why it didn't get a penalty (after a duel between Avila and Paintsil, ed.). On that point I understand the – very politely phrased – frustration.
Genk would perhaps have been the best champion. The team has colored the competition, it has always played beautiful, positive and offensive football.
El Khanouss, Trésor and Paintsil let us enjoy for months. Well-deserved congratulations from the jury are in order.
Genk's problem? With 5 wins in 16 matches, they could no longer translate their performance into results.
Wouter Vrancken has done a great job, but Genk and his fans need some time to let everything sink in.
It's the hard law of the sport.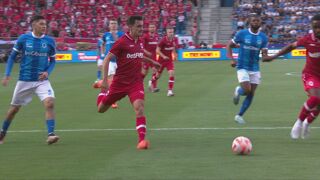 Peter Vandenbempt

2023-06-05 08:40:59
#Peter #Vandenbempt #denouement #times #crazy #World #Cup #final #Jupiler #Pro #League