On May 17, 2023 Lepetitjournal.com was invited to the conference "Engagement and Perseverance" organized at the Alliance Française in Johannesburg by the Consulate General of France in Johannesburg. A unique opportunity to meet the speaker of the day: Gévrise Emane, triple world champion in Judo, bronze medalist at the London Olympics and five-time European champion, who came to meet young people from disadvantaged neighborhoods under the leadership of Guillaume Cadot member of the Judo for Peace association.
It is Guillaume Cadot, sports coach and judoka, who is at the origin of the arrival of Gévrise in South Africa. As Paris 2024 approached and the commitment of French embassies to promote the social role of sport internationally, Guillaume received the support of French Embassy in South Africa a you Consulate General of France in Johannesburg to set up his project, in collaboration with the association Judo for Peace of which he is a part.
The Relay around the world: 24 hours of sport without interruption across the five continents
What he wanted was to bring in a former women's champion, having succeeded both on the mats and in life, but also socially involved and representing both France and the African continent, a "figure" to which the young people of disadvantaged neighborhoods could identify with, which they could feel close to. Gévrise, who has already carried out actions for the Judo for peace association, particularly in Iran as part of an action in favor of women's Judo, will of course respond favorably and the project will materialize in May 2023.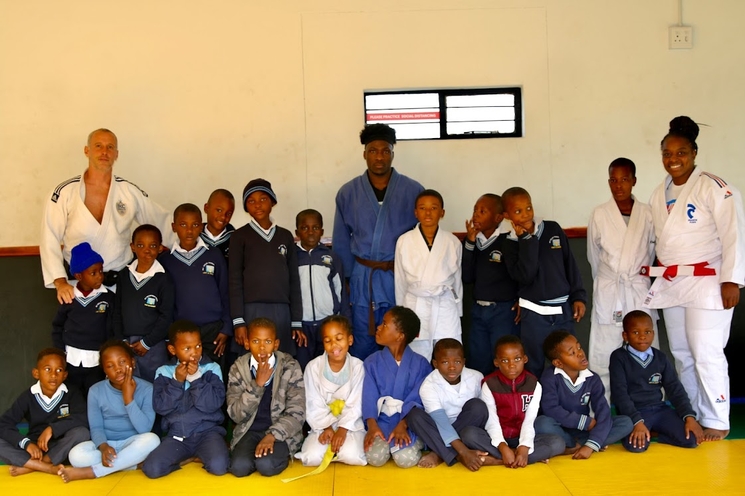 For a week, Gévrise will meet young immigrants and South Africans from the underprivileged neighborhoods of central Johannesburg as well as the townships of Alexandra and Soweto. Judo sessions will be organized in a Judo for peace dojo and in the premises of the Sacred Heart College, a host institution for the young refugees of the project. Three2six. The opportunity to share, in association with the local trainer, a Judo training with these young people, but also to exchange with them, to listen to them, to talk to them about his sporting career.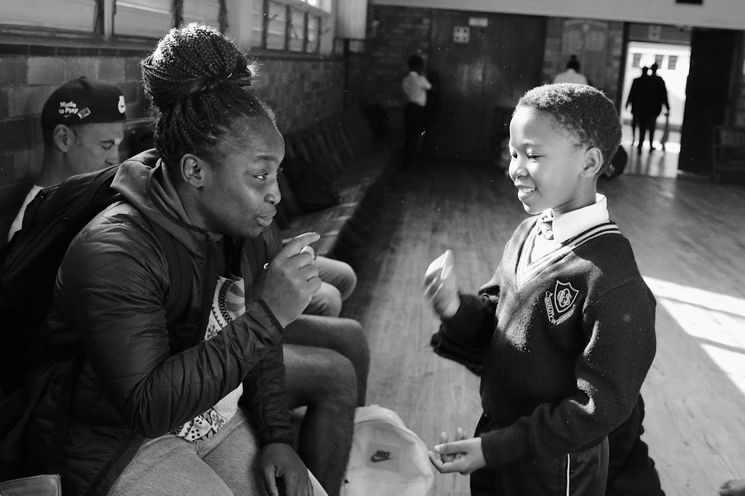 Portrait of an accomplished athlete
Gévrise Emane, born in Cameroon then joined France at the age of two and a half. She started Judo quite late at the age of 12 in the UNSS section of her college. She is progressing rapidly in competitions at the junior level. In 2001, after a podium at the French Junior Championships, she joined INSEP. It was in 2003 that the judoka revealed herself by obtaining her first podiums in the World Cup. Triple Judo world champion, bronze medalist at the London Olympics and five-time European champion, Gevrise nevertheless experienced great disappointment at the Beijing Olympics in 2009 where she did not win a medal. This failure, which was complicated to manage at the start, nevertheless allowed him to take a step back, then bounce back and move forward. Here is his philosophy: knowing how to question himself and keep moving forward, accepting the lessons that life has to give in order to be able to evolve. The message that Gevrise wishes to convey is "Dare! even if it is not won in advance". "Become the best version of yourself".
" To dare ! even if it is not won in advance"
Even invests 100% in his career as a high-level athlete, Gevrise chose from the start to pursue studies and obtained a law degree and a master's degree in local authority management. In 2017, she chose to end her Judo career. She is currently a state executive at the National Institute of Sport, Expertise and Performance (INSEP), within the high level pole, where she takes care of the individualized support of athletes. In 2018, she joined the Athletes' Commission which will work on the concrete preparation of the 2024 Olympic and Paralympic Games. Also Vice-President of the French Judo Federation, she is a true ambassador of French Judo internationally.
Judo for Peace, an association at the service of social cohesion.
Created by the International Judo Federation, this association is present throughout the world. The local branches, spread over different countries, act mainly on territories in conflict, at war or in difficult, sensitive neighborhoods. In South Africa, the International Judo Federation had contacted the United Nations Refugee Agency (UNHCR) to develop the practice of Judo and use it as a platform for social cohesion in neighborhoods populated by a large number of migrants, refugees, undocumented and out-of-school children.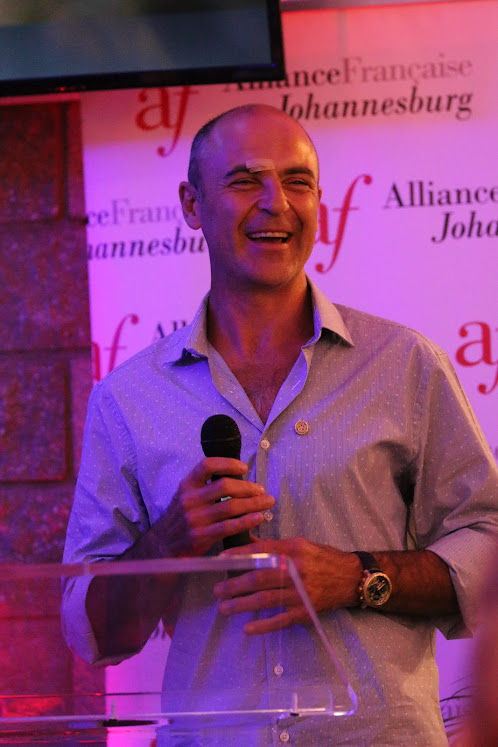 Judo For Peace South Africa is Roberto Orlando who is the coordinator. In 2017, a first dojo was created in the CBD of Johannesburg, in Hillbrow. Over time, the association has grown with the establishment of 5 additional dojos spread over the Johannesburg region, particularly in the townships of Alexandra and Soweto. Partnerships have also been created with various associations focused on solidarity; as part of the Three2Six refugee children's education project, created by the Sacred Heart College, judo classes have been set up for young people, in order to bring them together around a sport and its values.
Putting it in the word Judo for Peace is Judo for everything. More than a sport, judo is a true state of mind, a way of life. Coming from Japan, meaning "flexible way", the moral code of judo is based on mutual aid, respect and mutual prosperity. Beyond sports practice, Judo for Peace offers these young people from different communities, religions, backgrounds, access to work on the moral code of judo with, for example, awareness sessions on human rights, dark violence on gender, but also sessions on the promotion of women's Judo.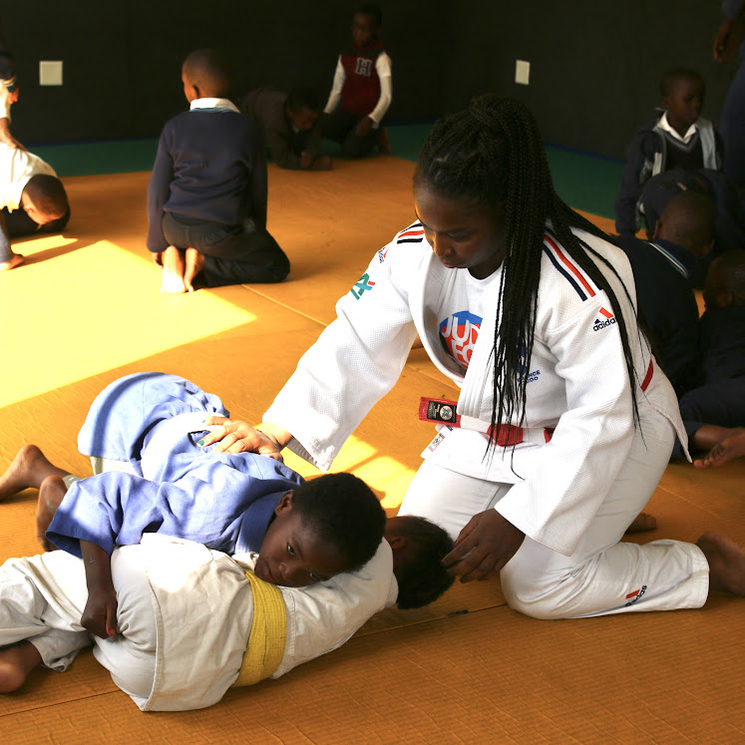 Delighted with her stay and the actions carried out in South Africa, Gévrise would like to associate Judo for peace South Africa and the French Judo federation in the future in order to carry out new joint actions.
2023-06-06 21:17:21
#Gevrise #Emane #threetime #world #judo #champion #visits #Johannesburg