The Japan Organizing Committee of the FIBA ​​Basketball World Cup 2023, which will be held in the Philippines, Indonesia, and Japan (Okinawa) in August 2023, has announced that from February 2023, a project for children called DREAM BIG OKINAWA" has been implemented.
"DREAM BIG OKINAWA" has the mission of "Creating opportunities to have big dreams through the World Cup", and provides children in Okinawa with "Meet" with a new world from various perspectives. . "DREAM BIG OKINAWA" aims to develop multiple programs mainly in Okinawa Prefecture and build a legacy of the tournament.
We would like to inform you that we have launched "Meet the Environment" as a new pillar of our activities on the occasion of World Environment Day on Monday, June 5th. This activity will be expanded not only in Okinawa but all over Japan.
■ About Meet the Environment
Background and purpose:
JIP, the official mascot of the tournament, is a robot equipped with a recycling hoop on its back and powered by power shoes powered by energy converted from recycled waste. Through JIP, which has this concept, we will convey the importance of recycling and environmental conservation to basketball fans. In particular, Okinawa Prefecture, which is surrounded by the sea and has a rich nature, is also the identity of the region.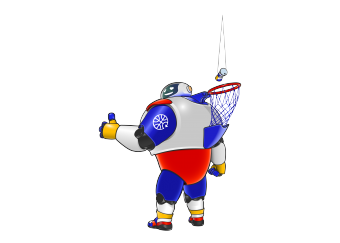 FIBA Basketball World Cup 2023 Official Mascot JIP
Specific activity schedule:
・ Pick & Shoot! : Competitive trash picking game with basketball rules. Garbage bags are likened to basketballs, and general garbage is 2 points, and recyclable garbage is 3 points. Learn about sorting recyclable waste while enjoying basketball game elements.
・Mascot: A program in collaboration with the FIBA ​​Foundation's Youth Leadership Program* where participants can learn about environmental issues such as the 3Rs while performing basic basketball movements (passing, dribbling, etc.).
・ Biodegradable paper cups: As an initiative of Okinawa City, where the venue Okinawa Arena is located, an initiative to use biodegradable paper cups (cups made of materials that can be returned to the soil) during events at the Okinawa Arena.
FIBA FoundationのYouth Leadership Program*
A program run by the FIBA ​​Foundation, an organization that aims to create a social legacy for FIBA, to foster youth who want to have a positive impact on society through basketball. At the FIBA ​​Basketball World Cup 2023, Youth Leaders will be selected from the three host countries, and programs will be implemented in each country to spread the message of environmental conservation through the tournament.
■ About DREAM BIG OKINAWA
Mission:Creating opportunities for children in Okinawa to have big dreams through the World Cup
vision:Children in Okinawa learn about Okinawa, become more fond of it, experience various opportunities, broaden their horizons to the world, and gain dreams and confidence.
| | |
| --- | --- |
| name | the purpose |
| Meet the Dream | Create opportunities to come into contact with the techniques and ways of thinking of world-class athletes and stimulate children's sensibilities |
| Meet the World | Interacting with overseas schools, creating opportunities for children to want to know more about the world, and nurturing children's international sensibilities |
| Meet the Culture | Be proud of Okinawa and become a leader who spreads the goodness of Okinawa to the world |
| Meet the Meal | Learning about health and other countries other than Japan through food |
| Meet the Environment | Learning the importance of environmental conservation through basketball |
*For details, please refer to the following materials.
About DREAM BIG OKINAWA
2023-06-05 08:32:04
#FIBA #Basketball #World #Cup #Launched #DREAM #BIG #OKINAWA #Meet #Environment #project #tackle #environmental #issues #tournament #World #Environment #Day #June #5th