George Russell was torn between realism and ambition after securing Mercedes' first front-row qualifying result of the season at the Australian Grand Prix.
The 25-year-old Briton admitted it would be "very difficult to fight" for victory with Max Verstappen, who took pole position for the Red Bull team who have swept all before them so far this season.
But Russell also said: "We've got to go for it, haven't we? Gotta go for the win.
"Max is gonna be extremely fast. There is no hiding that. It is going to be difficult to overtake around this circuit, so the start and lap one are going to be vital, but the Red Bull has extraordinary top speed.
"Let's see how we get on. We have got to do our own race, and if the opportunity is there we have to go for it."
Both Russell and team-mate Lewis Hamilton, who qualified third, said their appearance at the front after another difficult start to a season had been unexpected.
Why are Mercedes better?
It seems the unusually cool temperatures in Melbourne this weekend have played a part in Mercedes' mini-revival.
Qualifying was held under grey skies with temperatures of no more than 15C, and teams were having trouble getting their tyres warm enough for optimum grip.
Red Bull, in particular, were struggling. Through qualifying, Verstappen's advantage was not as great as it has been so far this year, and he had to rely on an excellent final lap to ensure he was clear of the field. Even then, his usual one-second advantage over the Mercedes so far this year was cut by three-quarters. And Fernando Alonso's Aston Martin, which qualified fourth, was closer in terms of time than usual, too.
Verstappen's team-mate Sergio Perez had a torrid time, crashing out in first qualifying after an incident-strewn day, in which he had several offs.
Some wondered if they might be tyre-temperature related, but the Mexican insisted it was caused by a braking problem, the details of which he said he preferred not to share.
Mercedes, though, seem to have nailed their tyre preparation. "The tyres play a big factor," Russell said. "When you get them in the sweet spot, you make a big jump. I improved 0.4secs in my last run and unfortunately it is always tyres, tyres, tyres.
"I do think Red Bull are a class ahead. Lewis and I got the most out of it, and from what Max was saying, it sounds like there was a little bit more in the locker."
Hamilton, for his part, was second fastest after the first runs in final qualifying, just 0.009secs behind Verstappen, but admitted his "second lap was a bit average and tomorrow I will do better".
"It feels amazing to be up here with Max and I really hope that tomorrow we can hold on to him," Hamilton added. "He might pull away into the distance like has in the past, but we will give it our best shot. We have to expect they will be quarter, half a second quicker than us but maybe with the tow we can hang on."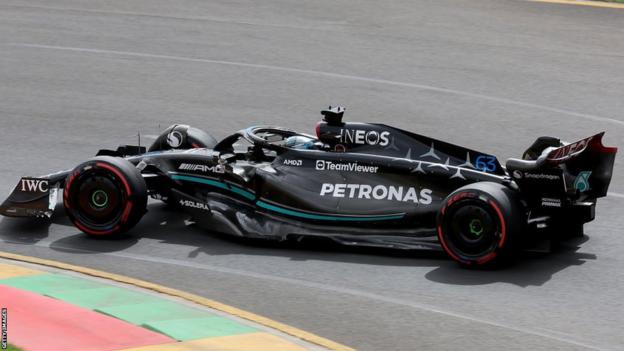 Wolff appeals for calm
Mercedes' performance also raised questions about whether their season can end up being better than they have been fearing in the first two races.
Their lack of pace in the first race in Bahrain led team principal Toto Wolff to admit they had made a mistake in continuing with the car philosophy they used last year, and which is so very different from every other team on the grid.
It has led to a change of approach, and the drivers have been saying that large gains are being found in the wind tunnel as a result. The team's hope is these will gradually move them forward when they start to be introduced into the car, starting at the next race in Azerbaijan at the end of the month.
Wolff dismissed suggestions he had been too hasty in writing off the car in Bahrain, saying: "We need to be careful not to oscillate between mania and depression. We have seen there is a lot of potential in unlocking the car but we need to make the right decisions long term."
And he cautioned about getting too excited about one good result.
"You deliver a good qualifying and it swings into exuberance and then with the next bad result you think the other way around," Wolff said.
"We have never had any dogma on what the car needs to look like. We know exactly where we got it wrong. We also know there is some goodness in the car, especially if we do every step right and can extract everything from it."
Alonso, meanwhile, added his own assessment of Mercedes.
"In (the last race in) Jeddah, they were within 0.1secs of our pace on Sunday," Alonso said. "If you read their comments, it seems that they have a car that is out of Q3, but I don't think it's that bad.
"It's not as good as Red Bull. No-one has a car close to Red Bull. But they are getting better and they will be a contender for wins soon. They did last year and they won a race after a very bad start. This year, they are also showing the potential they have.
"They start in front (of me), so I think it's going to be very difficult to overtake them. The race is with Red Bull, the two Mercedes and probably the Ferraris as well which are better here with these cooler conditions. It's going to be an interesting race."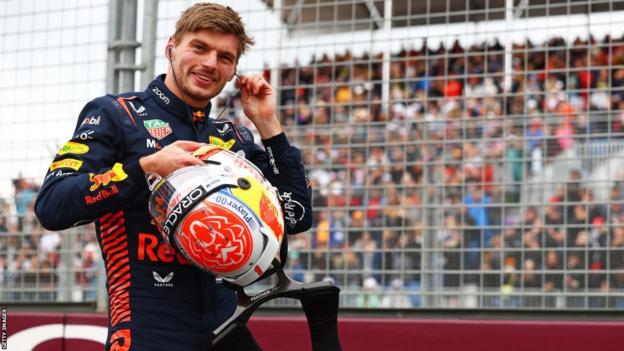 Potential changes to the sprint format
Behind the scenes in Australia, bosses have been discussing a potential change to the format for 'sprint' race weekends this year.
These were introduced a couple of seasons ago and so far have featured a shorter race on Saturday which sets the grid for the main grand prix on Sunday. The grid for the sprint is set by qualifying on Friday.
F1 chairman Stefano Domenicali has been canvassing opinion on a plan to make the sprint a stand-alone Saturday event, separate from the grand prix.
Two different proposals are being discussed, one of which could be adopted in time for the next event in Baku, which hosts the first 'sprint' event of the year on 28-30 April.
In both plans, the standard Friday qualifying that has been a feature of sprint races since they were introduced would now establish the grid for the grand prix, while a new qualifying session on Saturday morning would set the grid for the 'sprint'.
The choices are between a shootout in which the drivers go out one at a time for one timed lap each, replicating a format that was used for qualifying in the early 2000s, or a normal three-part qualifying session but with shorter times for the sessions.
Russell, a director of the Grand Prix Drivers' Association, said he was "open to review", trusted Domenicali and would "back F1 in whatever they believe is right".
Hamilton, too, said he was "open to changes to make it more inclusive and engaging".
But Verstappen, who has never disguised his dislike for the 'sprint' weekends, was dismissive.
Asked for his opinion, he gave a heavy sigh, before saying: "I am not a fan of it at all. When we do all that kind of stuff, the weekend becomes even more intense and we are already doing so many races. So that is not the right way to go at it.
"I understand of course they want to make every day exciting. But then it is better to reduce the weekend, only race on Saturday and Sunday, and make those two days exciting.
"Because we are heading into seasons where you have 24, 25 races, and if you then start adding even more stuff it is not worth it for me. I don't enjoy that.
"For me, a sprint race is all about surviving, it is not about racing. I just try to keep my car alive and make sure you have a good car for Sunday.
"I don't find it is the DNA of F1 to do these sprint races. F1 is about getting the most out of it in qualifying and then have an amazing Sunday. And I don't know why we should change that.
"How do you get even more action? It is about getting the cars closer, getting the teams able to fight for the win and then naturally the show will be great. If we had six or seven teams fighting for the win, that would be insane and then you really don't have to change anything."
Plans are moving ahead, though, whatever Verstappen thinks of them.
Domenicali will hold a meeting with team principals on Sunday before the race to discuss the two options, before a vote on their preference.
But this will not be a final decision. It is merely to decide a way to move forward. Mohammed Ben Sulayem, the president of governing body the FIA, is not in Australia this weekend, and has an important voice in the matter.
And the plans have to go through the FIA's formal vetting process before it can be confirmed if they will go through in time for the race in Baku.