Kylian Mbappe is determined to prevent teenager Evan Ferguson from adding another chapter to his football fairytale as France face the Republic of Ireland in a Euro 2024 qualifier.
Mbappe scored two goals in Friday's 4-0 rout of the Netherlands and will captain the French in Dublin on Monday.
Ferguson was on target as the Republic beat Latvia 3-2 in a friendly last week on his first senior start.
"He's a good striker, an important striker for that team," said Mbappe.
Ferguson, 18, scored twice to help Brighton reach the FA Cup semi-finals and has been attracting race reviews in his first season in the Premier League.
"We've seen some clips about him, of course," added the 24-year-old Paris St Germain star, who scored three goals in December's World Cup final.
"But we hope tomorrow he's going to do nothing and that means we are going to win and we're going to do our job. But he is a good player."
Mbappe's double against the Dutch took him to 38 senior international goals, just three fewer than Michel Platini, the next target in his sights.
He said: "For me, it's an honour to be at this stage. That's my next target and I'll keep going, It might be tomorrow, it might not.
"Obviously Michel Platini is a legend of French football, but I'll get past that mark at some point."
France manager Didier Deschamps fully expects his captain to do just that, but is confident collective, rather than individual, objectives will continue to fuel him.
He said: "That's Kylian, he's full of ambitions, always setting himself new objectives, new goals.
"But the group, the collective, comes first. He's gone past people quickly, but his motivation is to keep going."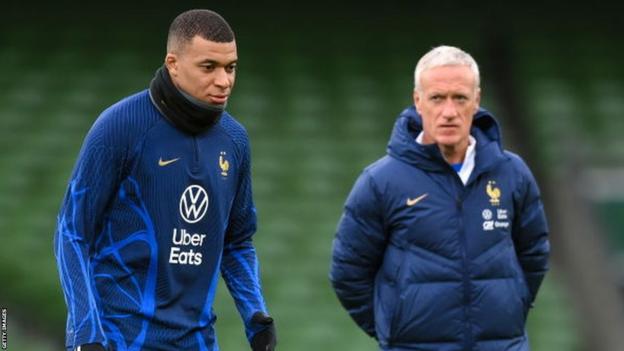 In the short term, adding three points to those banked on Friday night is the main concern and while a comprehensive victory proved the perfect start to the campaign, Mbappe is acutely aware that there is a long way to go.
He said: "We can't get ahead of ourselves, but nonetheless I thought it was a really strong performance that we put in.
"But we're not going to qualify just by beating the Netherlands, we still have a really difficult match ahead of us on Monday."
Those sentiments were mirrored by Deschamps, who knows from experience how dangerous the Irish can be after Robbie Brady fired them into a 1-0 lead over the Euro 2016 hosts from the penalty spot in Lyon before Antoine Griezmann struck twice to secure a place in the quarter-finals.
He said: "There is a new generation now with new players. Ferguson poses a threat, a good player, (Mikey) Johnston as well has joined the team. It is a mix of young and experienced players.
"But our team is different too. Ireland are known for being direct and vertical in how they play, but of what I've seen in recent games, they are capable of playing the ball along the ground as well."