Joselu revolutionized a Spain until then off to fasten the first victory of the De la Fuente era and certify that every coach must have an emergency plan for when necessary. Entering from the bench in an ulcerous duel, the Espanyol striker signed an unforgettable debut as an international and finished with a supersonic double in the final stretch to a combative Norway that came to put La Roja against the ropes in La Rosaleda despite the loss by Erling Haaland.
The Vikings responded in a formidable way to Dani Olmo's early goal, which seemed to clear the outlook for the local team at the start of the route to next year's Euro Cup to be played in Germany. Rearmed from Odegaard's class and Sorloth's physique, Stale Solbaaken's block took the ball from Spain and hit the defensive weaknesses of a team under construction that has a lot of work to do to implement the new coach's script .
The Scandinavians had good chances to tie against a fearful opponent. But they forgave and ended up being victims of plan B by Luis de la Fuente, who, moving away from the one-way path that characterized the previous stage with Luis Enrique, baptized his coming-out as coach with a victory necessary to lay the foundations of the project, still involved in doubt.
spain
Kepa, Carvajal, Nacho, Laporte, Balde, Rodri, Mikel Merino (Fabián Ruiz, min. 81), Dani Olmo (Yéremy Pino, min. 68), Iago Aspas (Ceballos, min. 58), Gavi (Oyarzabal, min. 58) and Morata (Joselu, min. 81).
3
–
0
Norway
Nyland, Pedersen (Ryerson, min. 74), Strandberg, Ostigard, Meling (Bjorkan, min. 74), Odegaard, Berg, Aursnes, Berge (Solbakken, min. 74), Sorloth (Brynhildsen, min. 86) y Elyounoussi ( Larsen, min. 74).
Goals:
1-0: min. 12, Dani Olmo. 2-0: min. 84, Josel. 3-0: min. 85, Josel.

Referee:
Benoit Bastien (France). He booked Odegaard and Sorloth.

Incidences:
Match corresponding to Group A of the qualifying phase for the 2024 Euro Cup, played at the La Rosaleda stadium in front of 30,000 spectators.
De la Fuente kept seven World Cup players in Qatar in his first eleven, with Kepa, Nacho, Mikel Merino and Iago Aspas being the news regarding the great planetary event. The four played with Luis Enrique, but they disappeared from the Asturian's plans for various reasons. The line-up endorsed the key role that Rodri will play in a midfield supported by two pivots, as was the case in the heyday of Vicente del Bosque. The couple that Busquets and Xabi Alonso formed then gave way to a duo that in Malaga was completed by Mikel Merino, waiting for Zubimendi to take a draw.
Definitive change of cycle for Spain, which came out bossy against an armored Norway. The Scandinavian team opted to stick with two tight lines that only allowed gaps on the wings, especially on the left, where Balde and Gavi generated superiority with their depth and dynamism. On that flank precisely La Roja would burst the lock before the first quarter of an hour was up after Balde put in a devilish ball that Dani Olmo deflected just enough to surprise Nyland.
Step back

The advantage, however, anesthetized Spain and spurred on Norway, which overcame the blow with rennet and good football. The Vikings, in fact, almost equalized immediately after Odegaard wreaked havoc and opened fire, but Nacho got in their way and Benoit Bastien turned a deaf ear as the visitors claimed a potential Rodri penalty.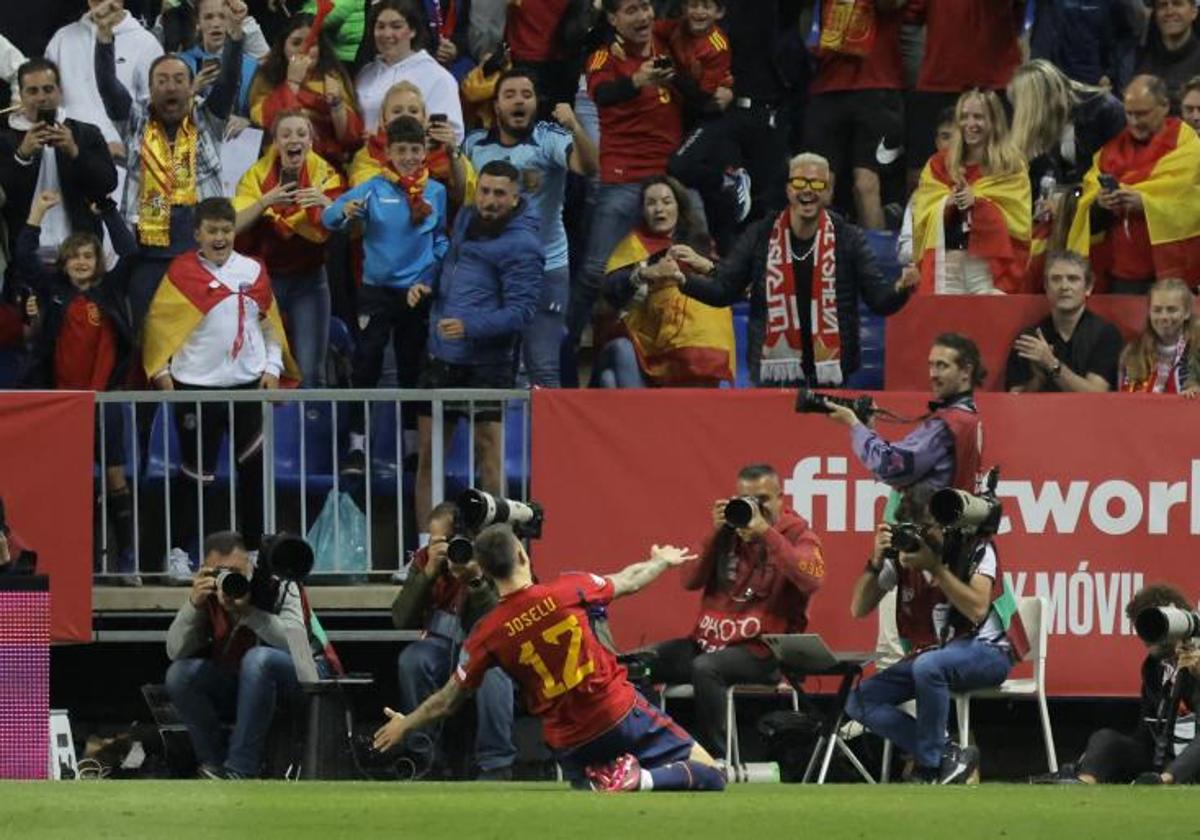 The ability to turn the game of the Manchester City midfielder and the breadth that Gavi and Dani Olmo gave on the wing fueled the game of Spain, which had two good chances to raise the rent in a cross from the Leipzig attacker that Gavi He did not catch by little and in a shot by Mikel Merino coming from the second row that Nyland blocked. However, defensive oversights and Spain's step back gave encouragement to a tough Norway, who was able to equalize following a point-blank shot from Aursnes if Kepa did not manage to make a cathedral save. If Haaland had been on the grass, La Roja would hardly have gone unscathed at halftime.
It was time for a facelift after passing through the booth so as not to spoil the party at La Rosaleda, impeccable when it came to covering a limp team that continued to grant facilities after the break and survived miraculously. Enough for De la Fuente to shake the tree in search of a jolt that would clear Spain. The man from La Rioja sacrificed Gavi, active as always but blunt, and Iago Aspas, inconsequential on his return to the national team, to enlist Ceballos and Oyarzabal, two Praetorians who tried to activate a dull Spain by providing energy.
Despite this, Larsen had a brilliant chance to level the tables, although by then De la Fuente's block had gained control and verticality. The Celta striker forgave and the Vikings buried their options there. Because Joselu threw with fury just after missing a free shot and went out through the front door in a game that leaves doubts, but also certainties. At least Spain already has a plan B. I needed it.