Ansgar Fifgthting League (AFL), the largest mixed martial arts (MMA) company in Spain, is back in style. Next Saturday, April 29, he will hold his event AFL 29 in Cheste (Valencia), in an evening that will be broadcast live on DAZN and in which the Valencian Enoch Solves (11-26-1) will challenge for the light heavyweight belt in the night's stellar bout against the Turk Bugra Alparslan (9-3).
Until now, never in its history had the AFL held an event in the Valencian Community, while Enoc, 38, will fight for the second time in his career at home, something that fills him with illusion. "When I go down the street, people ask me when my next fight will be. This time I can tell them that it is at home and I am very happy about it. It will be a very special evening," says Solves, who has been one of the main mainstays of MMA in Spain during the last fifteen years. His greatest successes have been in M-1known among fans as the UFC of Russiaa company in which he has played 15 bouts.
His last fight was in December 2021, when he was notified five weeks ago to dispute the title of Eagle FC, a company of Khabib Nurmagomedov. She responded to the call, but the short notice took its toll on her. She took time off for personal reasons, but it was brief and everything changed.
"I knew that when my son was born I should take a few months without competing because it is difficult to do a preparation with a newborn at home. One day when I was watching DAZN, I saw that AFL could be seen there and I saw Darwin Rodriguez defend the light heavyweight title. That's where the idea came to me. I contacted the AFL, I proposed it to them and everything was very fast", admits the Valencian. For this new challenge, Solves will go up in division. "In the light heavyweight category I feel more comfortable, I don't have to do such an aggressive weight reduction," she adds. The Spaniard will have the starting opportunity for the 93-kilo belt, but in the end it will be against the Turkish Alparslan.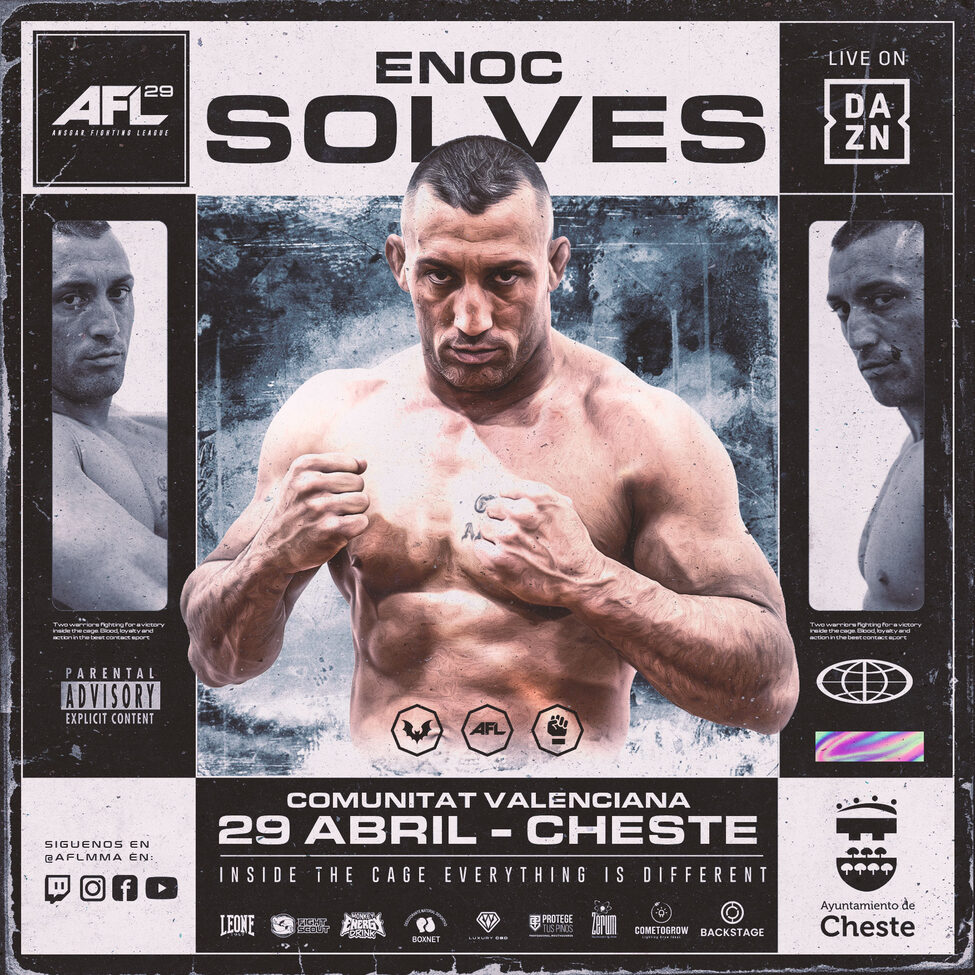 In addition to Enoc Solves, the event will feature other big names in MMA in our country. heavyweight David Trallero will be in the cage and so will Paco Lucenawho returns to the Octagon after a competitive inactivity of five and a half years.
In addition, the evening in Cheste will see the professional debut of Toni Marti. The fighter from Vall de Uixó (Castellón) has been one of the most outstanding amateurs in recent years. He was silver at the IFMMA ​​European and bronze at the World Cup in 2019. He has one of the greatest futures ahead of him in national MMA.
The evening, which will be held at the Cheste Sports Pavilion from 5:00 p.m. on April 29, will feature seven professional and seven amateur bouts. The rented part can be followed live worldwide through DAZN.
For fans who want to attend live, tickets are already on sale at the website of AFL.

AFL 29 Professional Poster
Enoch Solves vs. Bugra Alparslan: AFL Light Heavyweight Championship
David Trallero vs. TBA: Catched weight (105 kg)
Paco Lucena vs. Juan Martín Caballero: welterweight
Guillermo Gasca vs David Matas: welterweight
Gia Podiashvili vs Toni Martí: peso pluma
Adrián Borrull vs José Aguilar: lightweight
Alex Nacher vs Artur Hrynchak: peso ligero