In holding "Dot Esty B.LEAGUE ALL-STAR GAME 2023 IN MITO", it is indispensable for realizing future dreams through web classes on the theme of self-conditioning by professional coaches and basketball clinics by all-star players. In addition to learning tips on lifestyle habits that support building a healthy body, the activities aimed to help children feel that they want to continue playing basketball with a dream in the future.
[Corresponding SDGs]

Implementation overview
1. Implementation of online classes on the theme of conditioning
On December 13, 2022 (Tuesday), a web class was held for children of the junior high school basketball club in Mito City to learn the important conditioning as an athlete by a professional coach.
For about a month before the all-stars, the children used what they learned in the web class to conduct self-conditioning.
・Participants: Children of junior high school basketball club in Mito City
·Teacher:
Otsuka Pharmaceutical Co., Ltd. Junpei Kozaki, Social Health Relations Department, Nutraceuticals Division
Ibaraki Robots Strength Conditioning Coach Kengo Otsuka
2. Presentation of self-conditioning results and basketball clinic
On January 13th (Friday), the day of "Dot Estie B.LEAGUE ALL-STAR GAME 2023 IN MITO", he announced the results of self-conditioning for about a month and participated in a basketball clinic with all-star players.
·participant:
Children of junior high school basketball club in Mito City
Ibaraki Robots Strength Conditioning Coach Kengo Otsuka
Ibaraki Robots U15 Men's Head Coach Tsubasa Haruka
Bendorame Reio (Sunrockers Shibuya)
Ko Kumagai (Shinshu Brave Warriors)
3. Participating as Games Volunteers and Watching Games
On January 14th (Sat), the day of "Dot Estie B.LEAGUE ALL-STAR GAME 2023 IN MITO", children participated in tournament volunteers such as court sweepers and ball pickers and watched the game.
I want to convey the importance of self-conditioning to children who aim to become professional athletes in the future.
Due to the declining birthrate and the spread of the new coronavirus infection, the number of registered basketball players in Ibaraki Prefecture has decreased, and there are issues such as securing leaders and managing children's health due to the shift of club activities to regional areas.Otsuka Pharmaceutical Co., Ltd.With the full support of Mr. Ikeda, I would like to convey the importance of self-conditioning and basketball skills to junior high school students who are basketball players aiming to become professional players in the future, so that they can continue playing basketball with dreams. It is a plan that was carried out with a wish.
In the web class held in December last year,Otsuka Pharmaceutical Co., Ltd. Mr. Junpei Kozaki and Ibaraki Robots strength conditioning coach Mr. Kengo Otsuka (hereafter referred to as coach Otsuka) acted as instructors.
First, coach Otsuka explained that there are three elements that make up a performance: "nutrition and rest," "basketball skills," and "strength conditioning such as training." I received a lecture from He talked about the importance of the five major nutrients, hydration, and sleep, which was very important for junior high school children who are growing.
Next, coach Otsuka gave a lecture on "strength conditioning". From basic questions such as "What is your height and weight?" to "What kind of training are you doing?" He told me that "It is important to repeat training repeatedly" and "When you get used to it, increase the events and levels".
Finally, I learned how to set goals. Thinking about "what is the current situation?", "what do you want to be in the future," and "what should be done to achieve that?" is a way of thinking that is necessary not only for children but also for adults in the future.
In the lecture on this day, the two elements that make up the performance, "Nutrition and Rest" and "Strength Conditioning such as training" will be lectured, and the remaining "Basketball Skills" will be taught at the Basketball Clinic on 1/13 (Friday). I will continue.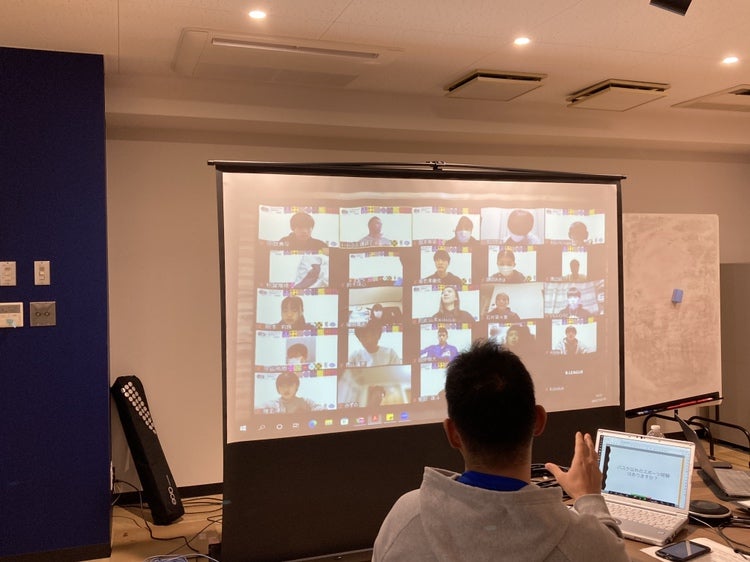 State of WEB class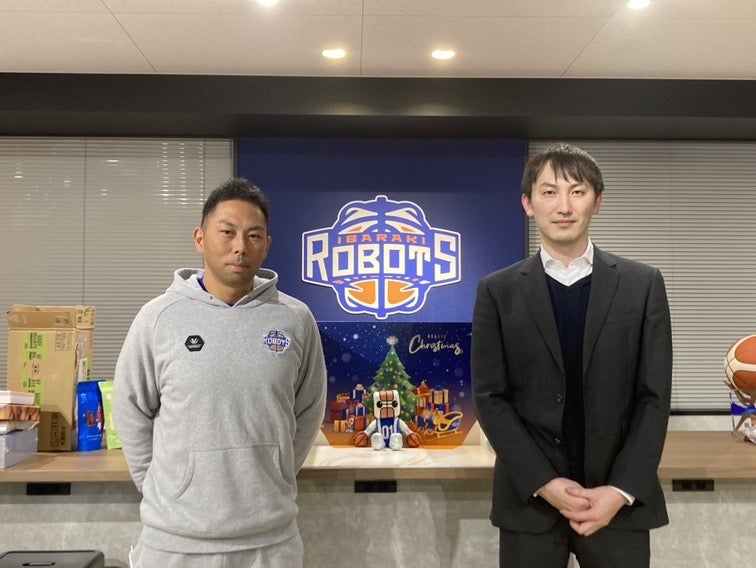 With Mr. Otsuka (left) from Ibaraki Robots as a lecturerOtsuka Pharmaceutical Co., Ltd. Mr. Kozaki (right)
The children will use what they have learned in this online class to practice self-conditioning for about a month before becoming an All-Star. Each student thinks about what they are lacking, what they want to be in a month, and what they will do to achieve their goals, and then have them put it into practice. The result announcement will be announced at the place where all-star players are present.
A precious experience with a longed-for all-star player
On January 13 (Friday), the day of "Dot Estie B.LEAGUE ALL-STAR GAME 2023 IN MITO", "M-SPO (town / sports / lively square)" used by Ibaraki Robots as a school practice field. " held an event.
About 25 children participated on the day of the event, and first of all, they presented the results of self-conditioning that they had been doing for about a month. Ms. Kaho Sato made a presentation on behalf of us.
Mr. Sato set goals for his current situation: "My core is weak, and I still lose in matches, so I want to build a strong body." .
What are the plans and means to achieve the goal?
・"In addition to trunk training at the club, I do voluntary training at home"
・ "Increase the amount of food.
・He set up three things: "Determine the time for dinner and go to bed early (regulate the rhythm of life)".
After working on it for a month, "I was able to make contact, shoot, and go for a drive compared to a month ago. I think it's important to keep going." I realized that it is important to eat predators in addition to the three meals in order to do so," he said.
Bendorame, who heard about it, said, "It is very important to continue. The same is true for professional athletes. It is important to be able to realize it after practicing it, and above all, it is great to have been able to do it properly for one month." word has been sent.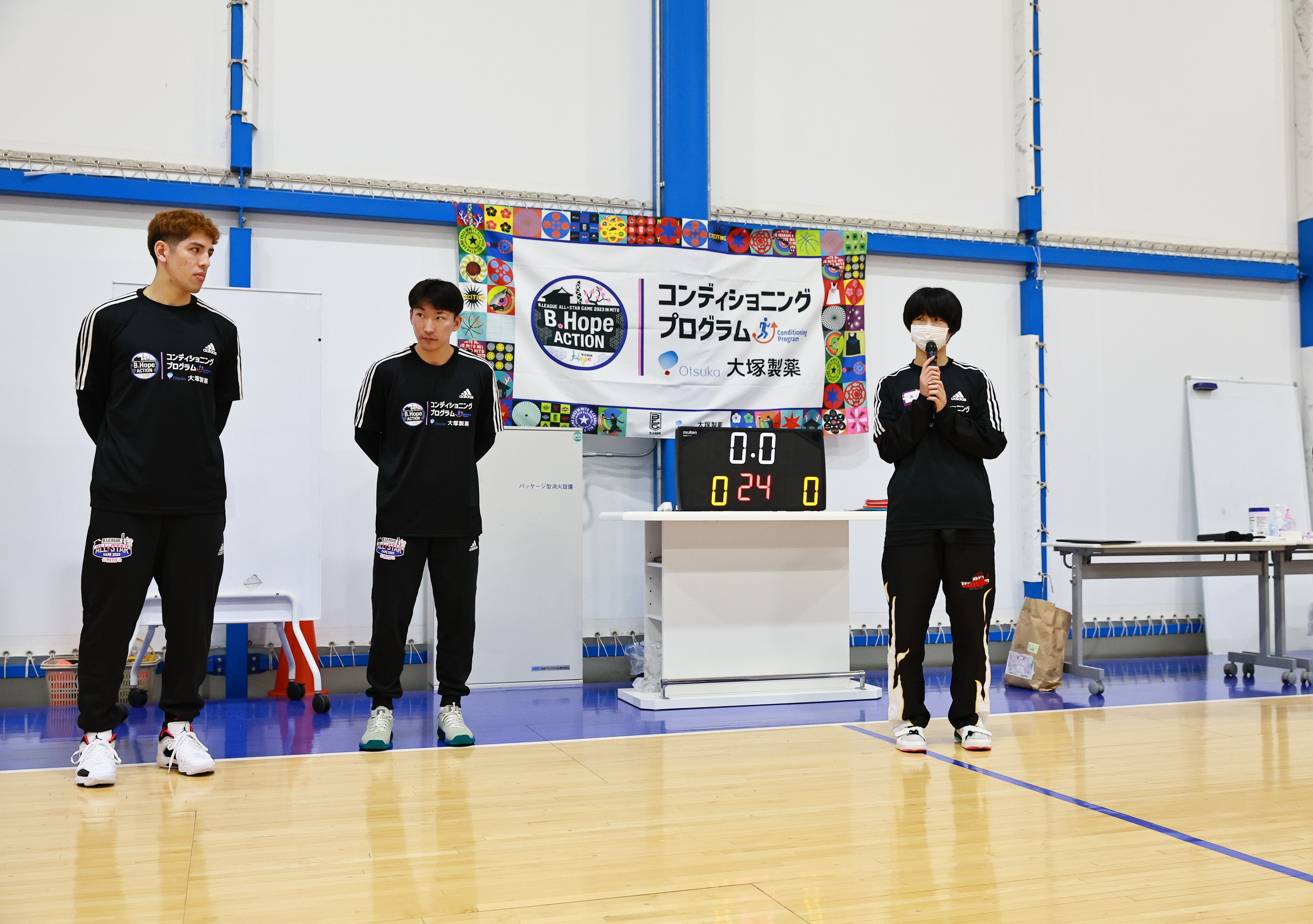 Ms. Sato (right) presenting the results on behalf of the company
After that, coach Otsuka held a stretch, and coach Tenryu held a basketball clinic. Bendorame and Kumagai also participated with the children.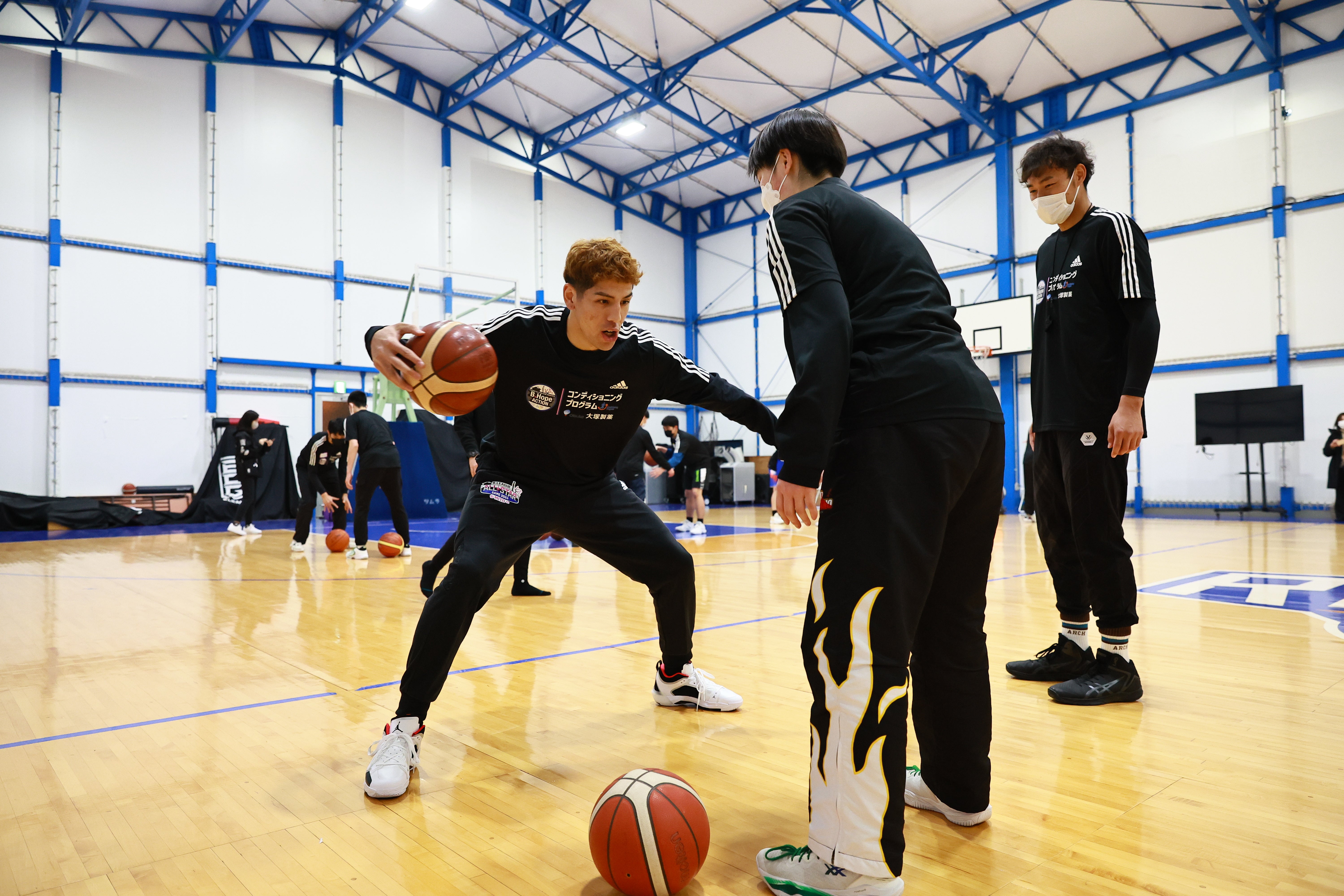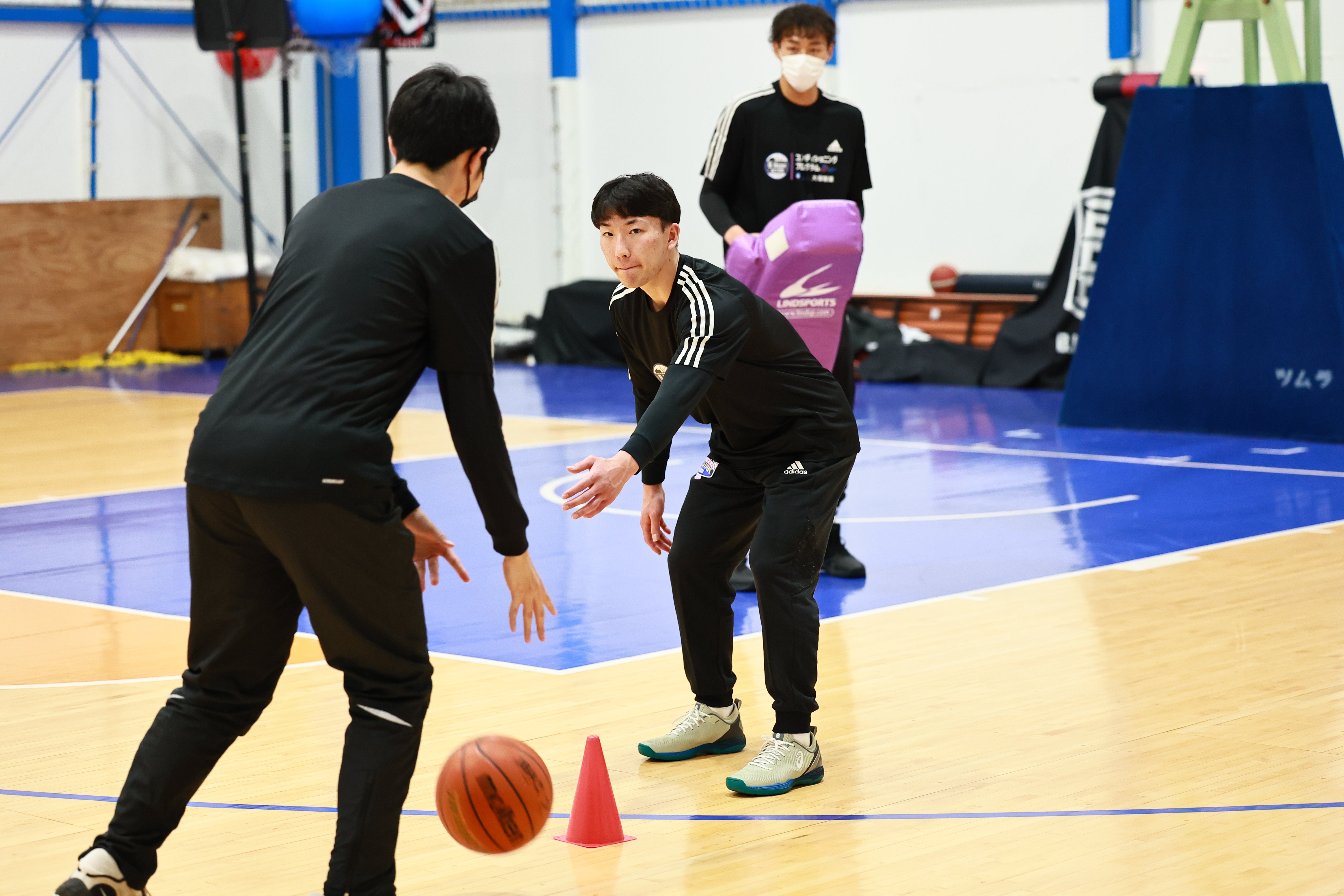 Bendorame (top) and Kumagai (bottom) seriously instructing children
At first, the children who participated in the clinic with the professional athletes they admired looked nervous and were a little stiff, but the final shooting showdown was full of laughter and smiles.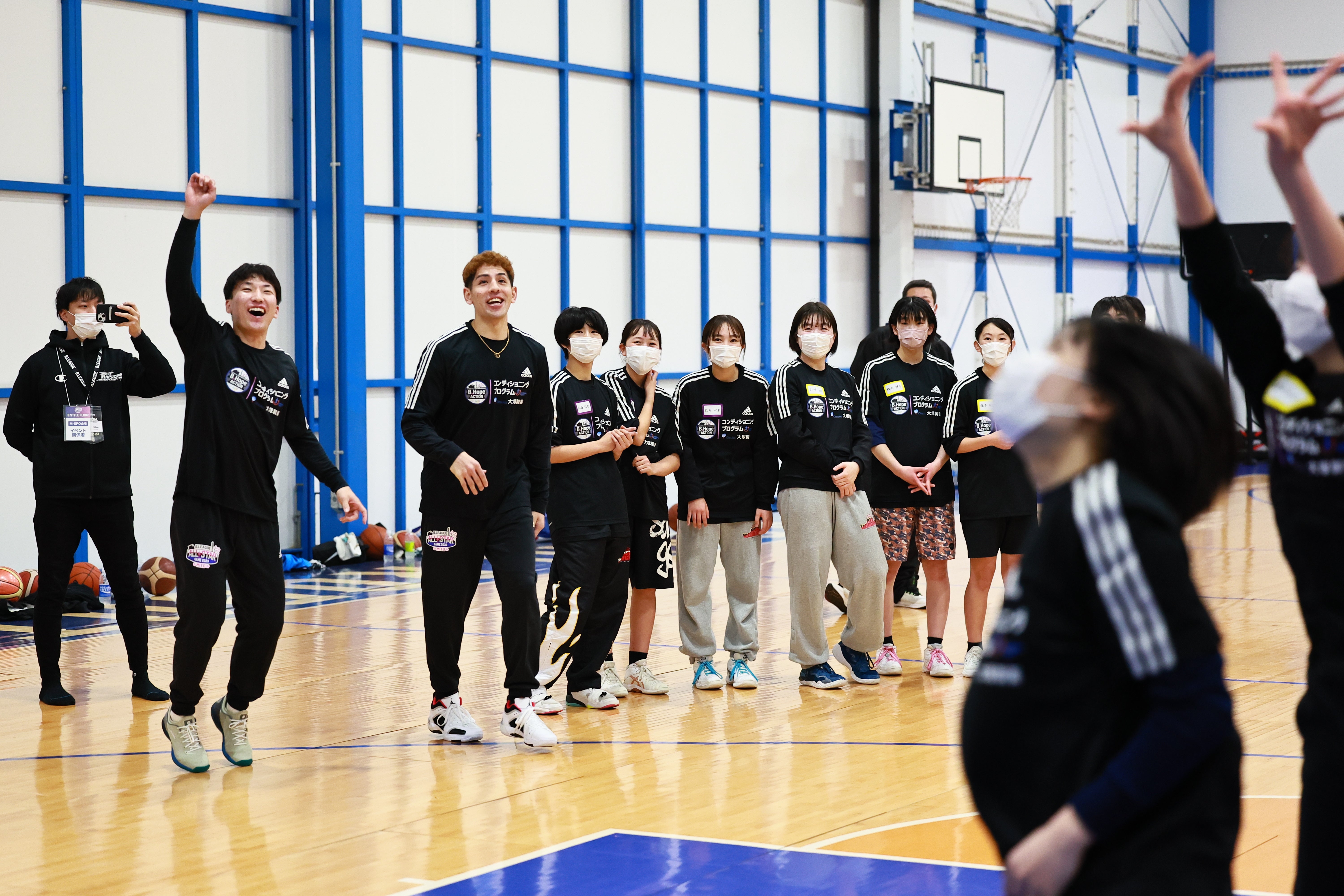 Bendorame and Kumagai both have happy expressions on their faces.
Also, at the end of the eventOtsuka Pharmaceutical Co., Ltd.All the children were presented with Pocari Sweat original squeeze bottles with the All-Star logo. The squeeze bottle also has the autographs of Bendorame and Kumagai.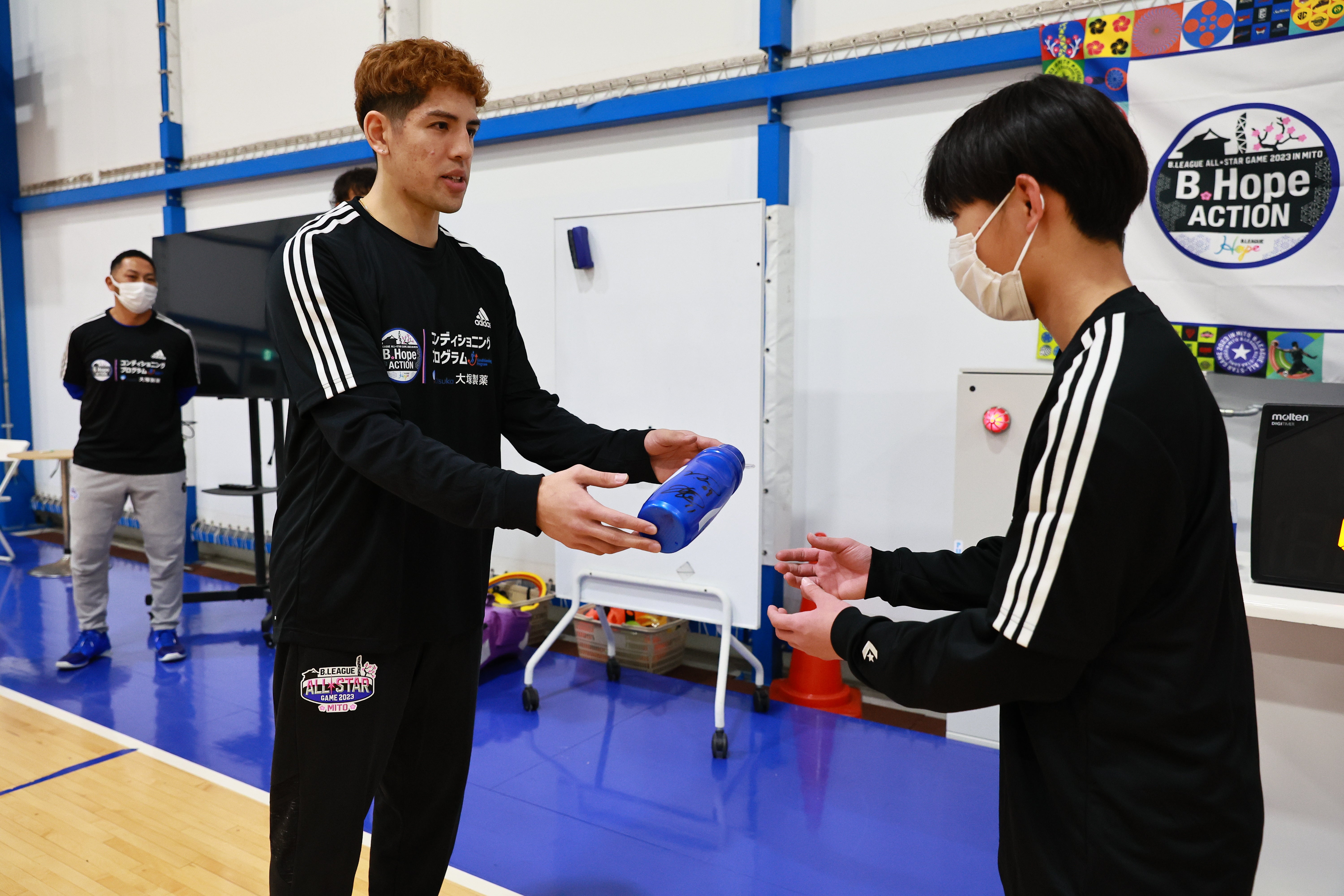 Bendorame presenting a squeeze bottle
In addition, the children were divided into three groups at the Dot Estée B.LEAGUE ALL-STAR GAME 2023 IN MITO on Saturday, January 14, and participated in court sweepers and ball delivery volunteers. It seems that many people were working behind the scenes of the tournament, and they felt that the tournament was supported by many people.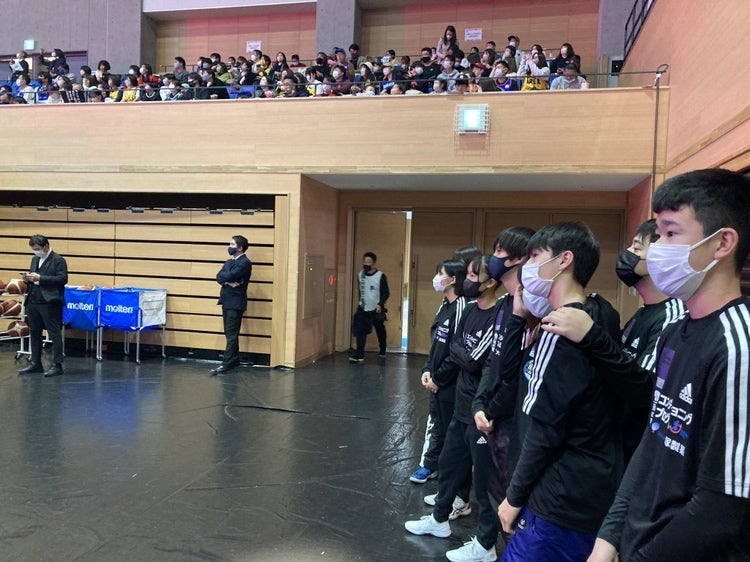 Children standing by the court just before volunteering at the venue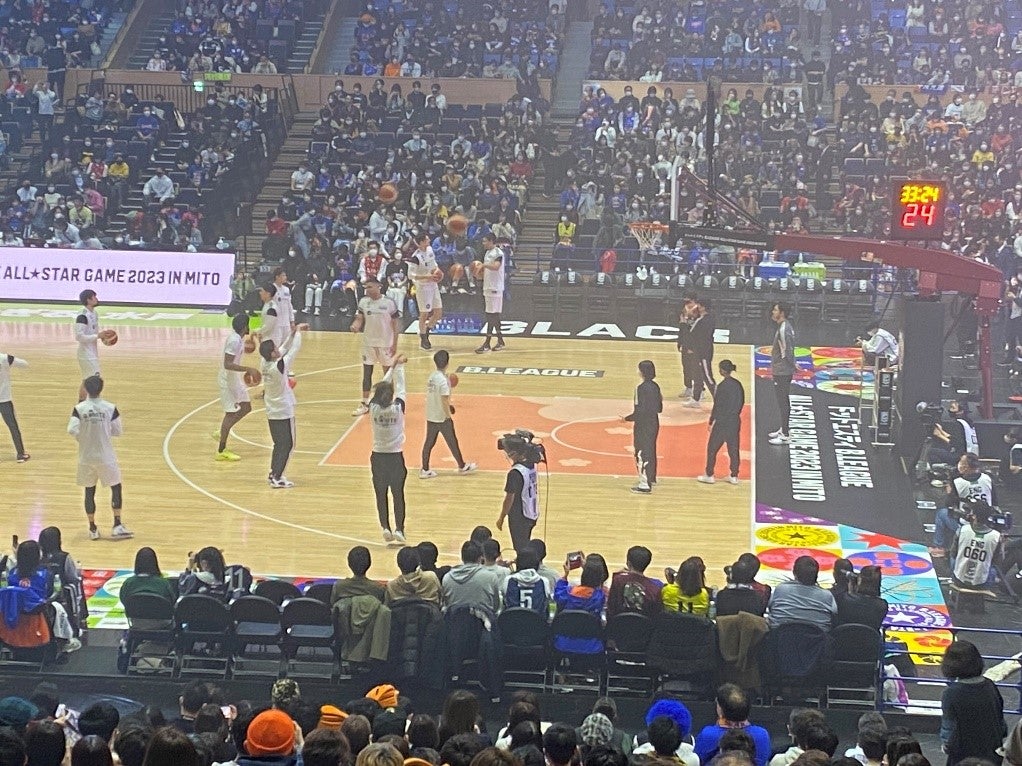 Children putting out the ball on the court during practice before the game (wearing a black T-shirt under the goal)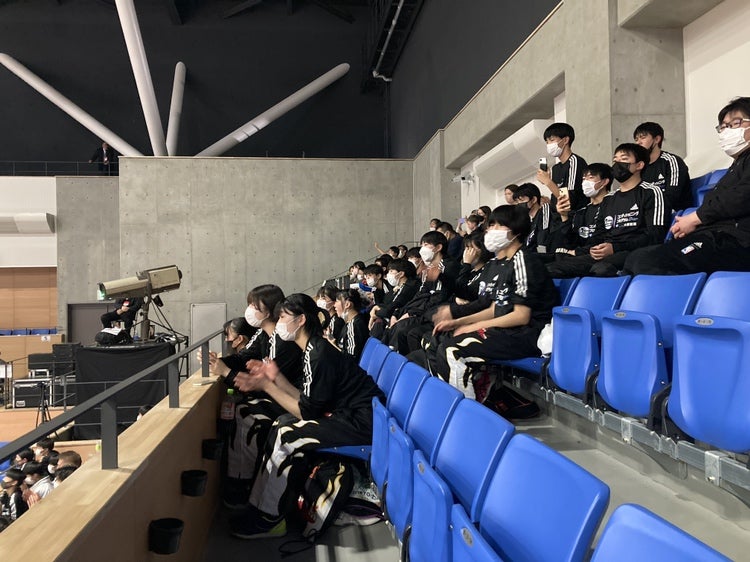 Children enjoying the game after volunteering at the venue
Through this initiative, we hope that the participating children will continue to maintain their self-conditioning skills and continue to pursue their dreams of playing basketball.