On Monday night, Racing Club de Trelew debuted in the Federal Basketball League visiting Brown from Puerto Madryn. Although it fell 79 to 70, for the academic coach, Bruno Echegaray, the balance was positive on a historic night for the academy.
Now Unión de Río Colorado is coming, next Monday, February 6 in what will be his debut at the Juan Andrés Fernández gym from 9:00 p.m. and in front of his people.
Finally, Racing had its long-awaited debut in the Federal League, this time visiting Brown from Puerto Madryn. After completing his first performance, the academic coach spoke with EL CHUBUT and analyzed the performance of his team.
"We lost, but the balance was super positive," said the DT who could not count on the reinforcements Benjamin Balls and Riki Pinon, who moments before the crossing against the Madrynese were not enabled by the Argentine Basketball Confederation.
Despite that, Racing was able to live up to where several youth players from the academy were from the game. "Even so and everything, we were always at stake", explained Echegaray, who later added that ""we tried to play a game with few possessions, but that approach did not occur so much and we ended up running the same and we lost it at the end".
In this same framework and once again pointing out the lack of two important reinforcements for the game scheme and at the last moment, he stressed that "despite the fact that we lost, we are happy with the attitude and character that the team had in the face of such great adversity "Because when we found out the news it was a bucket of water for everyone. Even so, it was a very exciting match, with a good crowd of people".
The Trelewan cast is now getting ready to receive Unión de Río Colorado at its venue in what will be an unforgettable night. "We are very anxious for Monday to arrive. We expect a lot of people to join us," Bruno said.
To close, he gave a small preview of how that crossover will be played against a rival that will come with a load of extra games: "We are going to train a lot on pressure, run them and generate a game with many possessions because they come with three games on top of the day Saturday and Sunday", concluded Echegaray.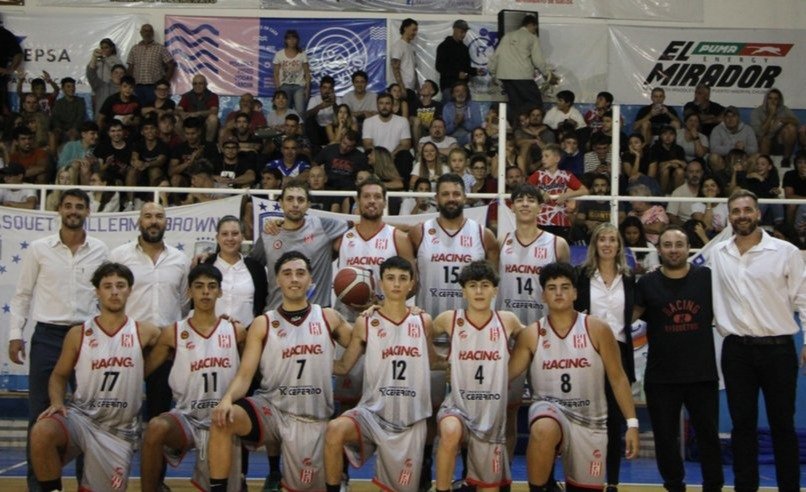 Yesterday the academic team trained at the facilities of the Municipal Gymnasium No. 1, while today in the morning they worked the only shift of the day. Tomorrow Thursday and Friday they will return to the double shift, ending Saturday with the last pre-competitive movement pending the clash on Monday.
Racing introduced the following players before Brown: Joaquin Cabre (26 pts), German Mallemaci, Francisco Del Canto (8 pts), Noah Williams, Matthew Matter, Ignatius Saiegg, Emiliano Capaccioni (17 pts), Jeremiah Ulloa, Nicolas Sanchez (4 pts). pts)(C) and Sebastian Regulsky (15 pts).
WHAT'S COMING
Matchday 2: Racing vs. Unión de Río Colorado (6-2)
Day 3: Argentine Oil Department vs Racing (22-2)