Gerald Laposa traveled from the Australian Open almost directly to Rijeka for the Davis Cup meeting between Austria and Croatia. In the tennisnet interview, Laposa explains what makes the stringing profession so fascinating.
by Jens Huiber
last edited: 07.02.2023, 16:05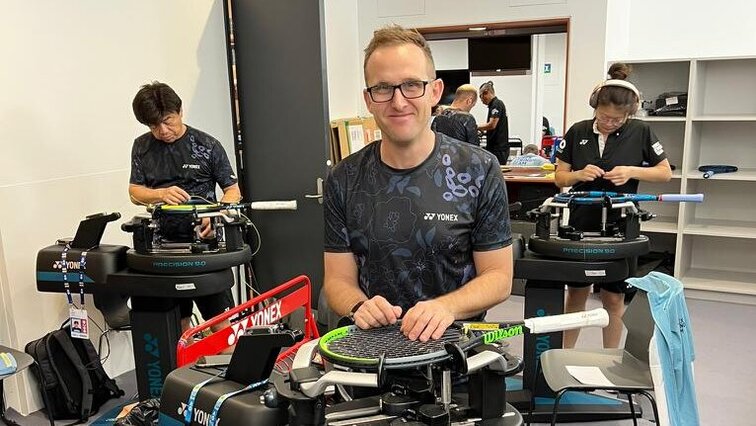 tennisnet: Mr. Laposa. How do you become a stringer on the ATP tour?
Gerald Laposa: When I was a child, I only played football and tennis. I did my apprenticeship in a "normal" sports shop in Graz. Then the time came when I had to specialize in something. And so I went to a tennis shop about twelve years ago and rediscovered stringing for myself. That was fun for me, that's what I wanted to focus on.
tennisnet: How did it start in professional tennis?
Flat: The first tournament I looked after was a Challenger in Graz. Two years later I switched to Babolat and, in addition to the Generali Open in Kitzbühel, I also did tournaments in Germany, such as Düsseldorf or HalleWestfalen. And I also came to Roland Garros, where I was deployed four times. In 2016 I got the opportunity to look after the Austrian Davis Cup team. In September 2021 I finally became self-employed as a stringer and run 11teamsports, a sports shop in Leibnitz. Earlier this year I flew to the Australian Open for Yonex.
tennisnet: What distinguishes a good stringer?
Flat: Attention to detail is very important. You don't have to be fast, but you do have to be precise. The strings should be really straight, the rules of work are followed. Each stringer has its own style. A good clothing machine is also very important. In big tournaments like the Australian Open and Roland Garros, where 20 stringers or more work, you should also be a good team player. A little craziness doesn't hurt either. Because it's very hard work. We are usually the first to come to the tournament venue. And the last to leave. A working day can last from six o'clock to midnight.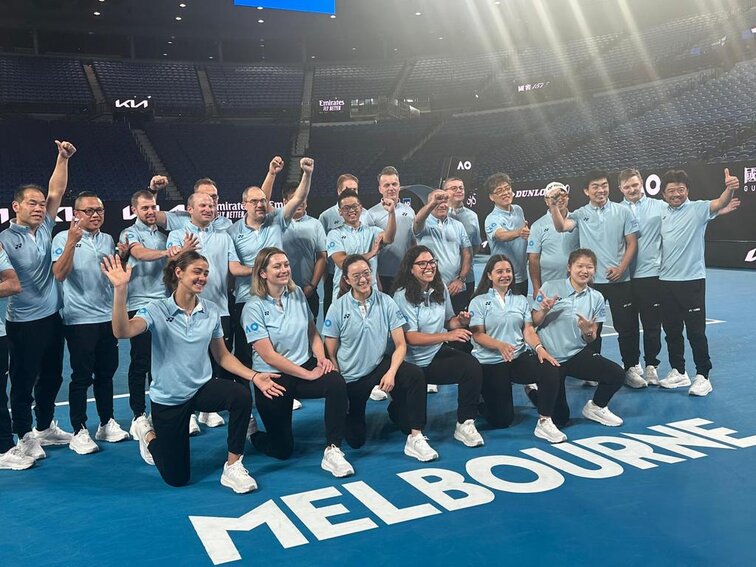 tennisnet: Do you even see daylight as a stringer at a Grand Slam tournament?
Flat: Very rarely. For lunch you might already walk across the complex. But usually you make sure that you are always close to the machine.
tennisnet: Isn't that frustrating for a tennis freak like you?
Flat: Not at all! At the Davis Cup, for example, I see a lot of matches. And at the Grand Slams, if you're not assigned to the end, you usually stay a day longer and can then follow the matches.
tennisnet: What are the first days of a major like? Do the players also come to hand in their racquets themselves?
Flat: At the Australian Open, a relatively large number of players came themselves because we worked directly in the underground of the Rod Laver Arena. In Roland Garros it was a little different because we were housed in an outbuilding. Basically, however, we have a reception desk where everything is managed. We've made over 6,900 racquets in Australia. The first lap was the most stressful. I strung 40 racquets a day. By the second week, when juniors come in and the first stringers leave, I was still making 25-30 racquets a day.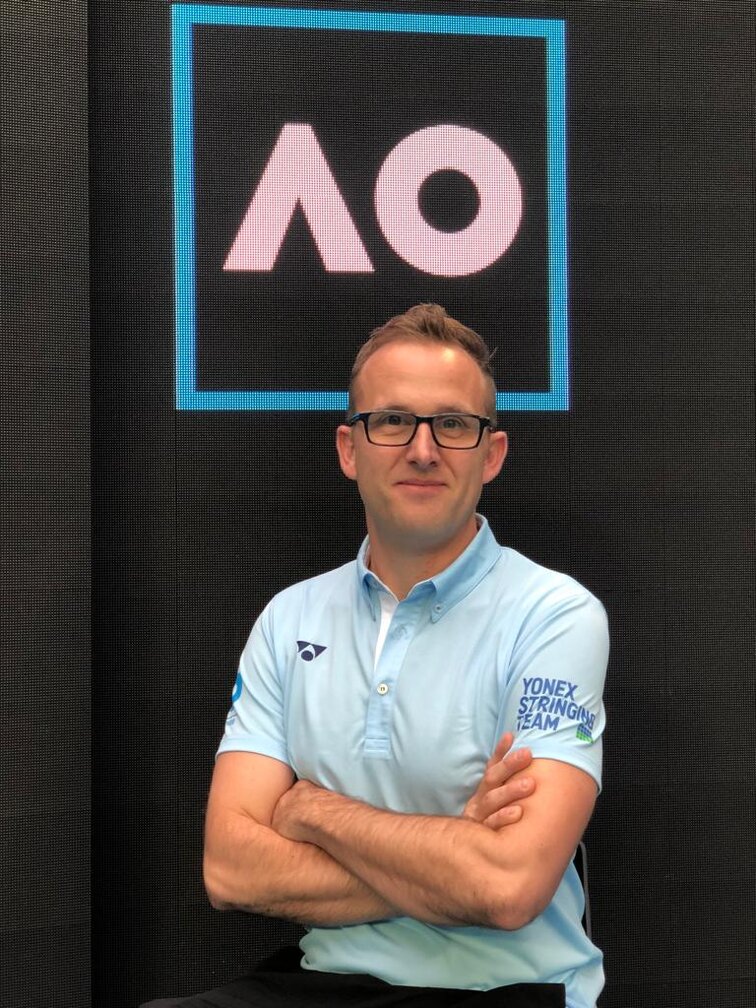 tennisnet: How often does it happen that players urgently need a new covering during a match?
Flat: There is a trend that more stringing is used. Compared to the previous year, there was an increase of 20 percent. Especially in Australia there were a lot of on-court racquets due to the temperature differences. There were players who had seven racquets with them on the court. And yet they brought out two more racquets during the game without changing their weight. But: The racket simply comes out of the machine harder.
"Djokovic and Wawrinka have their own stringers with them"
tennisnet: How come you were sent to Australia by Yonex of all people?
Flat: Yonex has created a selection process in the form of Carsten Neuhaus (Promotion Manager) and Michael Schwarz (Sales Manager), which stringers can be considered due to their already proven qualities and experience. And so I was given this honor from the German-speaking area together with Kai Plitt from Germany.
tennisnet: How about the Davis Cup?
Flat: The Davis Cup is a lot more relaxed compared to the Grand Slam tournaments. I have my five players to look after. You can even better respond to the players. And the team spirit that we have is a lot of fun.
tennisnet: What is the bandwidth of the clothing? What is played with?
Flat: Relatively few gut strings are played. Polyester is on the rise. The players come to us with their strings. Adrian Mannarino only strung with eleven kilopond, Alexander Erler on the other hand with 34. On average we are between 23 and 24 kilopond.
Hardly any weight fluctuations with Yonex rackets
tennisnet: What differences do you see in the clubs?
Flat: No company makes bad rackets. The biggest difference for commercial racquets is the variation in weight. If you buy a racquet that weighs 300 grams, it can be five grams heavier or lighter, so there is a range of up to ten grams. The big exception is Yonex: The deviations are only around one gram. Area. You can change a lot with racket tuning: balance point or flywheel mass, for example. But I can't make the racket lighter.
tennisnet: Honestly, how much does a stringer contribute to a player's success?
Flat: 100 percent! No, of course it's not that high. But you always try to have each player assigned to a stringer during a tournament, who then looks after him the entire way. Because every stringer works a little differently – and the machines are different too. This doesn't always work because stringers sometimes leave earlier or because you have to prepare 20 racquets for the next day. At the Davis Cup, I'm really the only one responsible. So that means: same machine, same stringer.
Don't miss any news!
Activate the notifications:
Djokovic Novak
Wawrinka Stan