New Ferrari team principal Frederic Vasseur says it is "obvious" that his target is to win the title this year.
The 54-year-old, who began work in his role on 9 January, says he has already started analysis of the weaknesses that derailed Ferrari's 2022 campaign.
"When you are in a top team, you can't have another target than to win," said the Frenchman.
"You can't start the season saying you are happy with P2 – it would be a lack of ambition.
"We have everything to do a good job and the target has to be to win."
Vasseur's comments, made in his first news conference since his move to Maranello, are a contrast with the position taken by his predecessor Mattia Binotto, who the team said resigned after the end of last season.
Binotto made repeated references to the fact that Ferrari still had to improve to be in a position to win the championship.
He left his job after a season in which Ferrari achieved their stated objective of returning to competitiveness but saw their title campaign torpedoed by a series of failings.
Lead driver Charles Leclerc won two of the first three races last year, after which he led eventual champion Max Verstappen of Red Bull by 46 points.
But Leclerc took only one further victory as Ferrari were afflicted by engine reliability problems and strategy errors, as well as losing competitiveness as the season progressed.
"I am trying to understand exactly what happened on every single mistake last year and to try to know if it is a matter of decision, of organisation, of communication," said Vasseur.
"Very often on the pit wall the biggest issue is more the communication and the number of people involved than the individuals.
"If you put too many people discussing about the same things, when you have the outcome of the discussion the car will be on the next lap.
"You just need to have a clear flow of discussion and communication between the good people in the right position. It's a work in progress."
He admitted that the team "will have to do some improvement", adding: "I trust the guys in place and I will try to put them in the best position to do the best job.
"Then it will be time after a couple of weeks or months to take action if it is not working."
Vasseur, who moves to Ferrari after five years as team principal of Alfa Romeo-Sauber, has a substantial in-tray but said he hoped his 32 years of experience on the pit wall in various guises could be useful.
Vasseur was also team boss of Renault in F1 in 2016 and before that had a long and successful career in the junior categories.
He said the team were working on their engine reliability issues from last year – Leclerc twice had failures when leading a race, and team-mate Carlos Sainz also lost second place in the Austrian Grand Prix as a result of a fire.
The problems forced Ferrari to run the engines with less performance from July onwards to avoid exposing the unit's fragility.
"The performance of the engine was not an issue," he said. "The issue was reliability and the first target is to fix it.
"So far, it looks OK, but the reality of the track is a different thing.
"A couple of issues that the teams suffer – and it's not just true for Ferrari – in terms of reliability are also coming from track operation, [aerodynamic] bouncing, and vibration. Everyone will have a much better idea [at the pre-season test] in Bahrain in a few weeks' time."
Vasseur dismissed as "just a joke" reports that Ferrari had made a major performance step with their engine of as much as 30bhp over the winter.
He added: "We made some step but it is just about reliability."
On the subject of Ferrari progressively falling further behind Red Bull through last season, Vasseur said: "Development is very often a strategic choice with the cost cap to decide if you want to be more focused on the new car for the following season or the current one.
"I was not there and don't want to make any judgements on what has happened in the past. But we will see during the season."
What about Ferrari's drivers?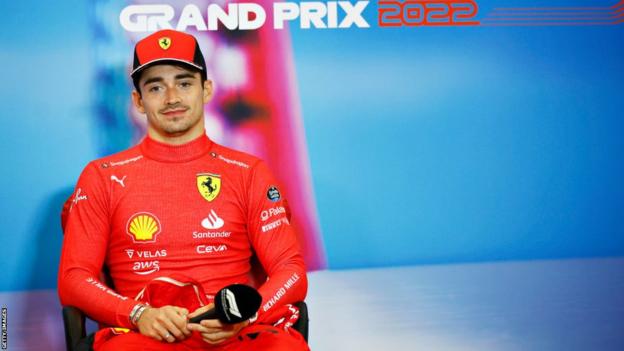 Leclerc's frustrations with Ferrari's failings grew through last season.
His contract with the team lasts until the end of 2024 but rumours have already linked him with a move to Mercedes as a replacement for Lewis Hamilton when the seven-time champion retires. Hamilton's contract expires this season but both he and the team have said they expect him to sign another.
Vasseur, who has a close relationship with Leclerc after success together in the junior categories, said it was too early to discuss the 25-year-old's future.
"I don't want to put this topic on the table today," Vasseur said. "It would not be a good way to start the collaboration.
"We have to be focused on the sporting side to get the results. It is like a wedding – if both sides of the table are happy with the situation, we will continue. But it is not the priority today. We have a good relationship. We will have time to discuss about this."
He said Leclerc and Sainz would go into the season with equal status but that he would not hesitate to prioritise one if the circumstances demanded it.
"We have two very good drivers who are both able to do the job. We will have the capacity to provide them exactly the same car and structure and support," Vasseur said.
"The target is to win for Ferrari. There will be no number one or two. But if at one stage I have to take action, I will take action. It doesn't matter if it is one or the other, if at one stage of the season, I have to do something, I will do it."