After Augsburg's defeat in Freiburg, sports director Stefan Reuter attacked the referee – and SC Freiburg.
Provocative jubilation in the direction of the Freiburg curve: Mergim Berisha.
IMAGO/Eibner
FC Augsburg could have scored big points in Freiburg on Saturday. Three important counters in the relegation battle while the competition continued to make mistakes. But saying "would have" doesn't help much in football or in life in general. The 1: 3 in Breisgau, the ninth winless game in a row against SC, was only partly due to Stefan Reuter's own mistakes and missed opportunities.
The sporting director of the FCA talked himself into such a rage during the game that later there was hardly a voice. For example, there was the alleged foul by Philipp Lienhart on Robert Gumny in the 54th minute. The fact that referee Christian Dingert decided on a foul against FCA was of course wrong. Not counting it as a penalty was a reasonable decision, however, as both players actively go for the ball and contact was therefore unavoidable. Not so according to the Augsburgers. "It's a mystery to me how you can't give a penalty like that," Reuter said. "There are no two opinions." Oh well. "We watched it ten times calmly, without emotion. He doesn't hit the ball, he only hits the player. If we get a penalty, it's 2-2."
But it wasn't, instead Ermedin Demirovic, who saw his fifth yellow card to make matters worse, later missed the big chance to equalize, and Lienhart of all people made the decision on the other side. "Freiburg is simply convinced of what they play. And if they get chances, they take them," Reuter even found words of praise.
Otherwise, the 56-year-old didn't have many good words left about the SC. The decisive factor was Mergim Berisha, who scored a penalty in the 29th minute to equalize and then celebrated extensively – especially in the direction of the home curve. The Augsburg striker had put his hands behind his ears several times to say: What is it? I can not hear you!
The Freiburg crowd reacted with a whistling concert, the players complained to the referee and to Berisha himself. He dismissed it with a gesture and was allowed to watch seconds later as Lucas Höler made it 2-1. "You don't have to provoke the opponent again," captain Jeffrey Gouweleeuw criticized the behavior of his team-mate. "We have to learn that it's unnecessary to provoke everyone and give them motivation. That's not necessary, away games are difficult enough anyway."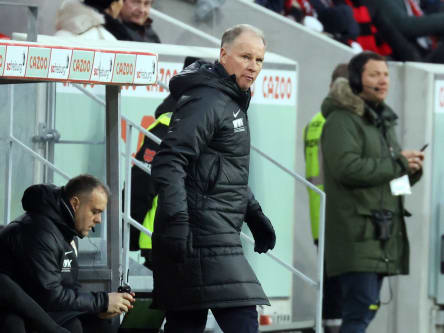 Took Berisha to the chest: Stefan Reuter.
IMAGO/sport photo pack
Reuter didn't see this point any differently: "It's fatal if you provoke the opposing fans like that." But then he immediately placed himself protectively in front of his players, and ex-Freiburger Demirovic was also involved: "The two assured me credibly that they wanted to celebrate a goal on camera. Players often celebrate their goal celebrations in front of the camera there was something. That was unfortunate because it came across as provocative. But there was no ill will." That's an open question.
"Freiburg always looks like friendly Freiburg"
In any case, after the half-time whistle, Reuter grabbed Berisha and told him "that he shouldn't let himself be provoked, because it was also clear: Freiburg always makes a sympathetic Freiburg. But they are very hardened and fight with everyone means. And you could see that they want to provoke the mergim. I was very worried that they want to provoke the mergim."
And "thank God I was next to him," added Reuter, because when the suspended Nicolas Höfler from Freiburg was on his way to the half-time interview on "Sky", according to Reuter, he said in the direction of Berisha. "'What kind of dirt player are you?' Of course, that's the bottom drawer. I find that under all cannon that a player who is not on duty insults one of our players so much, even though he hasn't done anything at all." Done nothing at all. Oh well. That too is left undecided.