Paternity and maternity leave is one of the issues that generates the greatest conflicts between workers and companies. In a normalized workplace, it seems that these periods of inactivity are being accepted with the normality that they should be treated. However, what happens in an environment as particular as elite sport is a separate chapter.
Maternity is a very important conflict for many athletes, who end up waiting for the end of their career or even decide to advance it, in order to be mothers. Inactivity, loss of physical fitness, economic problems or the lack of respect that some clubs have historically shown, even going so far as to terminate the contracts of their athletes, have been some of the barriers that athletes have usually encountered in relation to this issue.
However, male athletes have often encountered similar problems in relation to paternity. A circumstance that is not well regarded and that almost no elite athlete makes effective despite the fact that it is mandatory with any employment contract. Since 2021, paternity leave has been extended to 16 weeks, however, the law only requires compliance with the first six, which must be requested immediately after delivery. But can you really imagine that this would happen when a player on a football or basketball team was playing relegation or a title?
[Svitolina, una maternidad en tiempos de guerra: lista para volver al tenis y ayudar a Ucrania]
It is precisely these six weeks of hiatus that have now made a futsal player the protagonist in spain. Specifically to a goalkeeper, Christian Ramoswho defends the goal of Cordoba World Heritage Site from National Futsal League. The goalkeeper is on leave and his case has already gone around the country as it is an unprecedented situation in his discipline and rarely seen in the sport's elite. His situation opens an important debate that extends to team sports in which there could be a before and after.
Christian's case
Paternity leave is a complex situation in Spain because on many occasions there is a tendency to think that the natural right to this leave only belongs to mothers. Since 2021, maternity and paternity periods have been equalized to 16 weeks. In addition, there is a period that, by law, it is mandatory to comply with. It is the first six weeks after delivery.
Afterwards, there are another ten weeks that are at the worker's choice. As long as they are chosen completely and within the first year of the baby's life, the father may use them at his whim. A circumstance that widens the range of confrontation between employees and companies.
While these six weeks are a mandatory condition for all workers with a current contract and who meet a series of requirements that have to do with the number of days contributed in their working life, in sport it seems that this obligation is conspicuous by its absence that it is not often that athletes miss their 'jobs' in training and competitions during those 42 days. For this reason, when a case of paternity leave occurs in the elite, it is as striking as it has been the case of Cristian Ramos.
[Naomi Osaka desvela la verdadera razón de su ausencia en Australia: anuncia su embarazo]
The goalkeeper of Córdoba World Heritage, a team classified in the lower zone of the First Division of national futsal, announced a few days ago that after reaching an agreement with the club, he had made his paternity leave effective. In his case, Cristian assured that his life had led him to "make decisions" that did not depend solely on himself.
Despite the great setback that this represents for his team at a sporting level since they are immersed in the fight for relegation, both parties have had to reach an agreement that writes an unprecedented case in the world of futsal and rarely seen in the sport in Spain. Córdoba himself reported through his social networks that the goalkeeper had requested to make his right to paternity leave effective, a circumstance that they will have to face, at least, for the next six weeks.
Cristian, who has been pushed to make this decision for personal reasons, paves the way for all players with a contract who also want to go one step further in the normalization of paternity in the elite and in defense of a circumstance that , although it remains forgotten on a regular basis in sports such as football, basketball or handball, it is part of a right that does not have to be renounced.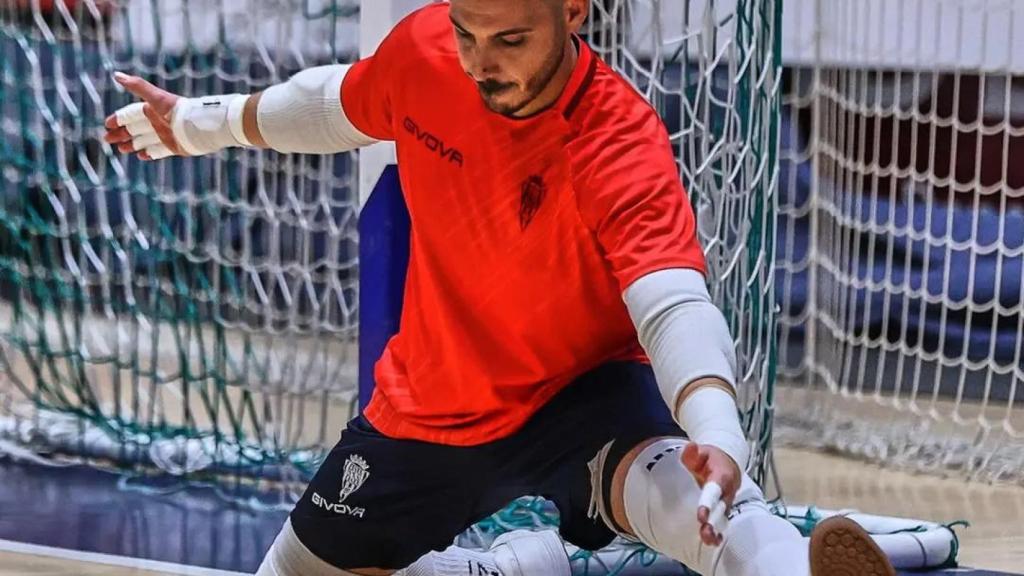 From Jon Rahm to De Gea
The case of Cristian Ramos, much discussed in recent hours, can set an important precedent that helps to destigmatize this type of situation and open up clearer and easier lines of dialogue between players and clubs or even federations. However, his has not been the only one that has been produced in Spain in recent years. Of course, they are few and exceptional.
[Jon Rahm y su baja por paternidad: una lección en el deporte de élite y olvidada en el fútbol]
Some stars have faced processes similar to that of the goalkeeper of the Cordovan team, although yes, each with their own particular circumstances. One of the most notorious cases was that of Jon Rahmwho announced at the end of 2020 that he was going to spend a few weeks away from the fields because his partner was going to have a child.
'Rahmbo' decided not to leave USA for a while and bet on being cautious to preserve the safety of your family. In his case, this situation occurred at the end of November 2020, when the sport began to take its first steps after the arrival of the Covid-19. Hence, she decidedly bet on looking after and for her health and that of a growing family.
It is true that Rahm's case is difficult to compare to Cristian's, since he is a golfer and therefore competes in an individual sport where he does not have to report to any club and whose performance does not affect any group, more beyond the damage that it may entail to its sponsors. In addition, the economic position of 'El León de Barrika' also made it easier for him to make this decision at the time. However, that a star of his stature decided to take this step helped to visualize this particularity.
An experience more similar to Cristian's was the one he starred in David De Gea in the year 2021. The goalkeeper of the Manchester United He told his club that, after being a father, he had made the determination to stop in order to be with his family and with his partner, the well-known singer snowy.
[El reto de ser madre y jugar en la WNBA: conciliación, ejemplo y educación para los hijos]
The goalkeeper was absent from the first team for around a month and missed six games, but he left another path open which, although it has not been followed by many, surely served as an inspiration for other athletes to at least think about their right to take paternity leave.
In his case, Manchester United gave a total normality to what happened, at least from the outside, and assured that De Gea was out for personal reasons and that he would take the time that was necessary. Upon his return, he regained ownership of the goal, the one he has been defending for the last twelve seasons. Cases like Cristian's, Rahm's or De Gea's are a rara avis in elite sport that little by little are fueling a necessary debate and are building a path that allows sport and society to advance.
Follow the topics that interest you