More than 230,000 people said goodbye to Pelé during the 24-hour wake held at the Santos stadium, as reported to AFP by the Brazilian soccer club where he played for most of his career. "There were more than 230,000 people, according to what the military police told the club," explained a Santos press advisor. The wake ended this Tuesday, before the start of the funeral procession through the streets of this port city near Sao Paulo, where the 'king' of soccer will later be buried.
The Brazilian President, Luiz Inacio Lula da Silva, attended the wake this Tuesday at the Santos stadium accompanied by the first lady, Janja. Lula arrived at the Vila Belmiro stadium and went to the center of the pitch where the remains of the player, who died on December 29 at the age of 82, have been exposed since Monday.
In the presence of Pelé's widow, Marcia Cibele Aoki, and the children of the star Edinho, Flavia and Kely, the president, invested on Sunday, attended a mass celebrated by a priest who spoke about religion and soccer. "Pele knocked on heaven's door. And God said: 'Who are you?' 'The king'. 'Ok, here he will also be the king but I am the lord'", said the priest, who also explained that Pelé will now be able to play a game with other deceased stars such as Johan Cruyff and Alfredo Di Stefano.
The 24-hour wake began Monday with a parade of thousands of people, some of whom lined up all night. Once finished, a funeral procession has begun a tour of Santos, port city of 433,000 people, around Sao Paulo.
The convoy was scheduled to pass through the house of the Pelé's mother, Doña Celeste, 100 years old and who is unaware of the death of his son, and finally the coffin will be taken to a cemetery overlooking Vila Belmiro.
There, in a mausoleum of the Ecumenical Necropolis Memorial, the highest vertical cemetery in the world, according to Guinness Records, Pelé will rest after a religious ceremony reserved for the family, a source from the place told AFP. In the luxurious cemetery with the air of a vacation complex and which has an aviary and a small collection of classic cars and motorcycles, there are also the remains of his father, his brother and his aunt.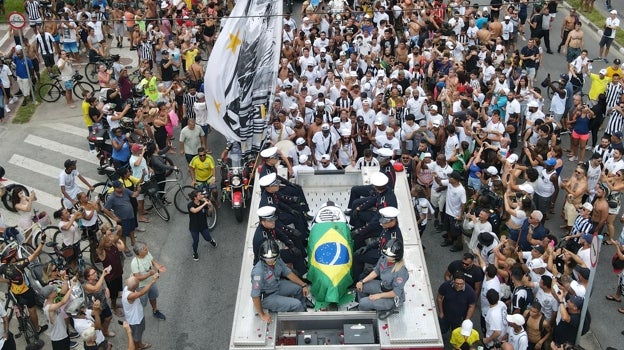 The funeral will officially end several days of mourning in Brazil, which owes three of its five World Cups to the former scorer, who claimed 1,283 goals scored in a 21-year career playing for Santos, the New York Cosmos and the 'Seleçao' .