Led by 22 points at the start of the 3rd quarter, the JDA Dijon warriors managed to completely reverse the scenario of the meeting to seek victory in a Palais des Sports in total fusion.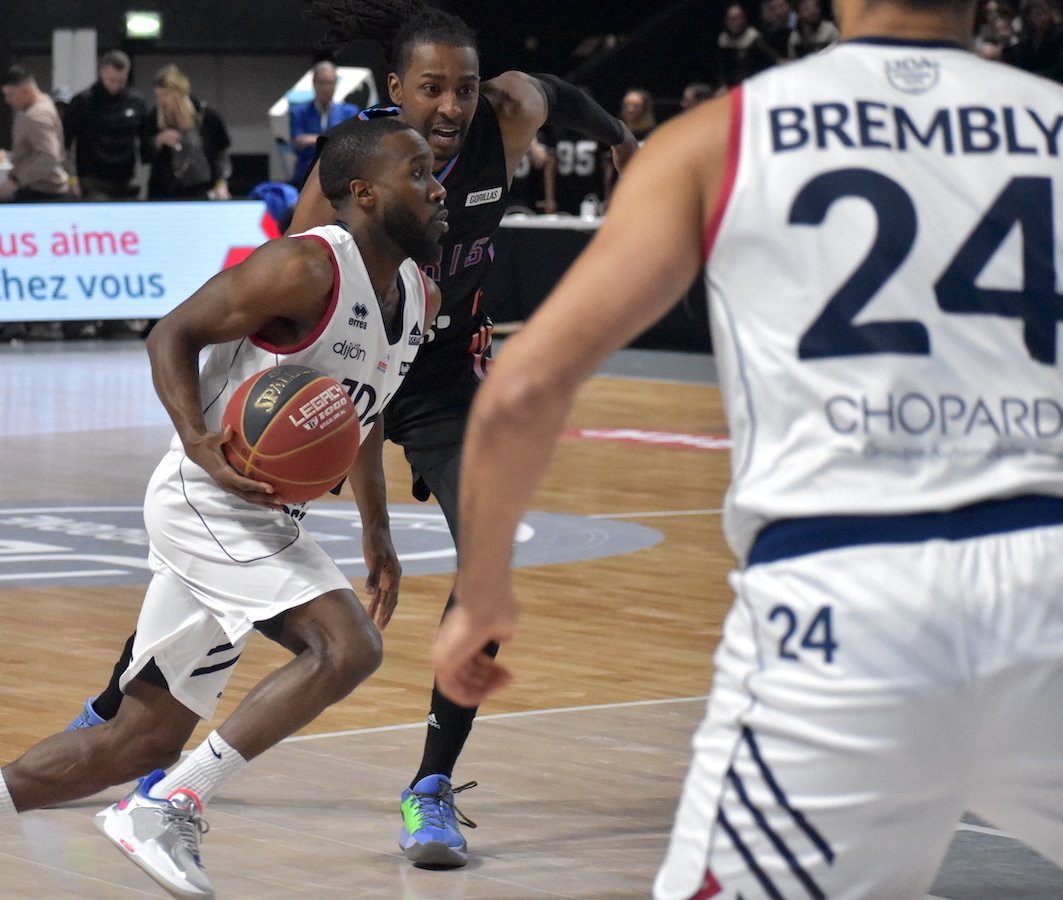 The first half is CATASTROPHIC for coach Markovic's players. The Dijonnais seem completely absent from the meeting and are literally walked over by a Parisian team who recites their basketball to perfection.
The visitors therefore exploit to perfection the errors of Dijon which are multiple in this first act. Indeed, the Burgundians chain without moderation the loss of balls which allows the Parisians to score easy baskets in counter-attack. Added to this, the JDA defense is DOMINATED by the visitor interior sector. Kamagate and Evans wreak havoc by stringing together close-hauled baskets and winning the rebound battle.
The visiting racket is perfectly compensated by the sharp penetrations of Amar Gegic. The capital's players therefore inflict a 20-3 on their opponent in the second quarter, which allows them to have a gap of 21 PTS!!! at the break (37-58). The players, the staff and the public are completely dumbfounded and stunned by this cataclysmic first half.
However, the players of the JDA will prove that they have heart and a steely determination. The Dijonnais start the third quarter with a bang, passing a 7-0 to their opponent under the impetus of the inevitable David Holston. Nevertheless, the Parisians felt the wave coming and cut short the opposing comeback by chaining two long-distance bombs. The Burgundians seem stunned but do not abdicate for all that.
Pushed by an absolutely incredible audience, the JDA players are gradually climbing the slope. The embers of the Dijon revolt come to life in the multitude of free throws missed by Parisian players (Kamagate and Evans). The locals feel a flaw in their opponent and the latter will rush into it fully.
The two pillars of this crazy comeback are Gregor Hrovat and David Holston. The first gives his body to the nation to cause offensive faults as well as to get baskets with the fault. The second chained the big long distance shots. The locals therefore manage to pass a 16-0 and take control for the first time in this meeting 13 seconds (from the end of the last quarter) thanks to a basket from the important Gavin Ware.
The two teams are therefore side by side at the start of the last quarter (71-71). The Parisians gradually come to their senses and manage to regain control of the game 3 minutes from time (84-85). Nevertheless, the Dijonnais are carried by an incredible fervor which leaves no doubt about the final result of the meeting. Jonathan Rousselle and Markis McDuffie return important shots in the money time which leave the Parisians unanswered. The final blow will be brought by Mat Mobley's long distance basket in the last 30 seconds.
M.L.
JDA Dijon wins 99 to 88 against Paris Basketball (20-27, 17-31, 34-13, 28-17)
JDA Dijon : Holston (25) / McDuffie (18) / Alingue (2) / Rousselle (11) / Ducoté (3) / Hrovat (14) / Ware (15) / Mobley (9) / Loum (2)
Paris Basketball : Simms (7) / Kamagate (13) /Roll (8) / Denis (13) / Gegic (13) / Toupane (8) / Evans (13)
Passes :
– JDA Dijon: Hrovat (4) / Rousselle (3) / Holston (3)
– Paris Basketball : Wallace (8) / Simms (3) / Gegic (1)
Bounces:
– JDA Dijon : McDuffie (15) / Hrovat (7) / Ware (6)
– Paris Basketball : Kamagate (8) / Evans (7) / Gegic (3)