Badminton club HERNE sees a bright future again – © Deschuyffeleer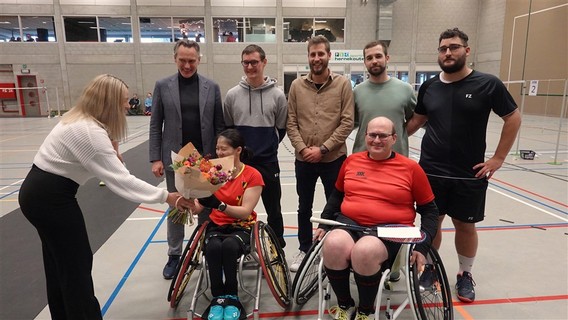 Badminton club HERNE sees a bright future again – © Deschuyffeleer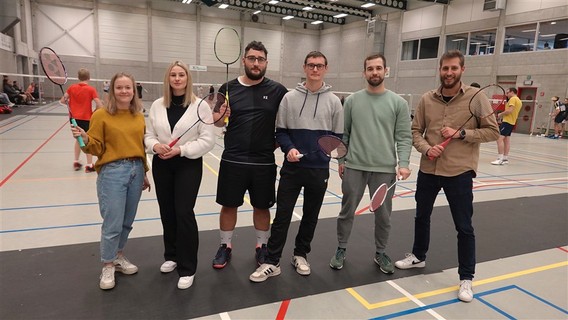 Badminton club HERNE sees a bright future again – © Deschuyffeleer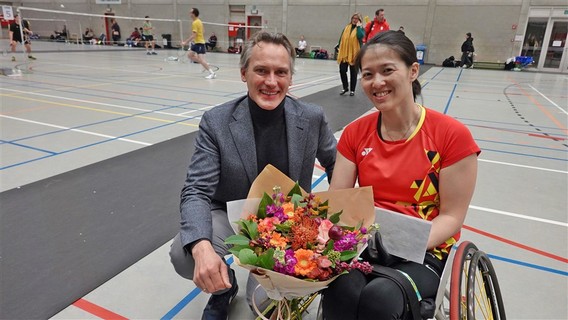 Badminton club HERNE sees a bright future again – Aldermen Kris Degroote and Kiki To – © Deschuyffeleer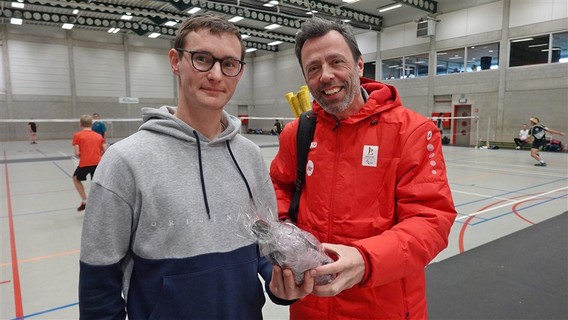 Badminton club HERNE sees a bright future again – Chairman Joeri Vannimmen and coach Sven De Rom – © Deschuyffeleer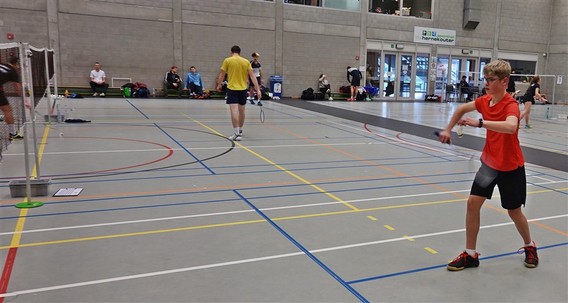 Badminton club HERNE sees a bright future again – Andreas Ghijsels (BCH) – © Deschuyffeleer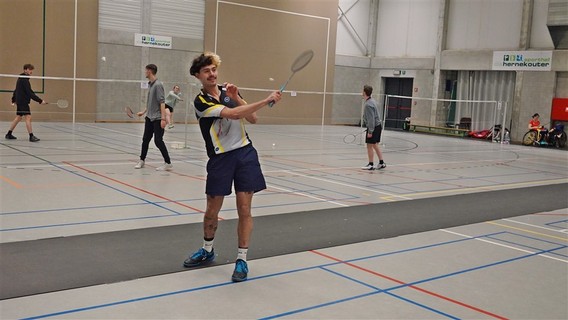 Badminton club HERNE sees a bright future again – © Deschuyffeleer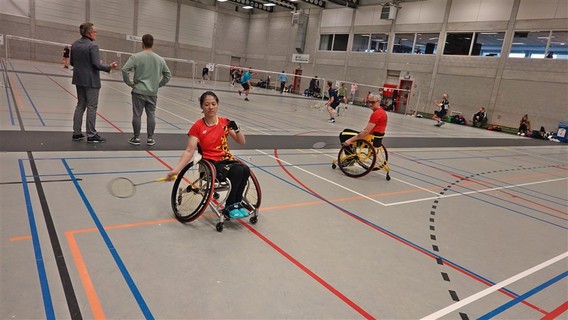 Badminton club HERNE sees a bright future again – Kiki (Man-Kei) To – © Deschuyffeleer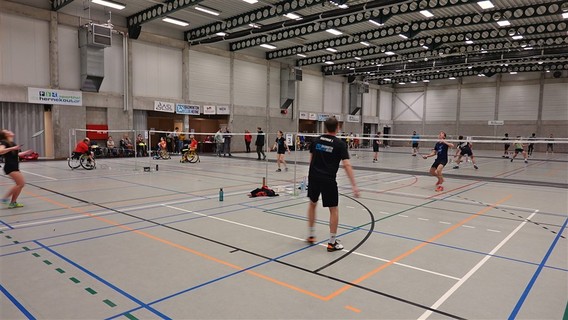 Badminton club HERNE sees a bright future again – © Deschuyffeleer
Badmintonclub Herne (BCH) organized its annual two-day national tournament for players classified in grades 1 to 12 in the Hernekouter sports hall. On Saturday 167 doubles were played and on Sunday the organizers had 112 singles on offer. All together good for 228 players who braved the harsh winter weather to give the best of themselves. They came from all over the country with participants from Brussels, Lokeren, Dendermonde, Geraardsbergen, Antwerp, Enghien, Tournai, Nivelles and Charleroi. The tournament was also the meeting place for wheelchair users. The eye-catcher here was club member Kiki (Man-Kei) To (36) who won silver in women's doubles at the Para Badminton World Championship in Tokyo in November.
Coronadipje
Slowly but surely, BCH is also crawling out of the corona well. Chairman Joeri Vannimmen (Flieterkouter Tollembeek) certainly has a good eye for it. "Especially 2020 and 2021 are years that left very little or no good traces for our sports association. Competitions and tournaments were restricted and our players were inactive. Many therefore sought refuge in outdoor sports where the corona restrictions had much less impact. Now that we can assume that the corona suffering is over, it was also the time for our club to put BCH back on the right track with joined forces as a sports association and as a circle of friends.
On a sporting level, we now see that one by one the lost sheep find their way back to their safe stable. From the board we have therefore eagerly used the 40th anniversary of our club existence to make it as pleasant as possible for our members, large and small. In addition to sports in itself, we also invest a lot in peripheral activities that want and can boost the sports and club spirit, motivation and belonging.
BC 40 years
These peripheral activities mean that club life at BCH is now running at full speed again. For example, we have already organized a quiz in October during the current badminton season, in November there was an après-ski music evening with entertainment and there are still a New Year's reception, a MTB event and an extended weekend by the sea for the beginning of 2023. members and family on the agenda. All this because BCH wants to be a club where sports are important but where people also look beyond that sport. We also want to be a home for our members where there is an atmosphere where everyone feels that they are important and that they belong.
And of course…. Badminton is a great sport that is very successful in our region with Herne as a hub. We owe this to the good infrastructure and accommodation of the Hernekouter as well as to the good club operation with a passionate board and valuable youth coaches. That board consists of a six-person team Marcel Kuiper, Jeroen Casier, Stijn Deherder, Kelly Bauwens, Flore Letouche, Bram Bontinck and myself as chairman".
Workouts
The weekly operation of BCH focuses on the one hand on adults in the categories recreational, competition, seniors and G-badminton. They usually train on Tuesdays and Thursdays. Those trainings include free play and match preparation. For the youth, divided into groups 6-9 year olds, 9-12 year olds, 12-14 year olds and 14-16 year olds, there are training sessions on Wednesday and Friday. They are supervised by chairman Joeri Vannimmen and board members Jeroen Casier, Kelly Bauwens and Marcel Kuiper and by Gerlinde Truyens and Marvin Debuyst.
Special mention for special athletes
It is commonly said that 'taking part is more important than winning', but when it comes to competition, winning is not an additional pettiness. BCH prides itself on the results of all its members, but is also very proud to count on Vincent Stradiot and Lisa Van Damme. Both he and she regularly ensure that BCH is also represented on the winners' podium.
Kiki (Man-Kei) To is of course also included in that list of winners. She was also present at the tournament. When the G-badminton started in Herne in 2012, Kiki was one of the first affiliated members. What started recreationally led to participation in international tournaments in 2015 and that is how the first step was taken in the competitive circuit. That circuit did not do top athlete Kiki any harm. Her latest glorious result dates from barely a month ago when she took silver in women's doubles at the World Para Badminton Championship in Tokyo. Together with coach Sven De Rom – also a veteran of BCH – it is now all hands on deck in preparation for the Paralympic Games in Paris in 2024.
The coming weeks will certainly be very busy for BCH. With 70 players between the ages of 6 and 16, the department is doing everything it can to defend the colors of BCH as well as possible on Saturday 14 January during the National Youth Tournament (also in the Hernekouter).
The results of the national tournament with a prize pool of 2400 euros can be read on https://www.badmintonvlaanderen.be/sport/winners.aspx?id=4AB200D5-ADC4-4F0B-9F5B-C6C7B7F4EF80
Learn more about the club and membership https://www.bcherne.be/
Back