YILYAK Samsunspor Basketball will face the Gölbaşı Municipality TED Ankara College students in its field. Red and Whites want to beat their opponent and continue their winning streak
COMPETITOR TED ANKARA
YILYAK Samsunspor Basketball Team will face the Gölbaşı Municipality TED Ankara Kolejliler in the sixth week of the Turkish Basketball League. It will take place on Friday, November 11 at 18:00 at Mustafa Dagestanli Sports Hall. The Red and Whites want to beat their opponents and continue their streak.
INVITATION TO MATCHES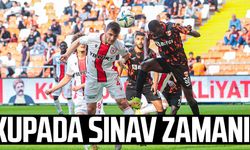 Exam time for Samsunspor in the cup!

YILYAK Samsunspor Deputy Chairman of Basketball Arzu Uslu called out to the fans and said, "Your support, voice, and heart are very valuable for the match we will play on Friday. We welcome you all to the hall. Let's meet at the Mustafa Dağistanlı Hall."
News Source: Esra VURAL