Huasheng Online, November 23rd (all-media reporter Sha Zhaohua, Xu Dianbo, Ma Rulan) Sanxiang and Sishui flow into Dongting, and Dongting is full of drums. On the evening of the 23rd, the 11th Hunan Provincial Paralympic Games opened in Yueyang. The beautiful Yueyang embraced with enthusiasm and witnessed the take-off of dreams. Vice Governor Li Jianzhong attended the opening ceremony and announced the opening.
The opening ceremony was held at the Yueyang Olympic Sports Center Gymnasium. At 20 o'clock, the lights in the gymnasium were brightly lit, and the ceremony was held in a solemn and warm atmosphere. As the disabled athletes entered the arena, there was warm applause in the arena, cheering for the self-improving life and cheering for them to go to the arena.
After the opening ceremony, a wonderful cultural performance was held. The performance showed the relentless pursuit of dreams by the disabled and their passion for the future together. The anthem "Chasing Dreams", the sign language dance "Sanxiang Bonus", the songs and dances "Light in the Heart", "Lonely Brave" and "Like China" of this Paralympic Games are very appealing and vividly interpret the "Sanxiang Games" I struggle, dream extraordinary" theme.
The current sports meeting is sponsored by the Provincial Disabled Persons' Federation and the Provincial Sports Bureau, and undertaken by the Yueyang Municipal Government. There are 10 major events and 547 minor events including track and field, swimming, weightlifting, shooting, table tennis, badminton, judo for the blind, darts, chess, and taekwondo. More than 2,000 athletes, coaches, referees, and volunteers participated in this sports meeting. It is the largest sports event with the most complete competition items and the largest number of participants.
In the next 3 days, 686 participating athletes from 14 city and state delegations across the province will compete to show their tenacious sportsmanship.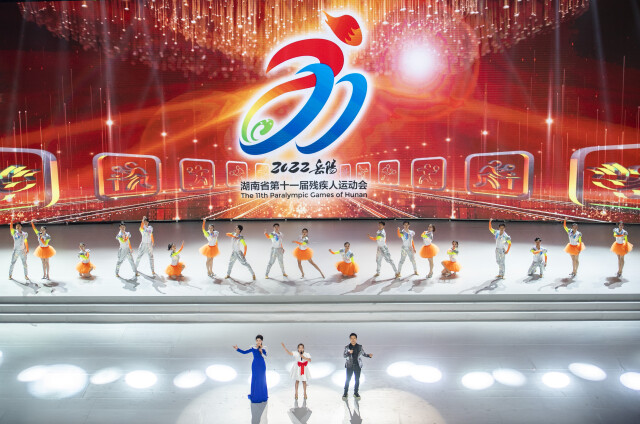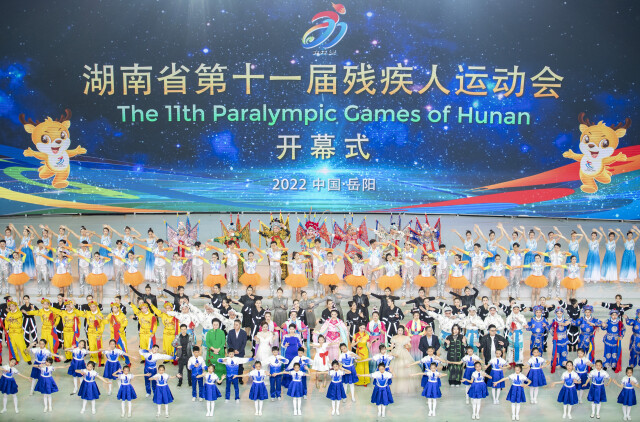 (The above pictures are all the wonderful cultural and sports performances at the opening ceremony. Photo by Li Jian, an all-media reporter from Hunan Daily)