The Belgian Cats got rid of a limp Bosnia with ease in the preliminary round of the European Championship basketball. The Belgian women passed the 100 points mark for the second time in a few days and thus remain on the European Championship course.
Earlier this week, the Belgian Cats had no problem with weak brother North Macedonia, but the key match of this campaign was against Bosnia and Herzegovina.
A year ago, Belgium lost in Bosnia, although the circumstances were very different now. Coach Valéry Demory, who made his debut in Sarajevo at the time, has since been fired and Bosnia can no longer count on the naturalized WNBA top player Jonquel Jones.
Under the leadership of interim national coach Rachid Meziane, Belgium immediately took its prey by the throat. Conductor Julie Vanloo scored and scored and with an eager defense the Cats Bosnia made it clear early on that there was nothing to be found in a sold-out Sportoase in Leuven.
At halftime the difference was already almost 30 points and that gap was further deepened in the 2nd half. Coach Meziane often rotated and kept his team fresh and sharp.
With every increase in tempo of the Belgians, the Bosnians saw stars and the Cats even had the luxury of spoiling the enthusiastic audience in the end. Thanks to an ultimate three-pointer from Delaere, that got what it craved: the century. With the 100-60 on the scoreboard, the room exploded one last time.
Thanks to the big victory, the Belgian Cats are in an excellent position in group A. The 2 matches in February, against Germany and North Macedonia, will be decisive, but the Belgian women have everything in their own hands to prepare for over 2 months. securing a 4th European Championship in a row.
Points Belgium: Meesseman 20 (+ 9 rebounds and 10 assists), Vanloo 20 (+ 14 assists), Ben Abdelkader 16, Delaere 16, Linskens 11, Becky Massey 9, Lisowa 4, Joris 3, Geldof 1, Nauwelaers 0, Ramette 0, Resimont 0
Vanloo: "Defensive grinta has nothing to do with another coach"

With 20 points and also 14 assists, Julie Vanloo was the top scorer against Bosnia together with Emma Meesseman. It was therefore a cheerful Vanloo who appeared in front of the Sporza camera after the game.
"This was a revenge for that lost match in Bosnia. I even think we could have done even better. Now and then we had a moment of less focus, but it is a nice victory", Vanloo rightly remarked.
Striking among the Cats: the defensive grinta. "But I think it has always been there. As far as I'm concerned, that has nothing to do with the other coach," said Vanloo.
Without Julie Allemand, Vanloo excelled in the role of game distributor. "I like being a real floor leader and making a lot of passes. That's what I'm doing at Montpellier this year and I'm glad I was able to show that here too."
The match against Germany in February will now be crucial. The Germans also won by a large margin against Bosnia, which is also a team with qualities.
"The match against Germany in February will now be crucial. The Germans also won with a big difference against Bosnia, which is also a team with qualities. But we will be ready. We want to go to the European Championship as group winners."
Vanloo also talked about the dismissed national coach Demory, who is the coach of Vanloo and Linskens at Montpellier. "It was not easy for him, nor for us. We chose to play for him. He is very important to me. He gave me wings and I am very grateful to him."
There was no resentment with the Frenchman. "He took that very positively. He told us that everything was handled in serenity, without a fight. He didn't say a wrong word. Everything was handled with great respect. That also credits him."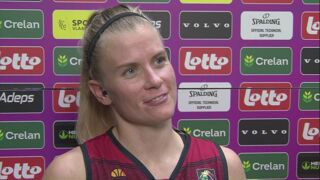 Meziane: "If there is a proposal, I want to take up the challenge"

As interim national coach, Rachid Meziane has done an excellent job this week, with 2 resounding victories against North Macedonia and Bosnia. The Frenchman was therefore a satisfied man on Sunday afternoon.
"It is very positive that we win with such a big difference. It is a difficult group. We have to go to Germany in February. That will be the key match for group win", Meziane reacted after the match against Bosnia.
"It was very positive, with a lot of cohesion, both in attack and in defense. The players really wanted to show themselves here, for their family and the public."
Will we see Meziane as national coach in February without the prefix "interim"? "It is always an honor for me to be the national coach and to be able to work with the best players in the world. That is a goal in my career", he did not hide his ambitions.
"I'm grateful for the opportunity I've been given this week and if a proposal comes along I'd like to take on the challenge of trying to lead this side to a trophy."