The fuss around the One Love captain's armband was also a major topic in Qatar on Monday. Belgian captain Eden Hazard will also not wear that band on Wednesday. Thomas Meunier clarified that choice: "We follow the point of view of the union, but all criticism comes too late anyway."
About One Love band: "Here we have to comply with the rules of Fifa and Qatar"

Belgium, along with a handful of other countries, will waive the One Love captain's armband. That news came out on Monday. "It was a decision of the association", Thomas Meunier explained to Ruben Van Gucht and Eddy Snelders.
"It was no longer possible for us to wear the bracelet, because there are now also sporting sanctions attached to it. That was the shock for me. It is just a shame that we can get yellow for wearing an armband."
"Could the national coach not be able to wear the band?", Snelders suggests. "There is always a solution, that's not the problem," replies Meunier. "But from here you have to comply with the rules of FIFA and Qatar. The problem started by awarding the World Cup to Qatar."
We also know it's a bit hypocritical. But at a certain point we better keep silent and focus better on football.
"We also know that it is a bit hypocritical to withdraw our tail now, from the moment there are sanctions attached. But at a certain point, it is better not to say anything and just focus on football. Anyway all criticism comes too late."
Does the theme live within the player group? "We talked about it with the players over lunch. Our idea was to follow the union. If the union then changes its position, we have to follow."
About competition with Castagne: "We have the same profile"

Two days before the game against Canada, football was of course also discussed. Meunier is on the right flank in the balance with Timothy Castagne, his good friend. "Timothy is a top guy. But on the field we are competitors, we have to help each other to get better."
Meunier is just fit again after a fractured cheekbone. Is he ready to play? "I was out for three weeks, but I played everything before at Dortmund. The question is what criteria the coach uses to make the choice: goals, assists, minutes played, physical readiness …"
"Castagne and I have a similar profile, the choice is up to Roberto Martinez. It is also an option to put Timothy on the left and myself on the right."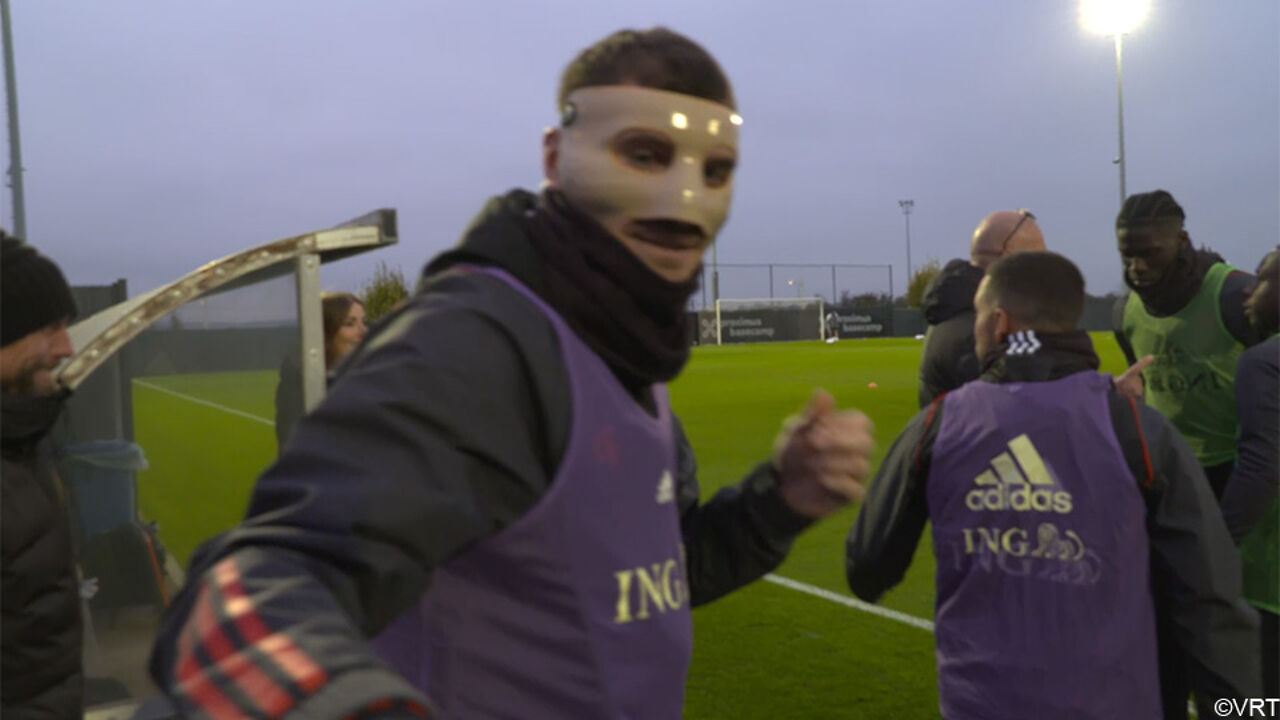 When Meunier comes into action, it will be with a Zorro mask.
Castagne pointed out that things went better after the break in the lost practice pot against Egypt, because the wingbacks then had players in front of them with Doku and Mertens who crawled in less. For example, they had to walk fewer meters themselves. "That also benefits our combination game", confirms Meunier.
"The problem with Kevin or Eden is they are playmakers, they always want to run everywhere. For me it's a bit easier when I play with someone who stays in position. When I'm in possession I also want to have offensive options."
"We are now fine-tuning tactically in training. It is important that we work on our positional play, with the right timing and coverage. There is a lot of work to be done. It is a matter of the coach's guidelines just right We can then improvise a bit more in possession of the ball."