While the ax of the cut will fall after 4 laps on Monday evening in Tarragona where 18 French people are engaged in a long-term race to win a right to play on the DP World Tour next season, it is the Lorrain Joël Stalter ( photo) who leads the tricolor contingent.
After handing over the reins of the tournament in the second round, the Swede Simon Forsstrom is back at the helm of the marathon card event of the DP World Tour. Author of a card of 65 on the Hills Course, he now has two strokes ahead of his main rivals. But the road is still long and no one is safe from a day without.
Almost a birdie every 3 holes for Stalter
A shot less well than the former Berkeley student does not hope to know, Joel Stalter, who is one of the few players to have managed to go below 70 for 3 consecutive days! At the rate of a birdie every 3 holes or almost (17 birdies in 54 holes).
Installed in 6th place in the group of players at 10 under par, he is the Frenchman best placed to seize one of the 25 playing rights on the big circuit distributed on Wednesday at the end of the grueling marathon of 108 holes.
Barring disaster, he will be there for the last two rounds after Monday night's cut. Without taking too many risks, we can unfortunately already exclude Nicolas Platret (+10) and certainly Jérôme Lando-Casanova (+7) from this list.
The task also promises to be very complicated for Damien Perrier (+4), Felix Mory (+3), Victor Riu (+2) et Pierre Pineau (+1), the 4 other tricolor players above par after 54 holes.
Havret never abdicates
Not very well on board on the evening of a first lap completed in 75 on the Hills Course, the veteran of the tricolor clan, Grégory Havret, relaunched well with two good cards on the Lakes Course of Infinitum (ex-Lumine). After this shy start, the experienced Rochelais has totaled 11 birdies in 36 holes and is back in the right car.
He is in 37th position in the group of players at -5 which also includes Adrian Saddier et Clement Berardo. Both players haven't played over par since Friday and are now hoping to go "lower" to get closer to the top 25.
MLV responds present
A very low score that almost succeeded Mike Lorenzo-Vera Sunday on the Hills Course. The Basque started his day with 4 consecutive birdies. Passed in 31 at halfway, MLV faltered on the last 9 holes and saw part of its efforts wiped out. But morale is good and the game is on the rise as he explained on the evening of a good first lap on Friday.
He occupies an encouraging 32nd place, one stroke behind a trio ofUgo Coussaudof Gary Stal and of David Ravetto 24th provisional Sunday evening.
Top 10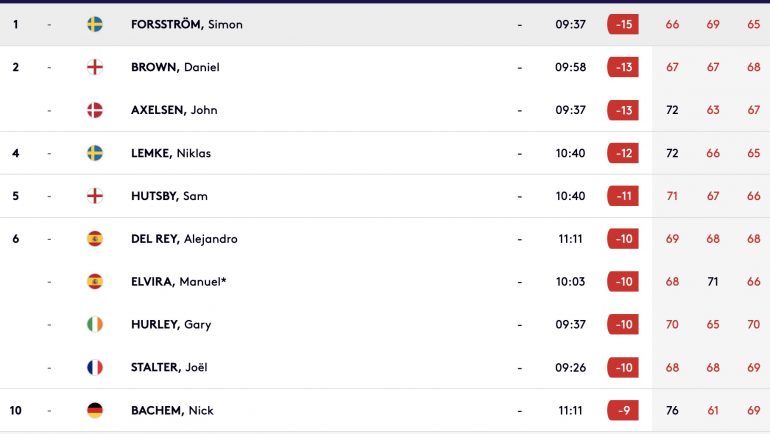 The other French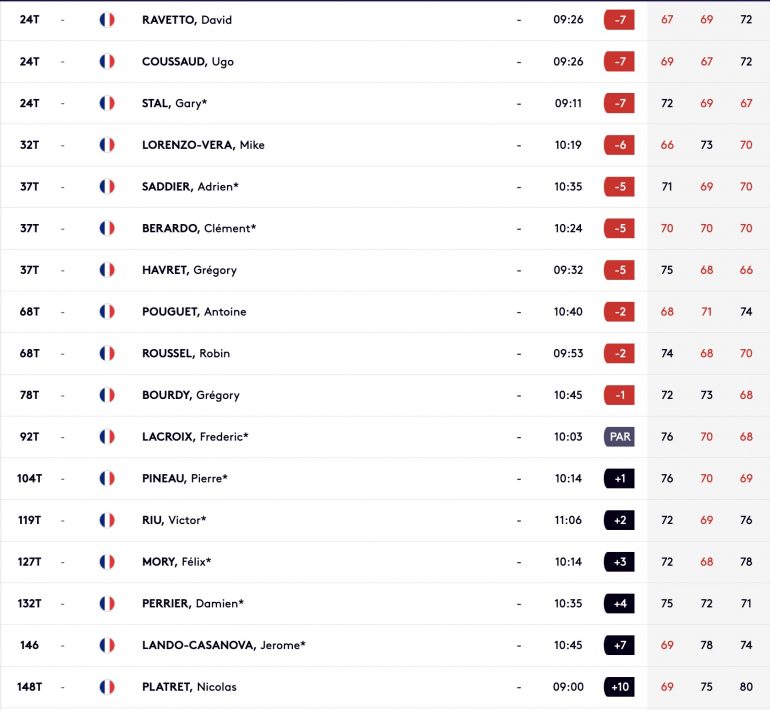 Photo ©  ANGEL MARTINEZ / GETTY IMAGES EUROPE / Getty Images via AFP