Former Raf subscribers will have priority and will be able to obtain their subscription for the second part of the 2022-2023 Ligue 2 and D1 women's season from Wednesday November 30. The general public will be able to buy them from Saturday 3 December.
The return to Paul-Lignon is being prepared and subscriptions will be there. It had been a season and a half, since the summer of 2021, that Raf supporters had not been able to subscribe to the Ruthenian stadium.
And from Wednesday, November 30 at 9:30 a.m., they will be able to take advantage of the campaign launched by the Raf, directly at its place de la Cité store. Former subscribers will have priority for access valid for the second part of the Ligue 2 and D1 women's season. The sale of subscriptions will open to the general public on Saturday December 3 at 12:30 p.m., only on the internet. It will then be possible to buy one at the Raf store from Tuesday 6 December.
From 69 to 289 euros for a subscription
The subscriptions, which range from 69 euros to 289 euros (at full price), will concern 12 Ligue 2 matches and 7 women's D1 matches. The prices vary according to the stand: the north bend on the gendarmerie side and the honor stand, which is divided into three categories. Subscriptions at reduced rates for those under 18 (from 49 euros to 149 euros), for students (49 euros) and those under 6 (49 euros) will also be available.
Bare places from 7 euros
And to access single matches, the cheapest tickets will be 7 euros (in the north bend), then go up to 30 euros in category 1 in the honor stand. As a reminder, since the work of Paul-Lignon began, the Raf sold its tickets between 20 and 30 euros.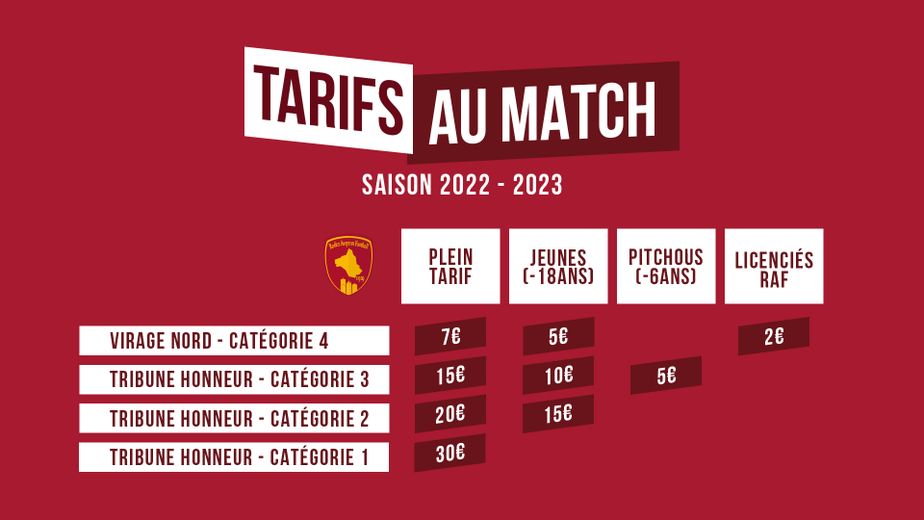 But these prices will concern eight of the twelve remaining matches of the men's pennant team. Because four meetings, those against Guingamp (January 28), Sochaux (February 3), Caen (March 11) and Saint-Etienne (April 29), will have special so-called "premium" prices ranging from 9 to 35 euros.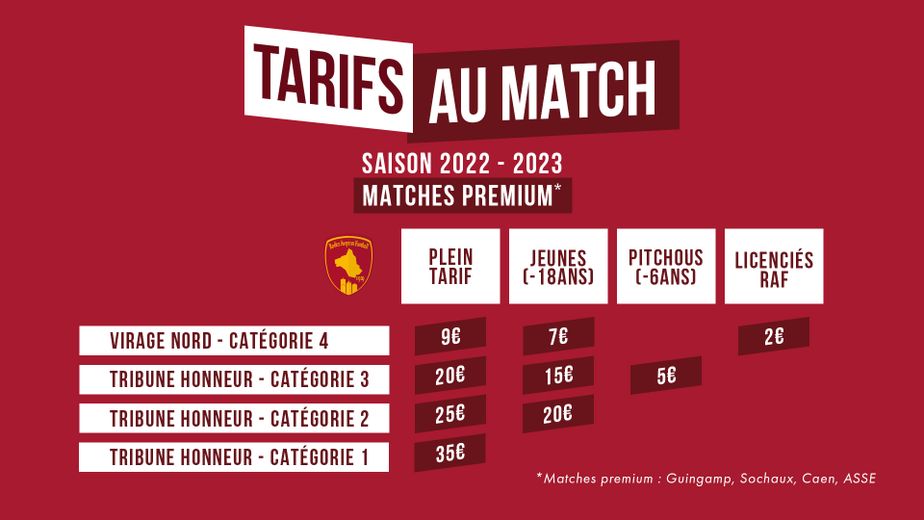 And as for subscriptions, rates for students (from 5 to 7 euros), those under 18 (from 5 to 20 euros, depending on the match) and those under 6 (5 euros) will be put in place. . Raf licensees will benefit from tickets at 2 euros, whether the meeting is premium or not.
The first meeting of blood and gold in the new configuration of Paul-Lignon will take place on Friday December 30 at 9 p.m., with the reception of Dijon.