[The Epoch Times, November 13, 2022](The Epoch Times Taipei reporter reported) On November 13, some 6,000 Falun Gong practitioners from Taiwan gathered at the Peace Basketball Stadium in Taipei to participate in the 2022 Taiwan Falun Dafa Cultivation Experience Exchange Conference. 19 Practitioners took to the stage to give speeches to witness the joy of cultivation and sublimation and their experience in clarifying the truth to the world.
The Taiwan Fa Conference started at 9:00 in the morning and ended at nearly 5:00 in the afternoon. The scene was sacred and solemn. Listening to the exchange of experiences of the speakers on the stage, many students were deeply touched, and they expressed their cherishing and gratitude for the opportunity of cultivation.
Taiwanese high school teachers share from being personal to me to moving towards a harmonious whole
Ms. Huang, a high school teacher who obtained the Fa in 1997, said that before cultivating, she was a person who preferred to be alone, thinking that it would be good for her to do her duty well. After practicing as a counselor and coordinator, she realized that this is to get rid of the selfishness of "being alone". She realized that after clarifying her thoughts on the principles of the Fa, she set the basic point right, and she must improve together with fellow practitioners, and she should not have a mind of being above the students. If you need to communicate with fellow practitioners in good faith and sincerity, you cannot avoid it, so that you can improve as a whole.
Ms. Huang shared that it is necessary to cultivate the heart of fear of difficulties. When facing the impact of contradictory language, if you can listen calmly and calmly, you will be wise. There is also the need to cultivate the fear of offending people. You should have the courage to face it and be compassionate and tolerant. Even in the face of censure and misunderstanding, you should not feel wronged or complained. It is also necessary to listen and not listen and to meditate. I also hope that everyone can cherish the collective environment and improve together. She also realized that it is necessary to expand the capacity and actively cooperate with the whole.
Tsutamatsu dance class students share how to sublimate the mind in learning classical dance
Classmate Lin from the second-year dance class shared that he decided to go to Tsutasong Art High School to learn Chinese classical dance since he was a child. He once injured his toe, and he told himself that it was fine, not to think about the pain, and of course it wouldn't hurt.
After learning to dance Chinese classical dance, classmate Lin yearned to stand near the middle. He said that because every time there is a performance in the stands, the eyes will be attracted to the lead dancer. At that time, he thought that through his own efforts, he hoped that his efforts would be rewarded, but behind the seemingly hard work, the motivation was the pursuit of fame and fortune, which was not pure enough. Later, he realized that serious study is the duty of students. You must use the purest heart to show the beauty of pure classical dance.
At the exchange meeting of the Tsutasatsu dance class, the teacher and classmates gave examples of each person's strengths and weaknesses, saying that Lin always thinks carefully about the problems pointed out by the teacher, but doesn't seem to care enough about his classmates. He looked inward for a long time and found that it was indeed the case, so when he saw that his classmates had problems, he used his own experience to help them. "Since I took the initiative to help, I found that I got far more than I paid! It's no longer just to dance well, but to improve together as a whole."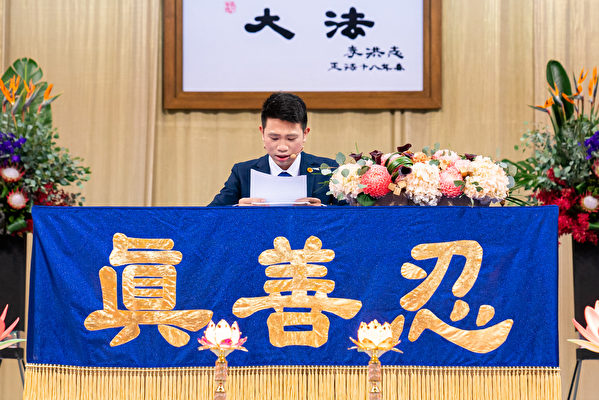 Insist on clarifying the truth to the Chinese
Mr. Ding, who received a Taiwan government scholarship to study Chinese in Taiwan, is a Vietnamese. He has been practicing for three years. He said that he has been fortunate enough to travel to many countries, most of which is in Paris. Since Paris is the city with the most Chinese in Europe, he wanted to be a truth point in Chinatown. Although the administrative procedures in France were complicated, he still found the location by himself, completed the administrative procedures, and borrowed banners and truth materials from the practitioners.
Mr. Ding put up banners on the streets of Chinatown, handing out materials with a smile and a friendly attitude. He said that the final effect of this was very good, and he soon ran out of the truth newspapers. He also noticed that many Chinese were reading and filming the truth about the Tiananmen Square self-immolation, and some people took the initiative to ask him for the Nine Commentaries. After he shared his experience with fellow practitioners, about a dozen practitioners came to participate. They distributed a lot of materials, but there were not enough materials, and there were many Chinese who agreed to withdraw from the CCP, the regiment, and the team organization.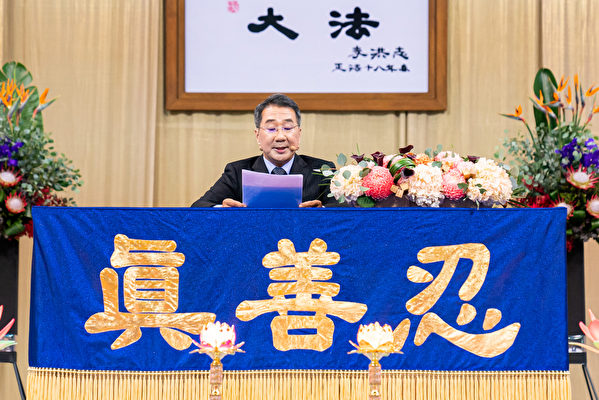 Cultivation experience in the process of promoting the Epoch Times newspaper
Mr. Zhou, who works at The Epoch Times, said that in recent years, he has promoted newspaper subscribers, from government units to major business associations and civil society; from trade unions and associations; from corporate executives to classmates, relatives and friends, he has introduced Epoch Times to them. . Some government employees agreed with The Epoch Times and took the initiative to order a copy for his father, which moved him, "I know that this is a tool for clarifying the truth, and if people really understand it, the truth will be passed on to more people. to find out the truth."
Mr. Zhou shared that a local chief had a look of embarrassment when he heard that they were promoting the newspaper. But as they introduced to him the international development of The Epoch Times and actively established new bases in the local area, to bring an international outlook to the local area, the more they listened, the more energetic they became. All the grassroots units that he has the power to decide on have all subscribed newspapers. When he sent them away, he looked like another person, with a clear and cheerful expression.
As a business and business executive for many years, in this environment, he must constantly set goals and strive to achieve them. Some time ago, he often felt tired and tired. He realizes that while overemphasizing himself, he is also accustomed to demanding others with his own standards, so he easily loses kindness, reason and tolerance. Mr. Zhou realized that it should be taken seriously, and he should get rid of it in his diligent practice and truly improve.
Cultivating the human heart in the work environment
Ms. Jian, who works in a state-owned institution, said that when she was studying at Kaohsiung Sun Yat-sen University in 2005, she entered Dafa practice, "I remember reading Zhuan Falun for the first time, and I felt that this was what I had been looking for, and I finally found it. no longer." She no longer felt inferior and worried.
Working in a state-owned institution, Ms. Jian thought she could live a life of more money, less work, and closer to home, but she was assigned to a front-line service unit, and her busy work made her miserable. Later, she realized that all these arrangements were actually made by herself. "I once thought that if I worked at a front-line counter, I could get in touch with all kinds of sentient beings, and I would be able to spread the Fa and clarify the truth with those who are destined to do so."
"The company counter has the opportunity to get in touch with mainlanders," she said. If conditions permit, she will send a brief introduction to Falun Gong. She has also helped several mainlanders quit three times, and some people have expressed their desire to learn Falun Gong. She has been working in this company for more than 3 years. From the beginning, she was frustrated, frustrated, and helpless with this arrangement, and gradually she was able to look inward and cultivate her xinxing.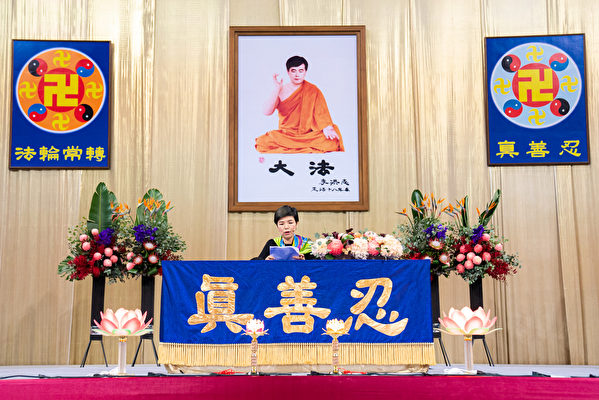 Training and improvement in the promotion process of NTDTV
Ms. Wu, who works at NTDTV Asia Pacific TV, said that this year she participated in the promotion of NTDTV Wushu Competition and Vocal Competition. She has to visit seniors in the martial arts world alone and ask them to recommend students to compete. The first day went well. Woke up early the next morning, feeling weak and uncomfortable. After she got up to do the exercises, everything returned to normal.
Ms. Wu visited the Wushu coach's home at the appointed time, and mentioned that at the moment when traditional Wushu is in decline, more martial artists with a sense of mission are needed to work with them to promote traditional Wushu to the world. Not long after she left, her colleague received the registration materials.
Ms. Wu shared that participating in the promotion of this vocal music competition is a big challenge and a lot of frustration. She has experienced the process of xinxing improvement from negativity, complaining, and escaping to positive and mindful breakthrough. Since July, NTDTV offices around the world have started to hold tea parties. She said that at the tea party at the end of August, the vocalists who came to sing really did well. At the same time, they also found sponsors. On the day of the tea party, the vocalists miraculously agreed to participate. There is also a vocalist who traveled from Taiwan to the United States for a Ph.D. who also received sponsored transportation.
Watching Shen Yun Helps Cultivating Hearts and Life Elevate While Reciting the Fa
Student Yuan, a young female student, said that watching Shen Yun every year is what she looks forward to the most. After Shen Yun works were launched, she subscribed to watch these videos. Shen Yun actors attached great importance to basic skills and insisted on it every day without being careless. These actors were similar in age to her, which gave her a lot of encouragement.
Yuan shared that she started to memorize the Fa a few years ago, "I am convinced that what I have recited will not be forgotten. The advantage of memorizing the Fa is that I can really think of the Fa in time to compare it when encountering a conflict, so that I can be more awake and learn it solidly. Fa." She once thought that if she was not born in the family of a practitioner of Dafa, she might be just like some people in today's society, disrespectful to gods and Buddhas; seeing Dafa practitioners being persecuted, she might be indifferent and stand idly by. . Whenever she thinks about this, she truly feels that being able to obtain the Fa is the greatest honor in her life.
Taiwanese wool felt master: returning to practice and family becomes happy
Ms. Lei, a Taiwanese wool felt expert, said that at the beginning of her acquisition of the Fa, although she felt that Dafa was good, she did not cherish the opportunity to obtain the Fa, so she stopped cultivating when she was busy. She often quarrels with her husband, complains about things and complains about things, and insists that her life is not what she wants. In the years of deep pain, she often thinks of Master and the beauty of cultivation. One day she cried and said to her master, "Master, I really want to go back to practice, I don't want to live like this anymore." After she finished speaking, she felt relieved for a while.
Later, Ms. Lei met a fellow practitioner she had known for a long time, and returned to the path of cultivation. She and her husband gradually let go of their self-concept and the so-called yearning for a happy life, which made both of them feel that their family has become happier. In her career, she developed a unique technique of wool felt to create a cultural and creative brand, and she was also invited by many media programs. She was delighted by her achievements. However, because of the epidemic, her business suddenly vanished.
With more time to devote to practice, she gradually let go of her interest in brand management, fame and fortune, and her studio's revenue status also improved with the improvement of her practice status. She also went to sign up to participate in the certification of local Shen Yun promotion speakers. After hearing the introduction of a fellow practitioner, she felt "pure", which made people feel beautiful and natural. This made her find the gap and found that there was a long-term showing heart that could not be eliminated. , Joyful, jealous, she realized that cultivation must constantly purify herself.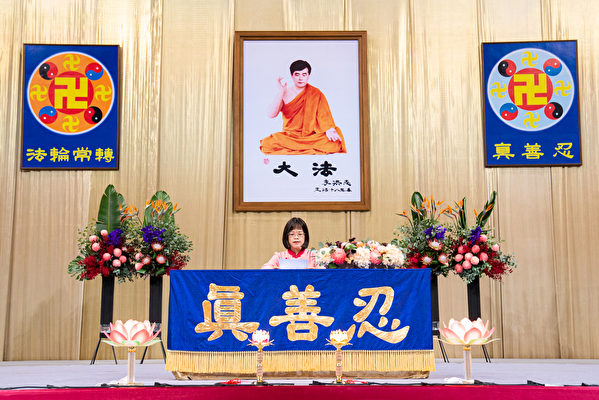 Taiwanese students who participated in the Fa conference cherished and grateful for the opportunity to practice the Fa
Ms. Liu, who is currently engaged in design work, began to find a way to eliminate her karma because her mother was ill, so that she could avoid reincarnation. She found no answer to Eastern philosophy from Western philosophy. Later, she learned about Falun Gong through a friend's introduction. After Miss Liu's mother passed away, she has been unable to get out of her sadness. Her friends reminded her again to read the book "Zhuan Falun" by Falun Gong master. She said that as soon as she opened the book, she was shocked. The first lecture in Zhuan Falun answered all her previous questions.
Since middle school, Ms. Liu has been troubled by dreams every day. Dreams and reality are interspersed, so that she can't tell whether it is a dream or a reality. After obtaining the Fa, the troubles these dreams caused her were greatly improved. After listening to the fellow practitioners share their experiences, she felt the importance of a single thought to her cultivation. If she wants to improve herself, she must first improve her xinxing. She is very grateful to Master for giving her a new direction in life.
On the eve of the Taiwan Fa Conference, some 5,000 Falun Gong practitioners from all over Taiwan gathered in a hall to type and write out the image "Falun Dafa's 30th Anniversary". The company's marketing manager, Lin Peijing, shared that when she arrived at the Liberty Plaza, she felt "Wow! There are so many practitioners (all over Taiwan) gathered together." She said that she was moved to tears when she saw the screening of the 12th typesetting film at the noon of the Fa conference today.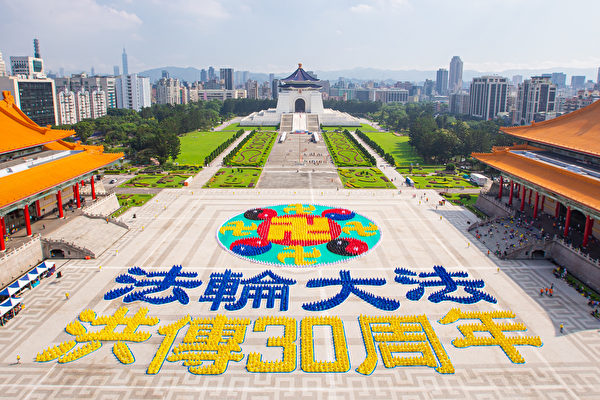 Mr. Liao, an engineer from a well-known Dutch semiconductor equipment manufacturer, has been practicing with his mother for 17 years since he was a child. When he saw the book Zhuan Falun, he liked it very much. After he decided to practice, his body also underwent many drastic changes. In the past, he suffered from severe atopic dermatitis, especially his hands and feet, which would often bleed. It is easy to have a fever and get sick. After studying the Fa for a period of time, the bad condition on the surface of the body will be swept away, and the body will become very healthy.
Mr. Liao's "Heavenly Eye" was open since he was a child, which allowed him to see beautiful scenes in other dimensions when he practiced the exercises, and increased his confidence in cultivation. Many things will be measured by the standards of "Truthfulness-Compassion-Forbearance" of cultivators. He said that in the past, he often let himself stay in the blurred line of modern morality, but now he has a standard scale in his heart, and he can work down-to-earth in life and know what real goodness is. This is where he benefits the most.
Zeng Yulan, a second-year graduate student of the History Department of Chenggong University, shared that when she was the president of the school, she had to face many things, and she felt pressure and did not want to do it. After listening to the fellow initiates' sharing, she believes that the way to deal with stress should be to keep her mentality in a state of peace and tranquility.
Kaohsiung student Gu Yanyi obtained the Fa last year. "I have been looking for a direction in life, including upper body and mind classes, yoga classes, and praying to gods and temples, but I still can't find them. Until I came into contact with Dafa, I felt very happy." He said that he must be fine. Cultivation, following Master and assisting Master in Fa-rectification, "because I have found the right way home."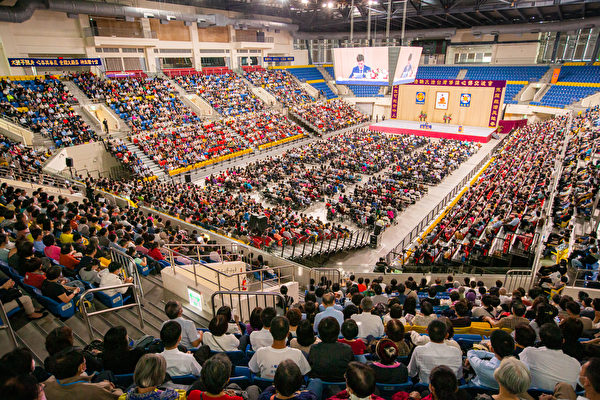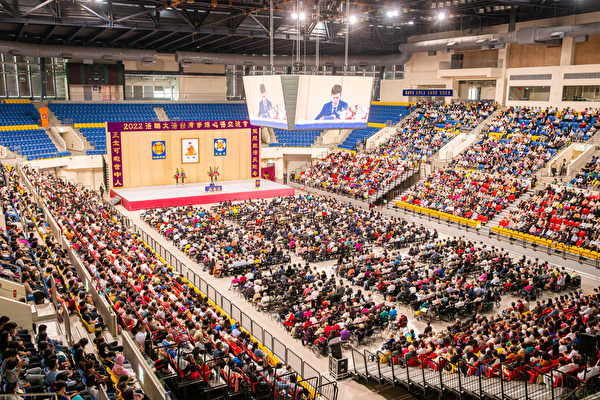 Responsible editor: Li Yuan #