Will it be Jonas Vingegaard versus Tadej Pogacar again and therefore Jumbo-Visma versus UAE in the 2023 Tour? Both camps realize that the final week of the Tour is a tough one.
Tadej Pogacar described the route as "nice". "The start in the Basque Country is great and then it quickly becomes difficult in the Pyrenees, but especially in the 3rd week the Tour will explode. Then we will see who will win."
The 3rd week camping (just before and just after the last rest day) in the Alps. "There are more cols and there is only 1 time trial, but you have to be good in all aspects. So it will be a similar preparation as usual."
"Who will be my rivals? The usual suspects, the best riders in the world. But I don't know who will participate."
There is of course no certainty about Remco Evenepoel either. "I definitely want to compete against him, but that's not my decision, hey. I would like to see him in the Tour."
Jumbo-Visma: "Tough final week, few time trial kilometers"

Jumbo-Visma was represented by general manager Richard Plugge. The Dutchman sighed deeply.
"It will be a very tough final week and unfortunately there are few time trial kilometers. The last week is really tough. The center of gravity is at the end. It is very tough."
"That's fine for us, but the rumor about a team time trial was wrong. It offers many opportunities for the same as this year."
"Who are the candidates? Jonas Vingegaard and Tadej Pogacar will have a lot of opportunities here. I don't know if Remco Evenepoel will go. With Primoz Roglic we can play the same game."
And will Wout van Aert go green again? "We have to analyze that. The relatively flat run-up offers opportunities, but we have to look at everything carefully, because little was leaked."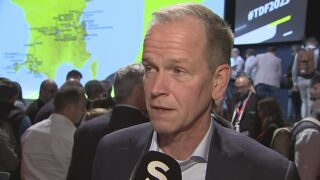 Mark Cavendish: "Unfinished business? Always"

Mark Cavendish shares the record of stage victories with Eddy Merckx (34) and had to stay home this year.
He doesn't have a team for next year, a deal with B&B is still hanging in the air because of sponsor problems.
"I hope to be there," said the Brit. "There are a lot of nice rides, everyone will get their chance."
"The start is tough. It will be hard work to get through the mountains to have a chance to sprint, but that goes for all sprinters."
"Do I have unfinished business in the Tour? Always, no matter how much I have won. There is no limit to what I want to achieve."
"The Tour is a goal for me every year. I don't know my program for next season yet."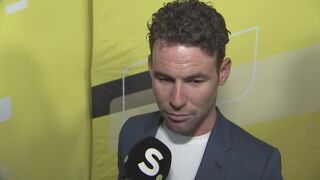 Greg Van Avermaet: "First see that I am selected"

At AG2R-Citroën, Greg Van Avermaet received a "njet" this year. "There are a few stages that are within my means, but first I have to see that I am selected," he said in Paris.
"My program still has to be made. This year I was not allowed to go to the Tour, next year I hope to be there again. The form will also play a role in that."
"At least I'm still looking forward to 2023, otherwise I wouldn't be here. I'm still motivated."
"For me, that starts with the classics, of course, but I've also had very nice moments in the Tour. It would always be nice if that came back."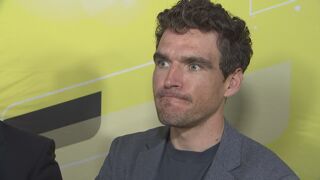 Tour de France 2023
saturday july 1
rit 1
Bilbao – Bilbao
182 km
hills
sunday july 2
rit 2
Vitoria-Gasteiz – San Sebastian
209 km
hills
Monday July 3
rit 3
Amorebieta-Etxano – Bayonne
185 km
shallow
tuesday 4 july
rit 4
Dax-Nogaro
182 km
shallow
wednesday july 5
rit 5
Pau – Laruns
165 km
mountain ride
thursday july 6
rit 6
Tarbes – Cauterets-Cambasque
145 km
arrival uphill
friday july 7
rit 7
Mont-de-Marsan – Bordeaux
170 km
shallow
Saturday July 8
rit 8
Libourne – Limoges
201 km
shallow
Sunday 9 July
rit 9
Saint-Leonard-de-Noblat – Puy de Dome
184 km
arrival uphill
Monday 10 July
rest day
(Clermont-Ferrand)
tuesday 11 july
rit 10
Vulcania – Issoire
167 km
hills
wednesday july 12
rit 11
Clermont-Ferrand – Windmills
180 km
shallow
thursday 13 july
rit 12
Roanne – Belleville-en-Beaujolais
169 km
hills
friday 14 july
rit 13
Châtillon-sur-Chalaronne – Col du Grand Colombier
138 km
arrival uphill
Saturday 15 July
rit 14
Annemasse-Morzine
152 km
mountain ride
sunday july 16
rit 15
Les Gets – Saint Gervais Mont Blanc
180 km
arrival uphill
Monday 17 July
rest day
(Saint-Gervais Mont-Blanc)
tuesday july 18
rit 16
Passy-Combloux
22 km
time trial
Wednesday 19 July
rit 17
Saint Gervais Mont Blanc – Courchevel
166 km
mountain ride
thursday 20 july
rit 18
Moutiers – Bourg-en-Bresse
186 km
shallow
Friday 21 July
rit 19
Moirans-en-Montagne – Poligny
173 km
shallow
Saturday 22 July
rit 20
Belfort – Le Markstein
133 km
mountain ride
Sunday 23 July
rit 21
Saint-Quentin-en-Yvelines – Champs-Elysees
115 km
shallow