Tobias Foss surprisingly crowned himself World Time Trial Champion in Wollongong (Australia). Just like last year, Remco Evenepoel took the bronze medal, top favorite and defending champion Filippo Ganna fell short of the podium.
Everything points to a battle between Ganna, Evenepoel and Küng

A week ago Remco Evenepoel won the Vuelta, today he had to go full steam ahead at the World Time Trial Championships. The course was just right for the 22-year-old rider. As an outsider, Yves Lampaert was able to surprise again like in the Tour de France.
Lampaert got off to a good start and set a good time at the finish. The best time was briefly to his name, but European champion Stefan Bissegger quickly wiped his time off the tables.
There were still tense hours waiting for Bissegger in the hot seat. Time trial guns such as Stefan Küng, Filippo Ganna and Remco Evenepoel had yet to be launched.
Secondespel

The 4th and final wave rekindled tension in Wollongong. The favourites, except for Bissegger and Lampaert, were classified in the last series.
After the passage of all riders at the first intermediate point, it promised to be a game of seconds. Evenepoel was 1 second short of beating Küng's best time there.
Küng raced through the streets of Wollongong and seemed long on his way to the world title. At the 2nd intermediate point he improved the top time of Tobias Foss by 12 seconds. After 2 European and 5 national time trial titles, everything looked good to add the world title to his palmares.
Evenepoel lost 15 seconds to the Swiss at the 2nd intermediate point. Ganna fell through the ice on the 2nd ascent of Mount Ousley and was no longer involved.
Küng lets world title slip away

Küng dived into the last kilometer and was almost registered as the new world champion, but then it became clear that Tobias Foss had set a strong time at the finish.
In the last part, the Swiss failed to continue his good line and saw the rainbow jersey slip from his hands. He stranded 2 seconds from a world title.
Evenepoel could not crush Foss' cannon time, but can be satisfied with a bronze medal after a tough Vuelta. He was barely 9 seconds short.
The Norwegian could not believe it, but the 25-year-old rider of Jumbo-Visma can call himself world time trial champion against all expectations. Even before Ganna crossed the line, Foss was allowed to cheer. The Italian had a total off day and finished 7th. Lampaert eventually finished 9th.
Tobias Foss can't believe his eyes. Watch his tears of happiness: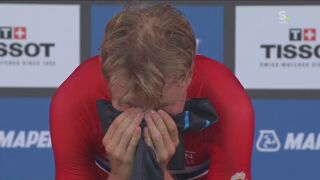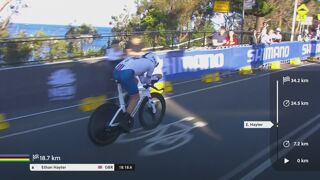 The race of Tobias Foss: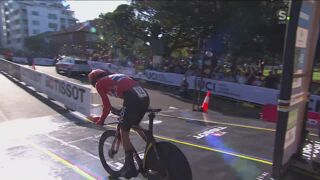 program and results 2022 World Cycling Championships
Sunday 18 September
time trial women elite
34,2 km
1.35 u – 4.30 u
Ellen van Dijk (Ned)
report
time trial men elite
34,2 km
5.40 u – 9.00 u
Tobias Foss (Noo)
report
Monday 19 September
time trial men promises
28,8 km
5.20 u – 9.00 u
Søren Wærenskjold (Noo)
report
tuesday 20 september
time trial women juniors
14,1 km
1.30 u – 3.00 u
time trial men juniors
28,8 km
5.20 u – 9.00 u
Wednesday September 21
mixed redemption
28,2 km
6.20 u – 9.00 u
Friday September 23
road race men juniors
135,6 km
0.30 u – 4.00 u
road ride men promises
169,8 km
5.00 u – 9.15 u
Saturday September 24
road race women juniors
67,2 km
0.00 u – 1.55 u
road race women elite
164,3 km
3.55 u – 9.00 u
Sunday 25 September
road race men elite
266,9 km
2.00 u – 8.50 u