Madrid
–
Real Madrid can get full points when they host Mallorca in the fifth week of the Spanish League. Los Blancos won 4-1 in a tight match.
Madrid hosted Mallorca at the Santiago Bernabeu, Madrid, Sunday (11/9/2022) night WIB. The hosts were attacked from the early minutes.
In the first minute, Vedat Muriqi's action was a surprise for Madrid. His shot immediately forced goalkeeper Thibaut Courtois to work hard.
Slowly, Madrid can get out of the pressure. Threats spread in the fifth minute, but the action of Dani Ceballos can also be anticipated Mallorca.
After buying and selling attacks, Madrid finally conceded first. Muriqi can break into the host's goal, utilizing Lee Kang-in's bait, in set pieces situations. Mallorca lead 1-0.
Vedat Muriqi scored against Real Madrid. Photo: Angel Martinez/Getty Images
A new counter-attack was seen just before half-time. Federico Valverde's action saves Madrid.
Valverde scored the equalizer in an extraordinary way. Valverde can score, after bringing the ball from behind. Receiving a Dani Ceballos pass, Valverde sprinted from his own area, past three Mallorca players.
Continuing to move forward, Valverde, who was on the right, made a stab in the middle. Then, from outside the penalty box, he did a strong left foot kick. The ball slid into the Mallorca goal, and finally sank into the top right corner of the opponent's goal. Goals score to 1-1 at half-time.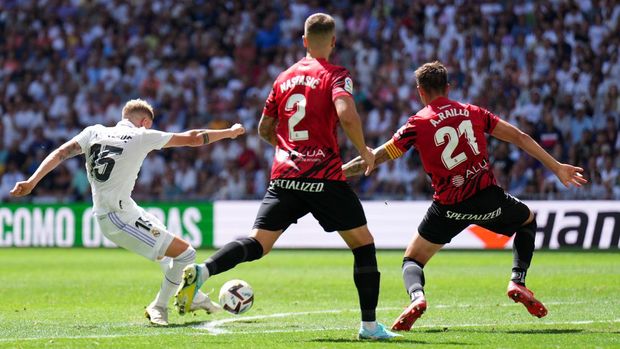 The moment Valverde releases a left-footed shot that ends in a goal for Real Madrid. Photo: Angel Martinez/Getty Images
[Gambas:Opta]
In the second half, Madrid vs Mallorca is still running tight. Eden Hazard et al were made to die to dismantle his opponent's defense.
Several times speculation made Madrid, with a shot from outside the box. However, none of these pose a significant threat to Mallorca.
Continuing to dismantle Mallorca's defense, Madrid finally reaped the rewards in the 72nd minute. Vinicius Junior can break into the opponent's goal.
Utilizing Rodrygo's breakthrough bait into the penalty box, Vinicius' left-footed shot sent the ball into the Mallorca goal. Madrid lead 2-1.
The superior score made Madrid start to feel comfortable controlling the game. Instead, Mallorca began to panic, and played more openly.
Real Madrid used this condition to increase their advantage. In the 89th minute, Rodrygo gave his team a 3-1 lead, and Antonio Ruediger's goal in injury time was followed. Madrid's final score won 4-1.
Victory makes Real Madrid back to the top of the La Liga standings with 15 points, shifting Barcelona, ​​who trailed with 13 points in second place. While Mallorca stuck in rank 13 with 5 points.
Lineup
Real Madrid: Courtois, Vazquez [Carvajal 72′]Ruediger, Alaba, Mendy [Nacho 60′]Valverde, Kroos, Ceballos [Camavinga 69′]Rodrygo, Vinicius, Hazard [Modric 60′]
Real Mallorca: Rajkovic, Costa, Nastasic, Raillo, Valjent, Maffeo, Rodriguez [Grenier 59′]Battaglia [Baba 53′]Of Galarreta [Sanchez 59′]Muriqi [Prats 79′]Kang-in [Lago 79′]
(then/raw)