At the Olympic Games last year, there were still three Mestdaghs with the Belgian Cats, but we will no longer find that family name at the current World Cup basketball. The contract of coach Philip Mestdagh was not renewed, daughters Kim and Hanne decided to stop at the Cats themselves. A goodbye to the Cats, but certainly not to basketball: Kim still plays in Italy, and Philip and Hanne Mestdagh start the new season at the Kortrijk Spurs. "A summer without basket was good, but we are still very ambitious."
Philip and Hanne Mestdagh are perhaps the best-known names at the Kortrijk Spurs, but Ine Joris will also be part of the ambitious team this season. Joris is part of the World Cup selection, so when she can join in Kortrijk depends on how far the Cats get in Australia.
"Of course everyone hopes as far as possible, so do we. Ine will still be of great value to Kortrijk anyway," says Hanne Mestdagh. She said goodbye to the Cats a few months ago.
"A year ago I still dreamed of the World Cup in Sydney. But I am completely at peace with my decision. It was a solid year with the Cats, with a lot of changes and I quickly realized that I didn't fit into the plan anymore."
"Then I decided to leave the credit to myself. My time with the Cats has been so beautiful, I didn't want it to have a bitter aftertaste."
Relativity after the burn-out

Because of her retirement from the national team, Mestdagh had a free summer for the first time in a long time, something that also applied to her father. Philip Mestdagh's contract with the Cats was not renewed.
"Of course it's better if you can make that decision yourself. But I was able to give it a place. And of course I'm following the World Cup now, although I won't get up in the middle of the night for it," Philip laughs.
After the disappointment of the Olympic Games and his departure from the Cats, he was out for a while due to a burnout. Philip Mestdagh is now a different trainer. "I think so. I can at least compare better. I used to really care about everything, that's much better now. But I'm still very ambitious! Although a summer without basketball, for the first time in years, has been very rewarding."
Of course I'm following the World Cup now, although I won't get up in the middle of the night for it.
Spurs United in Kortrijk

Hanne can only confirm that pleasant summer. Batteries charged for a new adventure at the Kortrijk Spurs. A new name for a new project, one of many with which Kortrijk wants to reorganize the various sports clubs in the city under the name United Spurs Kortrijk.
"In basketball, for example, the clubs have merged under one large club, the Kortrijk Spurs. It immediately appealed to me. And the foundation was solid because he comes from a large club with a good youth program. This is a nice challenge," says the trainer.
"And it's a cozy club, but with a professional environment," Hanne adds. The fact that her father is a coach there, did that play a role in her choice for Kortrijk?
"When you draw abroad, you sometimes don't know where you will end up. You often do not speak with the coach beforehand, so you may be faced with surprises. Here I now have that certainty: I know the way of coaching and I know how the work will be done."
(Read more below the photo.)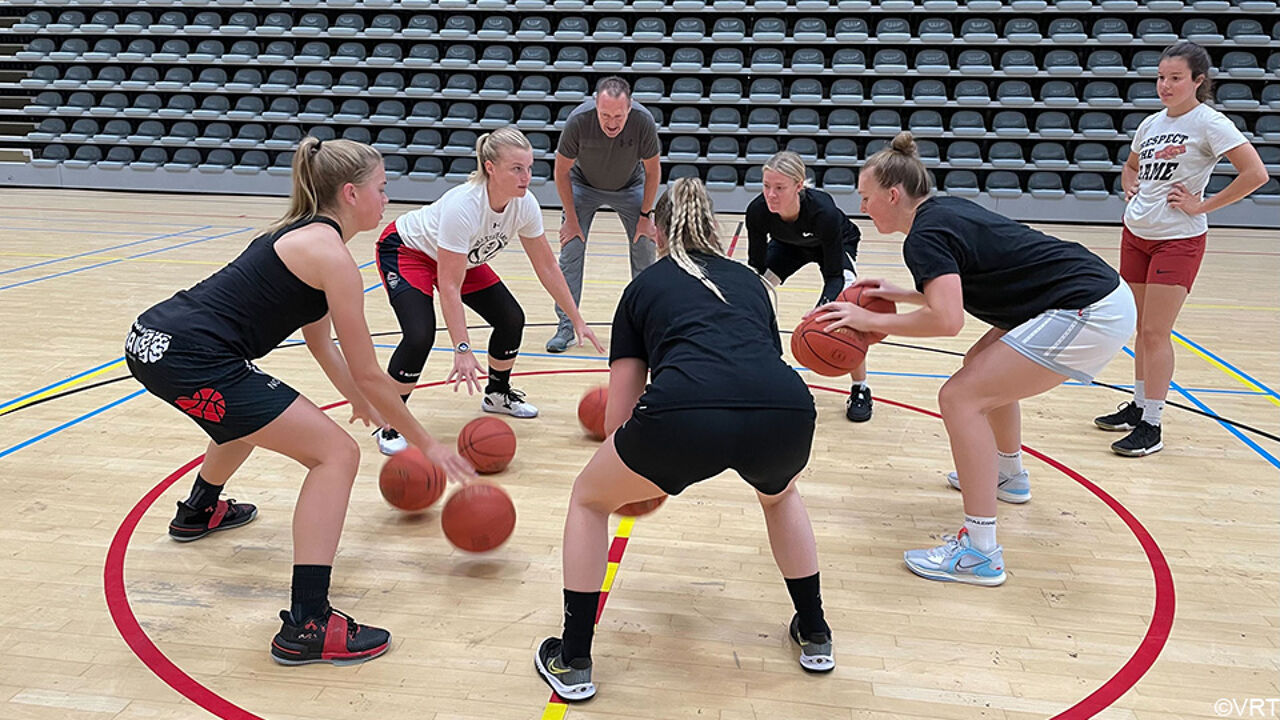 Mix of players

The appointment of the ex-national coach and the bringing in of Hanne Mestdagh and Ine Joris illustrate it: the Spurs are ambitious and want to grow.
"That is not so easy because in our core we have three levels: professional players, players who combine basket with a job and then also youth players."
"It is not easy to make that fit together, not everyone can be at every training like that, but as a staff it is our goal to get the best out of it. If I can make players better individually and thus also the team and the club, then I am a happy man."
Third place and Eurocup

Could that ambition for the first season be a little more concrete? "Kangaroos Mechelen and Castors Braine are too ambitious, but I would really like to compete for the top five and if possible for third place. Then we would also qualify for the Eurocup and be sure of six matches at a high level, then you can grow much faster."
That group stage of the Europcup is even possible this season, because the Spurs were fished out to play preliminary rounds. In early October, the Italian Sassari will be the opponent, a very tough assignment.
"It will indeed be difficult. But above all, we must try not to miss our start in the competition and continue to grow during the season," said Hanne Mestdagh.